10 Bizarre Witchcraft Cases Caught On Camera 'Working'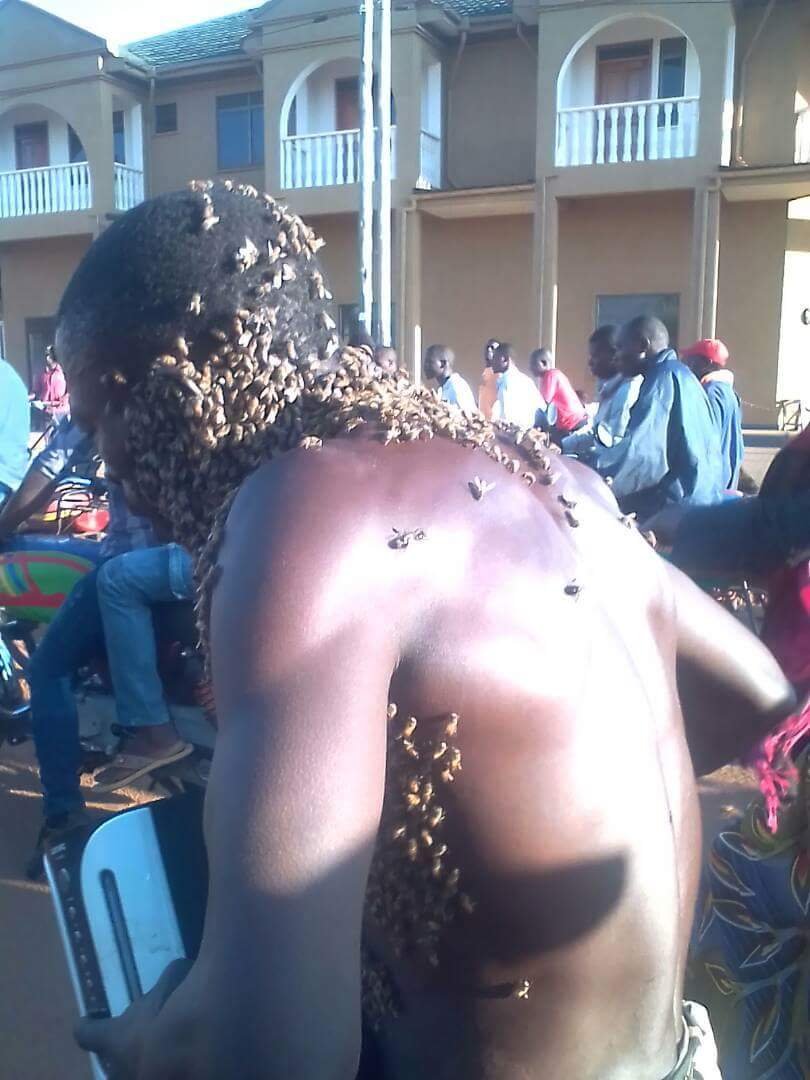 It is very hard to believe that medicine from witch doctors work, but is more like easy that a medicine from the same traditional doctor would work against you.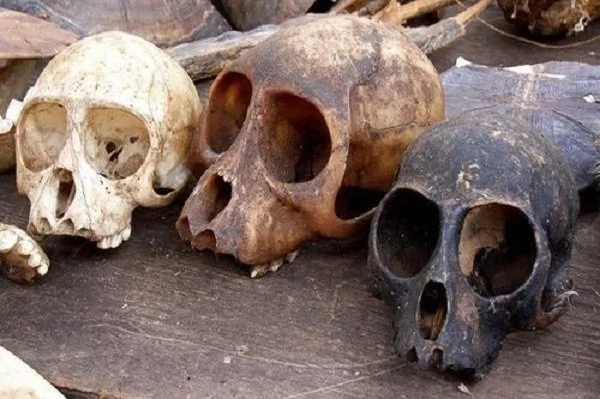 What we rather understand very clear is that the line between science and witchcraft has remained fuzzy.
Even though a handful of Africans deny the existence or belief in this kind of traditional medicines, it is a fact that witchcraft exist in Africa.
We have discovered some of the weird incidences when such witchcraft related cases were captured on the camera lenses.
Bees attacking a suspected thief
Resident of Masindi town in Uganda were shocked after a suspected thief returned stolen items he had stolen from a resident of Kijura cell which is in the Masindi town.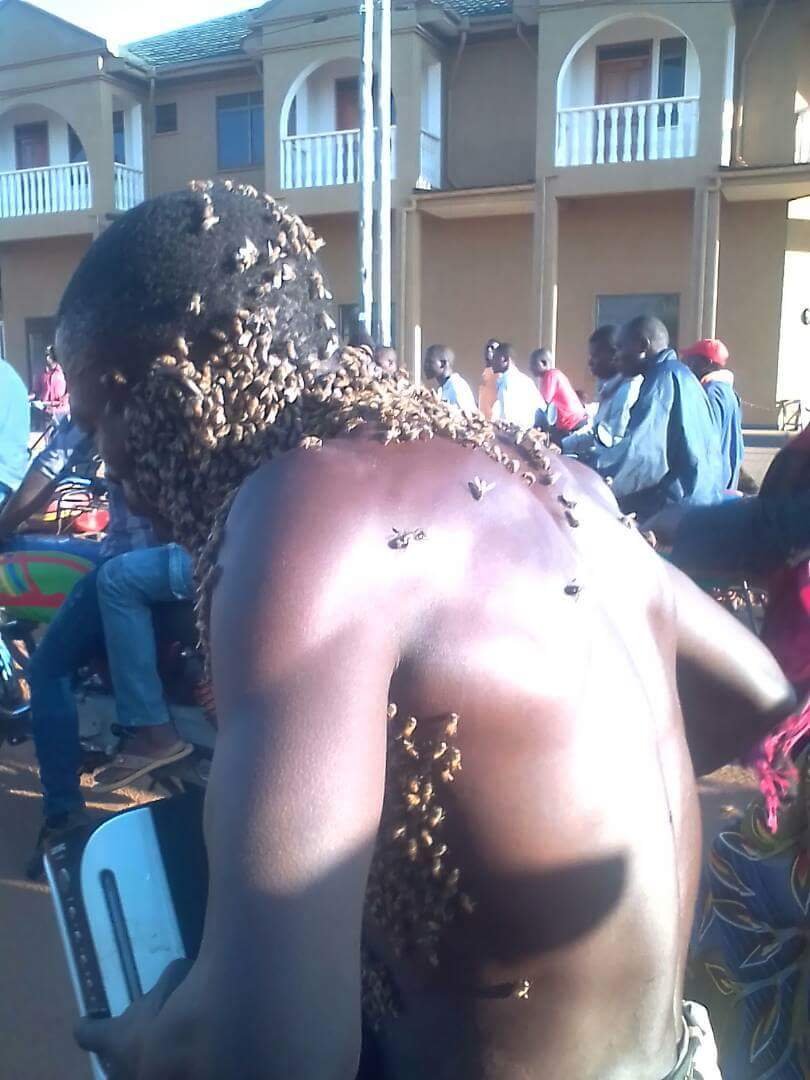 In what looked like a witchcraft manifestation for the good reasons, the suspect walked by his own will almost half naked carrying stolen items such as Woofer and a DVD player.
According to locals, the bees had largely covered the man's head, neck and back but didn't look to harm him rather.
The man had to return the stolen items since police could not come to his rescue, then the witch doctor believed to have cursed him poured a libation on him which made the bees vanish off.
All along, the said man had been wailing with no or less help from the onlookers.
This is another bizarre moment for the Kenyans again after almost a similar incident happened in Mombasa few months ago.
Two naked men in Mombasa town appeared posed with a sleek car which they had stolen. The men were only healed not until a Ugandan doctor came a their mercy.
It was later claimed that the whole incident was stage managed, the suspects were later arrested together with their witchdoctor.
Mombasa incident
Mombasa, a land of witchcraft made news once again in broad day light, in a world of social media and smartphones, you do not need to be there so that you can believe.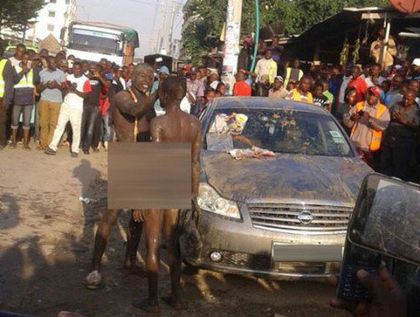 Seeing it on social media, raw and unedited, is more than believing.
Two men, who are believed to be car thieves, had their days numbered when they were shortlisted by a powerful medicine man in Mombasa.
They returned with the stolen car, dancing around it in broad day light.
It was fun and shame at the same time for the on-lookers.
Not until the owner of the car came, with the traditional doctor who later clensed them for a new life.
What a 9/6/2017 date for the Mombasa town residents to remember!
Have a look below if seeing is believing.
DRAMA: Two men found dancing naked in Mombasa after allegedly stealing a saloon car last night #MorningExpressKTN @Michellengele pic.twitter.com/m9Y8XrLU9W

— KTN News (@KTNNews) September 6, 2017
2 Thieves go berserk in Mombasa after they stole a car! They are carrying snakes. pic.twitter.com/fHXpMyBSfZ

— Bamlanganga Nderema (@edwinobuya1) September 6, 2017
MGANGA MAARUFU: Washukiwa wa uizi wa gari Mombasa wafanyiwa tambiko baada ya kupatikana wakiwa uchi #LeoMashinani @loftymatambo pic.twitter.com/RryW65iViD

— KTN News (@KTNNews) September 6, 2017
Switching off radio stations related to witchcraft
Ugandan telecommunication authorities switched off 23 stations which were advertising and promoting witchcraft in their country.
Uganda known for its deep culture and tradition, has been on a fuzzy lane between witchcraft and Ugandan tradition
"The radios have been promoting witchcraft. People claimed on these radios to cure diseases like aids and cancer,these people have been fraudulently getting money from the public." Uganda communications commission spokeswoman as quoted by dpa
Uganda has 292 radio stations which seem to have been invaded by witchcraft doctors who claim to treat and given almost everything on earth
Flying Lorry
A lorry in Kisii town, supposedly was pictured 'flying' but members of social media could not understand the technicality and science behind the lorry captured on unprofessional camera.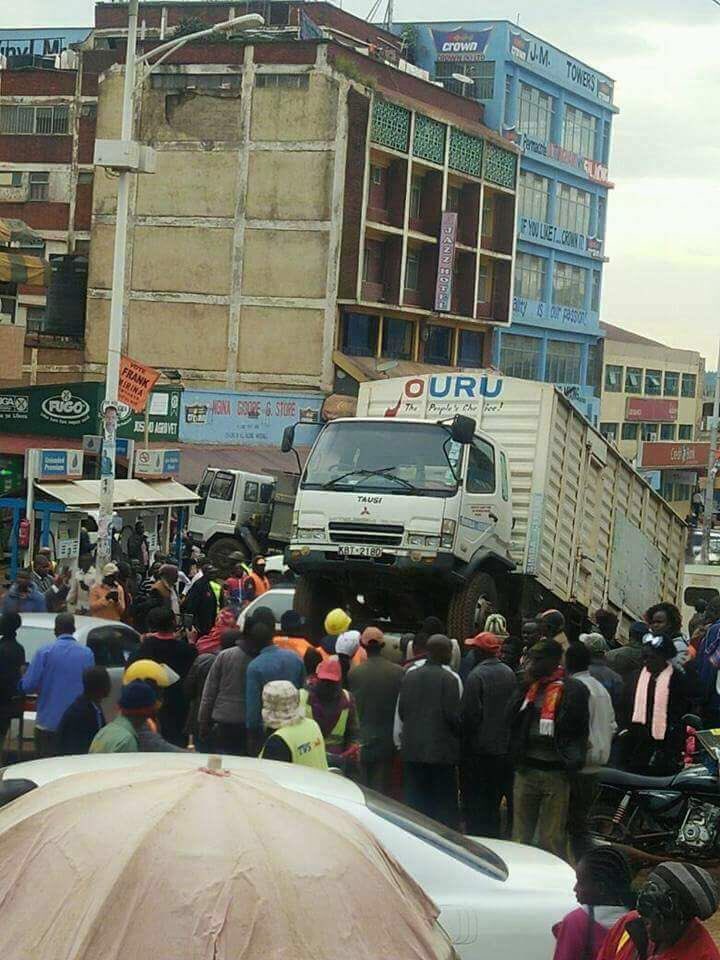 What they all seem to agree but not say is that the lorry has not been photoshoped and it is a very sincere photo from an amateur photographer.
Kisii is widely known for its traditional practice of sorcery and bewitchment and the lorry above might have carried such evil powers that suspended its fore limps.
A journalist recorded a group of Kisii night runners who were proposing that the 'evil' act should be made as a national sport.
Shocked Kisii residents watch a truck with its front two Tyres in the air but with no load. They say it could be witchcraft at play. pic.twitter.com/Lq1Pd512QN

— Ahmed Mohamed (@Asmali77) August 25, 2017
Night running in a layman's language, is disturbing people at night from their sleep. Without taking any of their valuable at home while they sleep, the trick is that they should not know you, and that makes the game even more sweeter.
David Charo, Kilifi
A Kilifi patient, was appealing for quick help after he was left with a tooth-brush he swallowed for 7 days .
David Charo, said that the incident could be a witchcraft hunt by his enemies, but the doctors had not come to the aid seven days after he was admitted for a scheduled surgery.
From the scan, the bush is lodged in his lower abdomen.
"I have used the toothbrush for the last 20 years. It unfortunate that it slipped from my hands on Sunday. But am in good condition," Charo said.
Coastal Kenya is a region known for its fair share of demons and use of traditional power.
In another incident, residents could not rescue a cat that had been trapped in a water tank, as they claimed that the cat was a ritual product of a failed ritual ceremony which had become unable to reform back to human
Richest Witch-doctor
At first Anne Mutheu could be mistaken for a politicians wife, or to be a lucky politician so to say. But that is not the case.
Anne is one of the top rich witchdoctors living on Kenya's fast-lane way. From owning a Ksh.40 million palatial house to flashy cars.
As if that is not enough, Anne Mutheu jets in and out of the country like one of those VVIP individuals.
While her fellows are promising riches to their customers, they are different from Anne since themselves are languishing in the same poverty, an act that raises eye-brows.
The class eight dropout  says she is different
"Most people assume that witchdoctors are poor and lead miserable lives. That is not the case. I am a woman of means and my juju business has made me rich," the former student at Katwii Primary School confessed
And if you thought she is a poor medicine doctor you might be wrong. She has countless wealth across the country
 "My properties are countless since I also invest in real estate within the country. I have three lorries, three public service vehicles, three personal cars, a petrol station and plots in Nakuru, Nairobi, Mombasa, Malindi and here in Tala."
"Most witchdoctors live in dirty places, which is a turn off. I decided to do my business differently. Clients are always streaming in seeking my services. You see, if you make them feel comfortable, they will always come back," she said, adding that, "For example, a sofa set which is in the room where I treat my clients is worth Sh350,000. The room has more than one set.
How much does she earn per day to own such vast amount of wealth
 "In a day, the minimum number of clients I get is receive is between 60 and 80." She charges each Sh1,000 'consultation fee' adding she never fails because "witchcraft is action." Having at least 60 clients means she rakes in Sh60,000 a day from 'consultation fee' alone, which totals to Sh1.8 million a month. Her clients range from politicians, businessmen to corporate bigwigs.
For those customers who cannot make it to her house, they employ use of WhatsApp where they send in their pictures and their problems are sorted.
Anne Mutheu says she inherited her powers from her late mum
Woman seeking Husband
A Kenyan woman who was husband seeking busted a witch doctor after the said doctor had failed ton secure a husband for her as he had promised.
Despite the woman fulfilling the doctor's requirement, including a large sum of money, the said woman could not get a husband as the doctor had advised her.
She went ahead to demand her money
Nyeri cockerel
After a bar had been broken in for more than 3 times in Nyeri, the owner decided to use evil powers by employing a cock to guard his premises.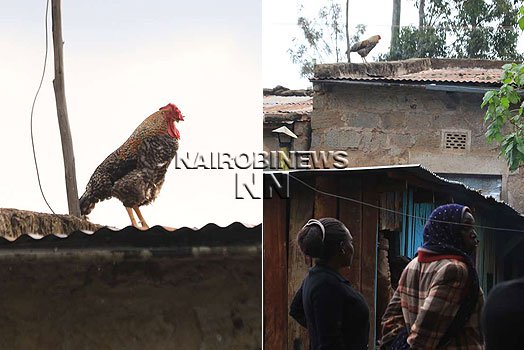 From the images the solution actually 'worked' for him.
The cock remained on the roof of the bar for days 'guarding' it.
 Car thief
A man in Bungoma took himself and surrendered to the polic after bees started attacking him. The man yelled for several hours until the medicines from the witch doctor were used to cure him.
The man had drugged a car owner before stealing his car
Man Stuck In Honeypot
Cases of unfaithful men and women getting stuck together have been reported across Nairobi and Mombasa on many occasions.
It is believed to be a ritual rich in Kamba community in Kenya, where a man buys a herb from a witch doctor to protect his wife from felony.
If she does, she will get stuck until the husband rescues them with a heavy penalty from the cheating man
Comments
comments