10 Ordinary Kenyans Who Faked It Until They Made It To Celebrity Life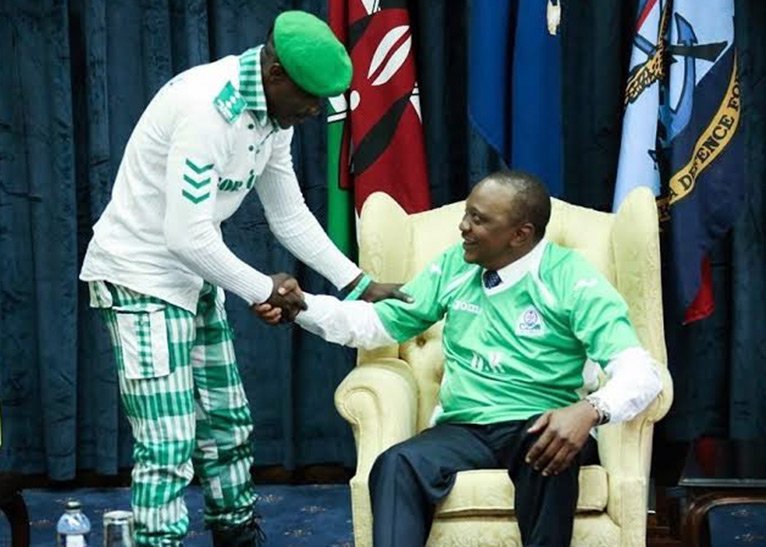 Over the past few months, especially in 2016. We have witnessed normal Kenyans become celebs by daring the unthinkable.
Gor Mahia Super Fan 'Jaro Soja' Painted His Whole Compound Green And We Don't Know What To Think https://t.co/9yKdVTgV1t

— IG: bobby.sarpong (@bob8146) January 16, 2017
Probably doing something that has never been done by any other Kenyan in broad day light.
Wise men have spoken! If a wedding can cost 100 bob,valentine's date should cost between 10-50 bob mandazi mbili na mkunywe maji ya mvua😂😂😂

— EarlTheEddie 🇰🇪 (@raccs) February 1, 2017
As Youth Village Kenya, we look at some of the the 10 most ordinary Kenyans who became celebs across the Kenya in the similar breath
10.Otongolo the Poet
Uhuru alikutana na Otongolo akabadilisha maisha yake,Jaro Soja the same just wondering when is my turn!

— Opuk Jakinda (@Amor_Njuguna) January 21, 2017
Uhuru's adopted son came after he had a breath taking poem presented at President Uhuru Kenya inaugural ceremony, His adoption came in style and in time.
12.Jaro Soja
A strong fan of Gor Mahia FC earned him a celebrity life. He was just a poor and ordinary citizen.
Photos of Jaro Soja's house which he has invited @UKenyatta for house-warming party #wgSPORTS #wgNEWS #WachaMchezo
@Ras_Louis64 pic.twitter.com/3tTtejen7k

— What's Good LIVE (@WhatsGood_LIVE) January 19, 2017
Nobody ever new him until he met with the Head of State Uhuru Kenyatta.
My house is only waiting for Uhuru's blessings: Gor Mahia's top fan Jaro Soja https://t.co/2MmxTW4b4s pic.twitter.com/tIS9cJXkxB

— eDaily Kenya (@edailykenya) January 16, 2017
13.Serikali Saidia lady
When heavy rainfall pounded on a small village in South Nyanza. It swept away almost everything valuable in the region throgh the floods.
But that was not news. It was one woman, through her narration, news reporters got more than they had asked for.
Jane Anyango  was later given a government Job, a lucrative one in the Ministry of Environment.
14.Bonoko
Bonoko caught many by surprise when  he surprised reporters like Jane Anyango
He got a good job with Ghetto Radio . Before he was a food hawker popularly named Muturaa
15. Mke Mwema Chokoraa
The little known street by lead a silent life until a citizen video producer recorded him secretly and uploaded a video. Which got excessively viral.
Today the street boy is one of Mercy Masika's gospel band
https://www.youtube.com/watch?v=6K-k2MJpSuw
Comments
comments