5 Online Platforms To Create A Great Curriculum Vitae- Part 1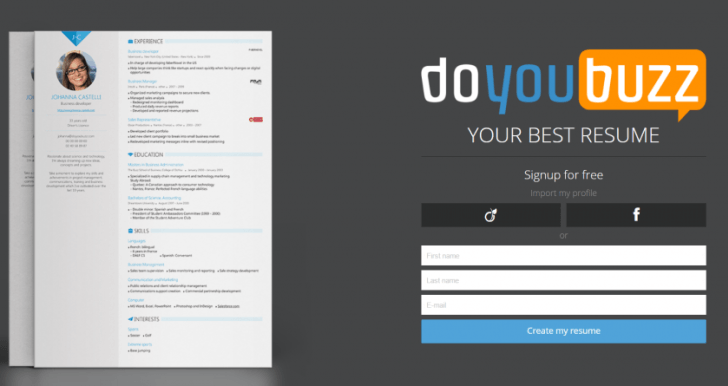 In current times, the curriculum is still one of the best letters of presentation at the moment of wanting to find a job according to our needs. While personality is what counts and what matters most, we require more formality for our recruiters.
Fortunately, technology has also covered the field in this area, since previously people interested in finding employment, had to go to hidden places all day to distribute resumes to various companies and now we have the possibility to publish it on the network in order that Companies are looking for the right profile for certain vacancies.
In addition to the sites that serve to publish our curriculum online, there are also those who provide users with the facility to choose certain templates or types to improve presentation and dynamism in order to enhance creativity. Companies are now looking for people who have the ability to constantly innovate, so a presentable resume could speak highly of you.
For these reasons, we want to show you some platforms in which you can create your resume in a simple way, always remembering that you must be careful with the sentences you write because any insignificant details could be detonating for the recruiter to not consider you.
This site is extremely simple to use, because from the beginning it presents the possibility of providing basic data such as the level of your work experience, the area in which you develop, how often you change jobs, etc.
In addition, you can access examples of professional CV so you can give a notion of what could be well seen from the perspective of companies. Likewise, Live Career will allow you to share your final documents on social networks like Facebook and Twitter, or LinkedIn, where companies are precisely looking for the necessary profile.
Once you have entered the basic data, the site will redirect you to a section where you can deepen the development of your education, technical skills, etc. In turn, the portal will offer you a series of templates to make adjustments to your tastes and preferences the relevant design.
On this site, users will be able to find multiple examples of templates and resumes. However, one of the most outstanding features is the translation, as your CV can be converted into different languages ​​so that you can have greater possibilities and job opportunities.
In addition, there are guides for you to learn how to draw up letters of introduction and applications for employment.
Something that differentiates this site from others, is the opportunity to make your resume in paper or digital. In addition, Do you buzz allows you to send your CV to companies that are selecting and recruiting staff. With this site you can make resumes in an attractive and elegant way for the sobriety in the colors that contain your templates.
When you register, you will quickly appear in the Google search engine and you will have the facility to share your cover letter in social networks, although not if you want your CV to be unique and unrepeatable, it would be best not to share it on Facebook, Twitter, because we live in a highly competitive world, so we should not risk someone taking our designs and ideas.
Comments
comments