7 Recommended Apps For football fans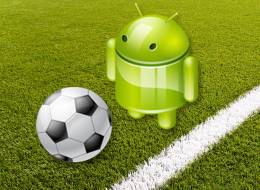 The 2014 FIFA World cup kicks off today. Millions of football fans would be in Brazil, watching it LIVE. While millions would be watching at the homes and in viewing centres. On the other hand, many would not be opportune to watch, either on TV or in Brazil.
1.Sky Sports Live Football
Description
Keep up to date with all the latest scores on the official Sky Sports Live Football Score Centre application.
The Football Score Centre offers unbeatable match coverage of every game in England and Scotland, Europe's top leagues, domestic and European Cups and international fixtures making this a must have for any football fan.
Feature included are:
Live scores
Live text commentary
Live League tables
Live Match stats
Results
Live match photos
Player profiles
Team line-ups and formations
Vidi-printer
'My Scores'
In game notifications
Fixtures to Calendar entries
2.Forza Soccer
Description
Live scores and push notifications, opinion polls and video highlights for more than 420 football leagues and cups around the world. As well as being a live score app known and loved internationally, Forza Football is simultaneously changing the face of football by liberating and sharing the collective opinion of fans from all over the world.
Key features include:
Live scores:
À Set alerts for your favorite teams, and pin matches you're interested in
À Receive detailed customized push notifications per team or per match u for goals and cards
À Pre-match line-ups with formations and player photos
À Incredibly quick, accurate updates compared to other soccer apps
Opinion polls:
À Share your opinions about your team and see they match up with other fans
À Answer poll questions about the squad, the manager and the chairman
À Get your voice heard around the world
À Be part of a collective movement to change the way football fans are listened to
3. One Football
Description
Onefootball is the most comprehensive Football App to stay up to date with all the latest football news, live scores, results, transfers and more from your favourite team and all other clubs around the world. More than 14 million football fans can't be wrong!
Get the best football experience on your Android Phone!
À NEW: Team page with all your favourite team's content at a glance
À NEW: Player profile page with vivid statistics and facts
À Fixtures, live scores, statistics and results on every game, team or player
À Customisable push notifications for unlimited teams and matches
À Editorial live minute-by-minute for the most important international leagues
À Over 500 football news articles published every day
À Videos including press conferences, interviews and highlights
À Squad info, formations, player pictures and top scorers
À Match your opinion with the community with TipsterHero game predictions
À Chat and connect with friends and other fans in the Fan Zone
4. Soccer / Football Live Scores
Description
Worldwide live scores and free push notifications! Standings, Fixtures, Top Scorers, Stats, Chat and Betting challenges. Soccer / Football Live Scores is the premier football app and was the first Livescores football App in the Market! Over 30.000 ratings and 2.000.000 downloads. Soccer / Football Live Scores is also Ad-free for 2014 for Facebook/Google+ connected users! Follow the 2014 Brazil World Cup.
Detailed feature list:
– Simple soccer / football live scores
– Game details, lineups, statistics, last results of teams, Head 2 Head, form and momentum chart!
– Team / Squad profile, team / squad statistics
– Player profile, picture, player statistics
– Expert Tips
– User prediction
– See other user profiles including Badges, their points, prediction accuracy, Favourite Teams
– Add games to watchlist and get push notifications (GCM) on games start, half time, full time, red cards, goals and line-ups when available
– Match Fixtures and historical results
– League standings
– Top scorers
– Favourite Teams, if you have selected any, a service checks every day at your chosen time if one of your teams is playing
– Filter out unwanted leagues, custom ordering
5. Goal.com App
Description
Keep up to date with the fastest real-time football scores application available today.
À Real Time scores, faster than anyone else.
À Live MatchCast Animation
À Super-fast push notifications
À Live Events
À Action from over 750 Leagues and Competitions
À Form and Head to Head for every match.
À In play Match Stats thousands of games.
À Predict the result
À League tables and form
À Fixtures and results
À Favorite teams & Leagues
À Track individual games with a single tap in MyScores
À Link directly to the match page from your notifications.
6. LiveScores.com App
Description
LIVESCORE
Live scores directly from the source, the 1st live score service on the Internet, powered by LiveScore.com since 1998.
This application comes directly from LiveScore Ltd., the leaders and inventors of real-time delivery of live sport data and owners of the no.1 ranked football / soccer web site globally.
FEATURES
– Live football / soccer scores from leagues, cup competitions and championships worldwide
– More than 1000 live football / soccer games followed live every week during the season
– Detailed match information
– Live tennis, basketball, ice hockey & cricket scores
– Live league tables for football, hockey and basketball
– Select your own refresh period
– User friendly
– Time & Date localized
– Very fast and responsive even on slow connection
– Minimal data transfers
– Bandwidth friendly with our data compression
– Lightweight
7. FlashScore Livescore
Description
Fast and most accurate sports live scores from 26 sports and 5000 leagues and competitions from around the globe. Livescore, results, standings, statistics.
With the new FlashScore app you will never miss LIVE results and stats from your favourite league!
Main features:
– fast and most reliable results service from soccer, tennis, hockey and 23 other sports
– LIVE feature that allows you to watch just the current live games for selected sport
– live match statistics for 7 sports
– My Games feature with push notification – for following only your favourite matches (even from more sports at the same time)
– detailed league tables or draws for all the available sports
– comprehensive stats from soccer matches – including line-ups, goal scorers, cards and substitutions
– livescore and valuable live match details for other sports, eg. point by point stats for tennis games
– user friendly interface with efficient and effortless navigation
With this unique app you can follow detailed stats from all the top European leagues. In total, we cover over 900 soccer competitions from around the globe!
This app has been created by LiveSport s.r.o. company, that currently provides live scoring
services for over 40 million users worldwide.
Comments
comments