Did Janet Mbugua Deliver Through Caesarean Section? His Husband Blogs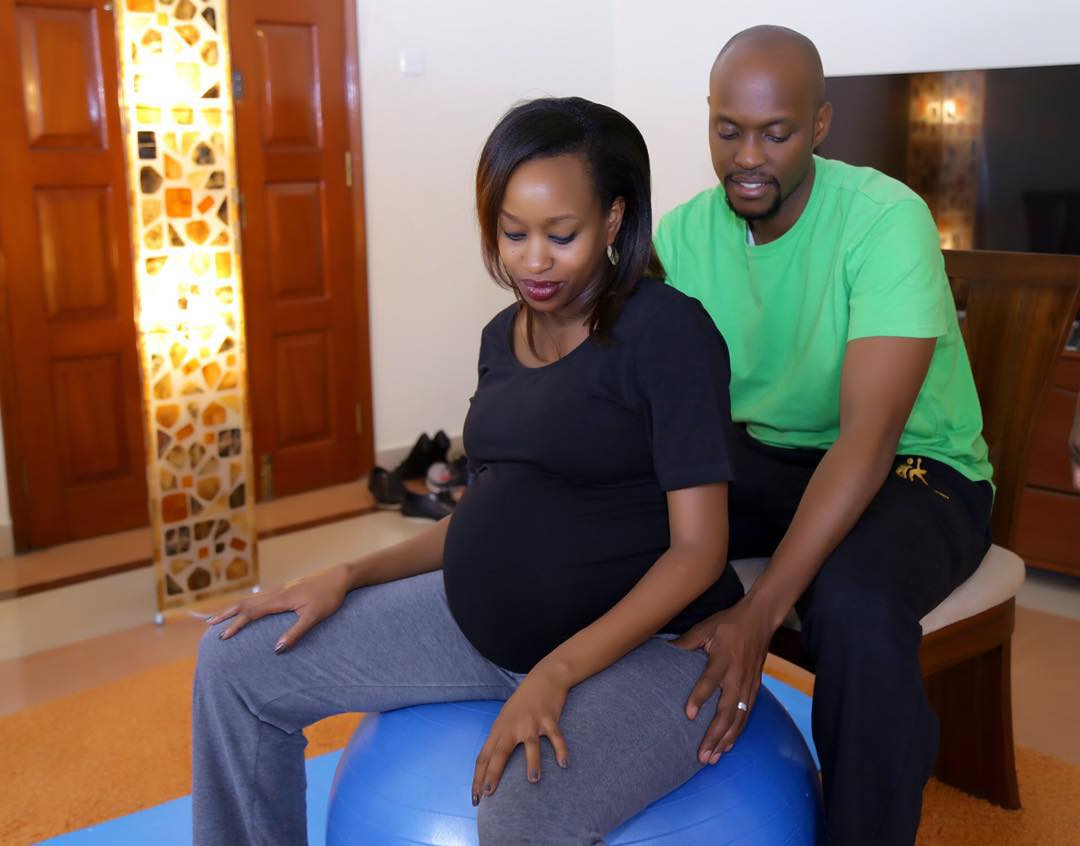 Eddie Ndichu, the one husband  of the TV girl Janet Mbugua has been a loving husband through thick and thin.
Through thick he has reported and shared, and so is through thin and difficult moments during her recent birth.
He narrates how it was terrifying moment, being his first experience, to witness delivery of his wife. But he hints a very sensitive moment.
Janet could have opted for a surgery to avoid the usual painful vaginal delivery.
See his blog below
I MAKE IT INTO THE THEATRE AND FIND HER SMALL BODY LAY ON THE TABLE ALL COVERED IN SURGICAL CLOTH. SHE SMILES AND I SEE SHE IS AWAKE AND NERVOUS. SHE SAYS, "I CAN'T FEEL ANYTHING". SO I HOLD HER HAND AND KISS HER FOREHEAD GENTLY. I SAID TO HER, "THIS IS REALLY HAPPENING". OUR CHARMING DOCTOR NARRATES, "NOT FAR TO GO… ANY MINUTE NOW", AS HIS TEAM OPERATES ON MY WIFE. BY THIS TIME I AM SWEATING.

ALL I COULD HOPE IS THAT HE IS GOING TO BE IN ONE PIECE. TWO EYES, TWO EARS, TEN FINGERS AND TOES. IS HE GOING TO BE OF SOUND MIND? HAVE ALL HIS BODY PARTS DEVELOPED COMPLETELY? WILL HE BREATHE, WILL HE CRY? THEN IN A MATTER OF SECONDS THE DOCTOR LITERALLY FLINGS HIM IN THE AIR AND SAYS 'HERE HE IS'! THIS TINY LITTLE BODY HANGING IN THE AIR COVERED IN MUCUS. I BARELY GOT A GLIMPSE OF HIS FACE BEFORE THEY SENT HIM TO HAVE HIS CORD CUT.


I SEE TEARS ON MY WIFE'S FACE AS SHE LAYS HELPLESSLY. I COULD SEE HOW BADLY SHE WANTED TO HOLD HIM. I CLENCH HER HAND EVEN TIGHTER AND CONSOLE HER. HE WAS WHISKED AWAY FOR NORMAL CHECKS AND A WIPE DOWN. THE DOCTOR ALLOWS ME TO GO AROUND AND WATCH THE NURSE AND HIM. IN MY EXCITEMENT I GO AROUND THE FROM WHERE MY DEAR WIFE IS CUT OPEN…. THAT'S FOR ANOTHER BLOG!!!,"
Comments
comments