Would Steve Jobs have succeeded in Kenya?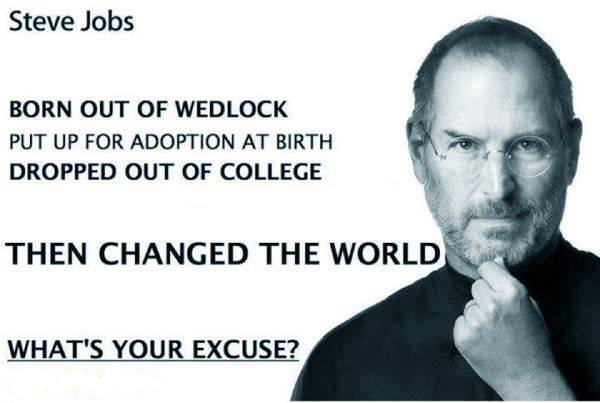 After reading his speech,lets reflect on the life of Steve Jobs with the Kenyan youth in mind and what that means for Kenya are: Is it possible in Kenya for a pregnant woman to arrange for adoption for her unborn child? How serious is the adoption system in Kenya? The effectiveness of the US adoption system is the reason we have Ipads and Macs today! How much confidence do we give our young people to try things, Steve took chances mostly because of his personal traits, but his confidence was intact, do we break our youths' confidence or build it?
Steve first real break came from the Bosses at HP who gave him a summer job after realizing how bold he was to call the boss for parts, how open are our CEOs? and can they spot greatness like the HP bosses? do they want to? Steve met Woz and they started Apple, as a Partnership, there was a lot of trust and passion for the work; not so much the desire to be rich overnight, What mindset do YOUNG PEOPLE in Kenya have, how many get into partnerships and behave ethically? How many young people are prepared to be honest with their partners and behave ethically; and not take every opportunity to benefit at the others' expense or take off on another scheme just because it is a faster way to get rich? How many wont cut corners to get rich in the fastest way possible, truth is partnerships don't work well in Kenya mostly because partners lack passion for the job, and want to get rich quick by hook or crook, mostly they choose crook! Humans are at their creative best within the ages of 16 to 25 years, by society's design these years are spent in school mostly learning other peoples ideas, which is not bad, (stay in school IF YOU MUST), but we must be aware that this can lead to wasting your most creative juices! It is not a bad idea to try to do something else aside school during these years, WE MUST ENCOURAGE OUR YOUTH TO TRY THINGS OUT AND JUST GO OFF AND FEED THEIR 'HUNGER' AND BE 'FOOLISH' as Steve put it.
Young 'foolish' people like Steve Jobs and Bill Gates changed the world, I believe we must become more accommodating of crazy ideas and young people trying things out!! Steve had the presence of mind to approach Arthur Rock for venture funds to expand the business; do we have Arthur Rocks in Kenya? how easy is it to get to them? How are we handling even our government venture funds? How many young ideas have we funded? Steve had the presence of mind to hire an experienced manager (Sculley) to run the business because he admitted his failings as a manager, how many business owners will admit that they are not good managers and allow others to manager their ventures so they can concentrate on the things they are good at. Steve was fired, but he used the time to reflect and become better, he didn't sit around, he worked on NeXT computer (which gave us the Mac OS I am using now), though NeXT failed, parts of it were wildly successful, (the Web 'WWW' was invented on a NeXT PC, and Apple bought it and used it. He also worked on Pixar, which was wildly successful and made him a billionaire.
How many business people give up when they face adversity? how many are humble enough to accept they have issues and work on themselves as Steve did and return in humility?
Steve had the boldness to make serious changes to Apple as he found it, how many business people have that boldness and are prepared to make changes when they have to? Steve was insulted by an Apple engineer in public over his changes and he didn't get angry; (google it and watch), he humbly answered him, how many leaders are prepared to take that? Steve went to Microsoft (Apple's 'Arch Enemy') and 'ate humble pie' and asked for help, which prevented Apple from collapsing totally, to many that was proof that Apple had lost to Microsoft, but that saved Apple and ultimately, we all know they have won hands down! how many people have that humility to go to their "enemy" when they need to, it is said that 'the better part of bravery is knowing when not to fight' and a retreat is not defeat! How many business people know and would do this, take a temporary fall for the ultimate win!
Steve pushed forward when others said things could not be done!, before Iphone came out industry 'experts' said it was IMPOSSIBLE to make a phone with such a big screen! Well they were wrong and Steve persevered and inspired his engineers to produce it, how many leaders can inspire others to achieve the 'impossible' and reward them like Steve did, he made many people in Apple Multi Millionaires. The US government and Cupertino city gave Steve and Apple every support he needed (mostly by getting out of his way) even when he was accused (rightly) of taken U.S. jobs to China, how does our Government support our industries? By just getting out of their way and allowing them to do things their way??the laws …not saying they must not do right, but even if they are not compliant with laws, it is smarter to err on the side of growing our successes than killing them off!! Whatever the answers are, we must acknowledge that we are a 3rd world, poor rich, so we cant expect to have everything as it is in the US, but we are also the Star of Africa, and we got smart people and OIL in Turkana!!
So we have to have high standards and push ourselves, it is possible we have some Steve Jobs' and we are either aborting them, throwing them away after they are born, or making street children of them or frustrating them to death! Einstein said 'A brain is a terrible thing to waste'!!
Comments
comments