10 Celebs Who Love Kibandaski Food And Don't Care Who Knows It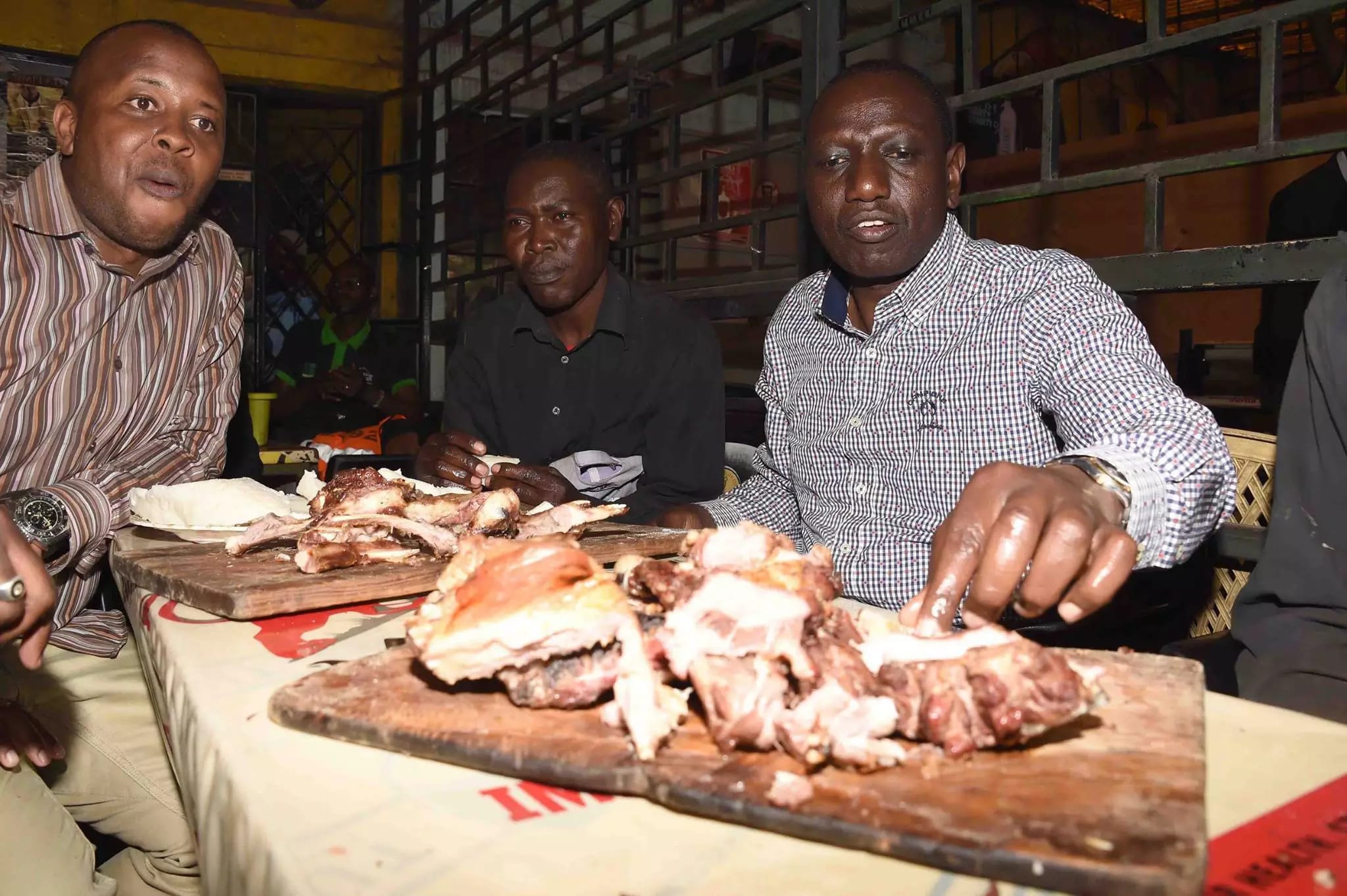 Kibandaski food, is a term coined to refer to local food sold cheaply in small-kiosk looking hotel mostly found in Kenyan cities.
Apart from being cheap, the food is mainly sold to low class who barely live on a a dollar. It is a delicacy for men who work as casual laborers at construction firms and machinery firms too.
For a celeb who has a backing of glory, money and fame to stop buy and get seated on abench to take down this food into his or her stomach, it looks like a health hazard in waiting for many.
But below is a list of 10 celebrities who have visited Kibanda and actually ordered menus such as Nyama choma, Madondo etc.
1.Size 8 and DJ MO
Dj Mo husband to gospel artist once confessed on an interview that he actually shared a Kibanda food with Size 8 when they were still coating.
He was tasting the faith of Size 8 and both of them since then, started frequenting this food station
2.Uhuru Kenyatta
President Uhuru Kenyatta has been pictured on several occassions eating roasted meat from Kibanda which later coined the famous mantra 'Tunakula nyama mkimeza mate'- We are eating meat as you salivate!.
3. William Ruto
William Ruto as a deputy president, has been pictured eating meat together with president Uhuru from a Kibanda. Not once but several times.
4.Mbusi Day
Mbusi Day who hosts a local radio program is a celeb who has been eating from Kibanda for a long time now and he has not stoped doing so.
He famously known for eating madondo chapati in local vipanda at Lunch time
5.Wanyama
Totenham Hotspur midfielder Victor Wanyama is arguably the most paid employee in Kenya with a monthly net of 32 million shillings.
But yes, he eats a madondo chapo from a local Ziwani fast hotel-Kibanda which costs not more than 100 shillings.
He is that down to earth
6.Shiks Kapienga
Just like her friend and counterpart Mbusi day, Shiks loves food of menus made from Madondo and chapo, and that makes her day sunny and gloomy
7.Michael Olunga
Before he moved to Girona in Catalonia, Olunga visited Land Mawe hotels which sell food as low as Ksh.30 per plate at lunch time.
Even when he is back, he still enjoys the dish .
Land Mawe is a lunch eating joint for freshers from Technical University of Kenya
8.Alfred Mutua
Machakos governor and other famous top county officials had been seen drinking sodas worth Ksh.30 from a Kiosk. That was the lowest moment we had seen a governor go in public
9.Bonoko
Bonoko is a man who was once a street Boy, and he usually confess to moving on with his eating habits from Vipandas even after graduating to celebrity life
10.MC Tricky
Churchil Show comedian is a former reformist from the club of street boys . He too like Bonoko has not boycotted Kibandaski food.
It is worth to not that doctors don't recommend food from Kipanda or Vipanda simply because they hygeene standards while preparing food is largely ignored
Comments
comments