10 Differences Between UK And Kenyan World Cup Football Commentators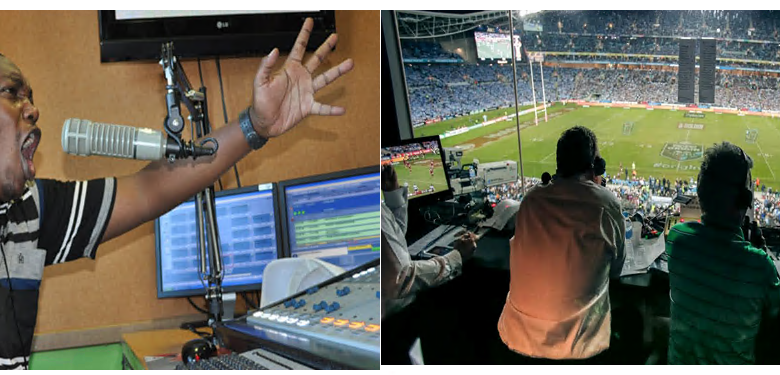 During a game, fans focus so much on the players and anything else happening on the pitch. But they forget that without one single element, the game will be as boring as a nice meal without salt.
Football commentators play a very vital role on making the game sound more lively. They also act as informants by offering quick facts about the game and players during the match.
In the wake of World Cup 2018 which is being held in Russia, Peter Drury has become an overnight celeb among many Kenyans who never knew him at all.
Some who knew him by voice can now identify his face clearly.
Back in Kenya, football commentators have also been having their day during the game.
The Kenyan football commentators include the combination of  Fred Arocho, Steven Mukangai, Sammy Omollo , Diblo Kaberia from Radio Jambo , Torome Tirike from Media Max, Jack Oyoo Sylvester and Ali Salim Manga from KBC, Mohamed Juma Njuguna from Radio Citizen
Differences
Location
Kenyan commentators work from studios while those from Britain are present at the venue. Kenyan commentators  rely so much on TV signal relays while UK commentators  are present at the venue.
2. Professionalism
UK commentators  are well learned and understand their area of work from a professional point of view while most of Kenyan commentators are not well  with sporting skills. Most of them were MCs and football fans before job
3.Impartiality
Kenyan commentators are obviously biased and take stands publickly during a game. While during the game, UK commentator normally start by clarifying their objectivity.
A good example is Peter Drury who stated that he was going to be very objective despite the fact that he was a Briton during his commendation during which England was playing Colombia
4.Facts
UK commentators stick to facts and remain objective during the game until the last minute of the game. While Kenyan ones will try to use and apply opinionated facts only for the tables to be turned around.
5.Betting
Kenyan commentators provide betting tips to listeners and gamblers before the game begins while this is highly forbidden during the UK side where sticking to the job is the order of the day
6. Slandering Players
In Kenya, commentators are good at throwing soil in the eyes of players they feel they are not doing well on the pitch.
Sometimes hurling abuses at such coaches and players.
In English side, the commentators  sometimes try to feel sorry for the struggling players and use words that encourage fans of such players or coaches.
With that they stick to their profession
7.Racist remarks
It has been known that racism is one of the reason why football should not be abolished since it remains one of the tool to fight the world menace.
UK commentators trade safely not to step on the tender toes of racism but not in Kenya who thrive even with hate speech and tribalism during matches.
Sometimes inciting fans against a certain race or country.
One Kenyan commentator said that Thomas Muller will score because he was born in Germany. How will those players not born in Germany but playing for Germany feel?
8.Flowery languages
English flowery language is very imaginative and good to listen to since it rebukes emotions, entertains , informs and teaches good parts of speech. Take for the case of Peter Drury during Roma Vs Barcelona famous comeback.
"Roma have risen from their ruins! Manolas, the Greek God in Rome. The unthinkable unfolds before our eyes. This was not meant to happen, this could not happen, this is happening! Barcelona, extraordinarily, (are) eight minutes from elimination. (Roma boss Eusebio) Di Francesco does not know where to go, (Andres) Iniesta does not know where to look. It's a Greek from Mount Olympus, who has come to the Seven Hills of Rome and pulled off miracle!"
While Kenyan fellows serve nothing rather than noisy phrases such as 'Laaaaaaduuuuumaaaaaaa' which sometimes is even shouted during ball side netting
9. Journalist by profession
Most of English sport commentators are journalist by profession who have been attached to big media houses.
Kenyan commentators are majorly former football fans who could MC when needed
10.Video Gaming
English commentators have won major deals in video games by signing deals to do voice over in football video games such as PES and FIFA.
Kenyan fellows only get call ups to such cheap deals such as being an MC when a betting firm is launched!
Comments
comments