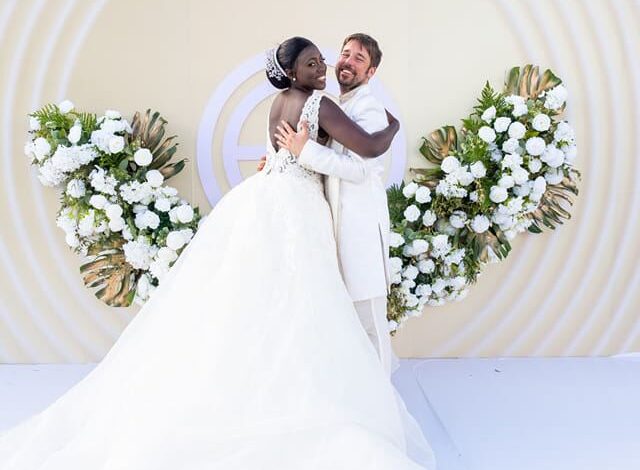 Despite the many breakups, there have also been some happy news for Kenyan celebrities in 2023. Here are a few of the couples who have tied the knot or gotten engaged this year: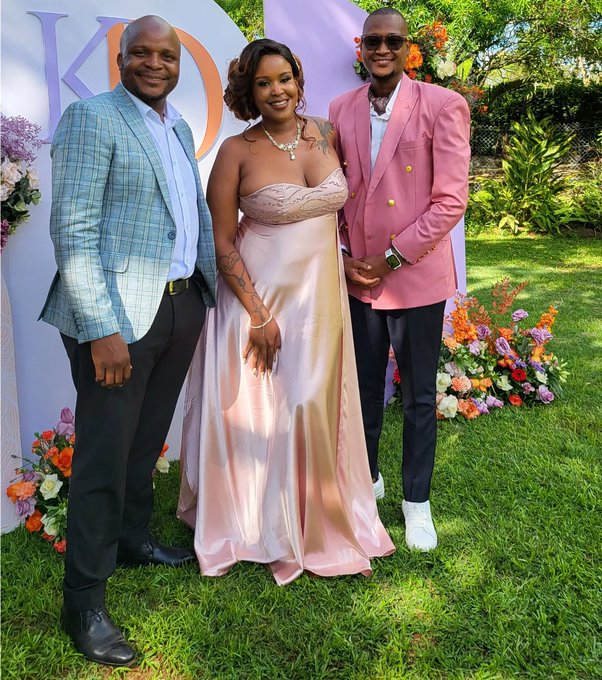 Alvin
The son of Kenya's National Assembly Speaker Moses Wetangula, Alvin, tied the knot with his longtime lover Naisula Leteipan in a lavish traditional wedding on Saturday, August 26, 2023.
The wedding ceremony took place at the Wetangula family home in Bungoma County, Kenya. It was attended by a large number of guests, including politicians, business leaders, and family and friends.
The groom's entourage was dressed in emerald-green African-themed shirts and matching trousers. The bride wore a beautiful gown that went well with the accessories from her cultural background (Maasai).
The ceremony was conducted by a traditional Maasai elder, who blessed the couple and wished them a long and happy life together.
After the ceremony, the guests were treated to a feast of traditional Kenyan food. There was also dancing and music, and the atmosphere was festive.
The couple is said to be very happy and excited to start their new life together. They have plans to move to Nairobi, where Alvin will continue his studies.
The wedding was a major event in Kenyan society, and it was a celebration of love and tradition. It was also a chance for the Wetangula family to show their support for their son and his new bride.
The couple has received congratulatory messages from all over the country, and they are looking forward to starting their new life together.
Flaqo
New couples in 2023 comedian Flaqo and his bae are glowing with love.
The couple has not only announced they are expecting a baby in 2023, but they are going for a deluxe holiday in Dubai together.
Flaqo and Keranta have been showing love and affectionate publicly. And here are their cute photos together falling in love and enjoying their new found souls!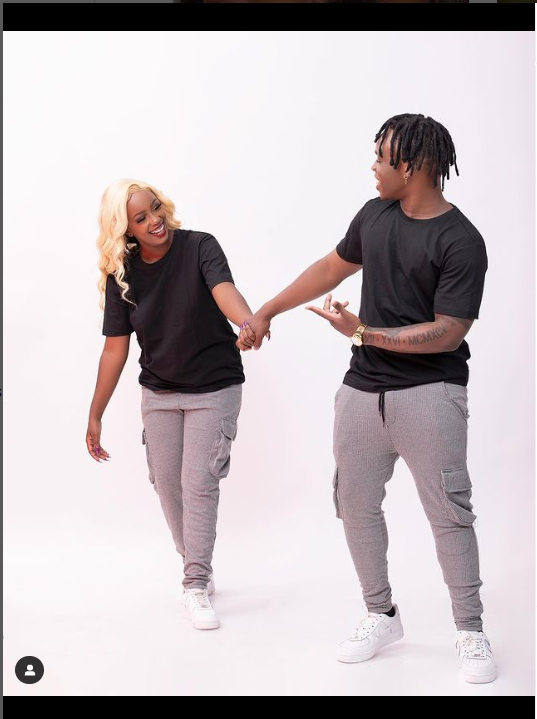 Linet Toto
On 14th day of February, Bomet Women Rep Linet Toto said 'Yes' to little known lucky man identified as Nifty Kim.
The man proposed the question to her on the Valentines day he strategically choose to impress his woman.
With a bouquet of flowers, Kim choose a very well decorated environment that suited the desires of his woman.
Her acceptance to the proposal finally put to an end the hopes of her close friend who carried her around during the campaigns!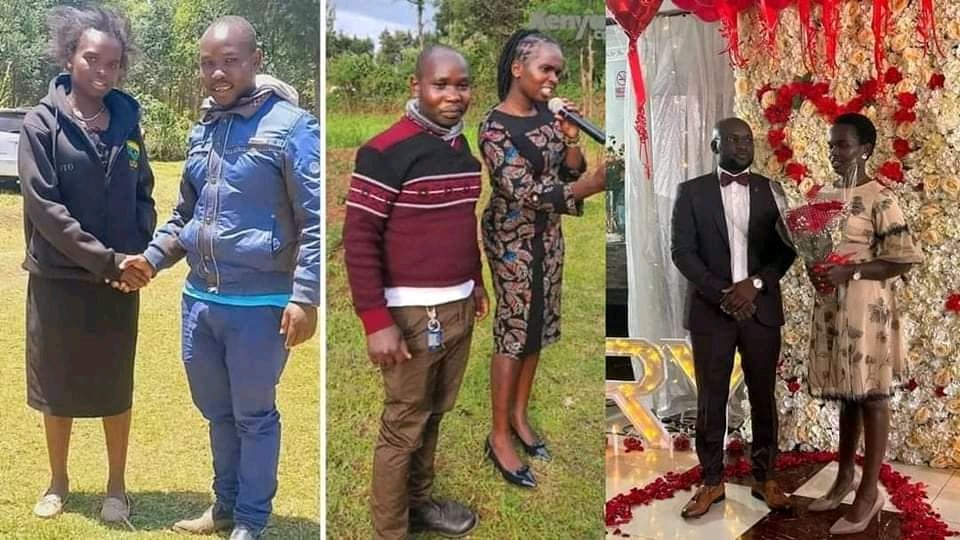 Brenda Wairimu
Since breaking up with singer Juliani, Brenda Wairimu has had another man besides her.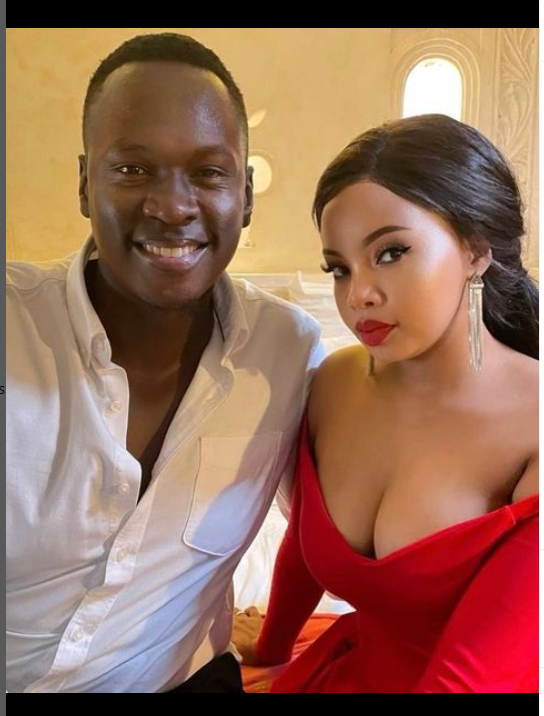 And she could not shy away from introducing him to her friends.
Brenda posted with such a lovely message, prompting a flood of comments.
On his side, singer Juliani moved on two years ago, when he got married to former Machakos county first lady Lilian Ng'ang'a.
Peter Nyaga And Anne Mwai
In 2023, it is beginning to look like a normal year after coming from COVID-19 dreaded 2022 and 2021.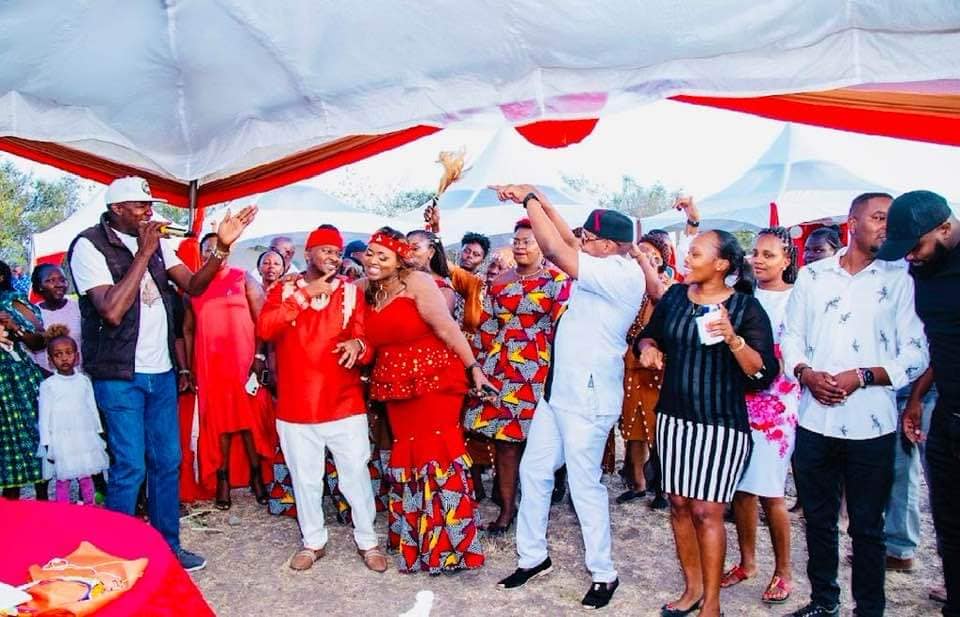 And in March 2023, the MD of Certified Homes Ltd Mr Peter Nyaga did that thing.
He has officially confirmed he is in love with Bama Diaspora Realty Ltd. CEO Ms Anne Mwai in a colourful engagement event all painted in red theme
All the best my friends. Happy and blessed union.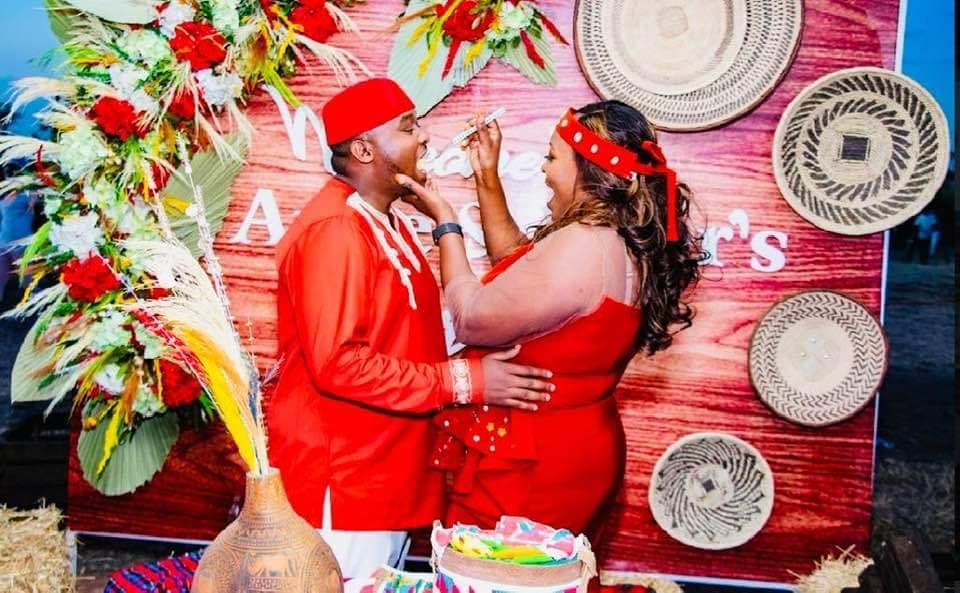 Akothee
April in 2023, Kenyan Singer Akothee aka Esther Akoth got to marry the love of her life Denis Schweizer at a white wedding held at Windsor Hotel in Nairobi.
The event was all star loaded with invites only being allowed into the wedding venue.
Mathira MP Eric Wamumbi
In April , 2023, Mathira MP Eric Wamumbi said that he's ready to settle with Murang'a woman rep Betty Maina.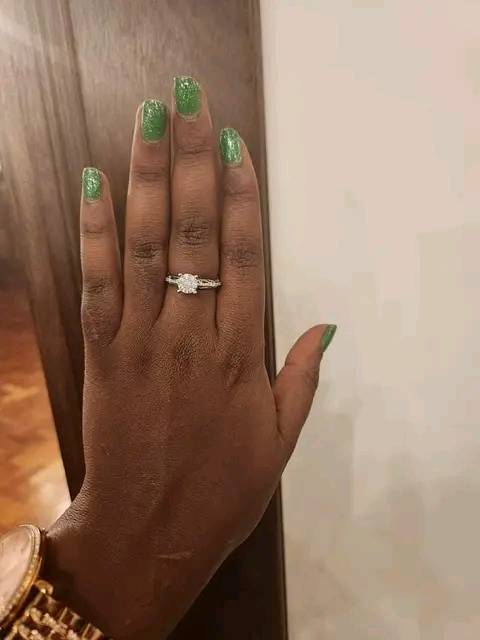 In fact, DP Rigathi Gachagua was set to be the chief negotiator before the two got hitched.
"We have now decided to live together as husband and wife and Deputy President Rigathi Gachagua will be my chief negotiator when Mathira meets Murang'a for the takeover of her daughter," Mathira MP Eric Wamumbi said
If this comes to pass, it will be such a rare moment where two current serving legislators tied a knot.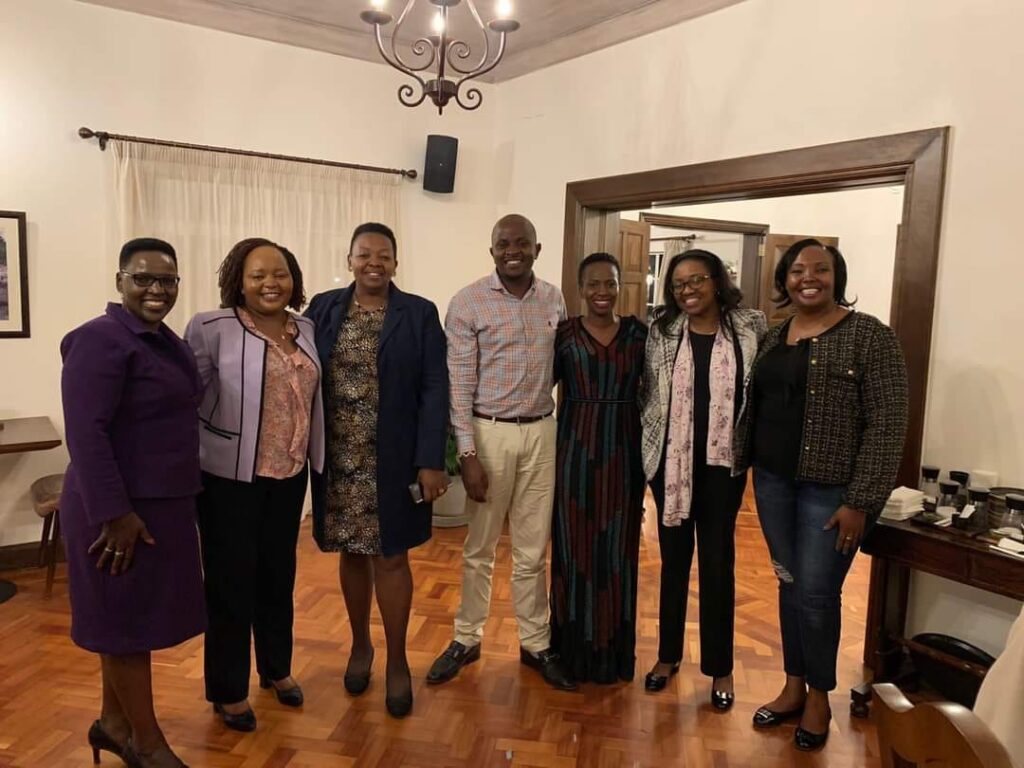 Kamene Goro
Former Kiss FM radio host Kamene Goro and long time partner David Pyper aka DJ Bonez held a colourful wedding on 19th in a select star studded event.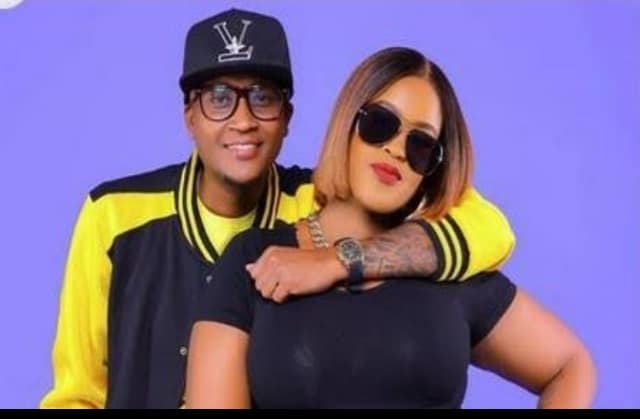 The event was all private with key figures such as Lang'ata MP Felix Odiwour aka Jalas and radio host Obinna.
Jalas would go on to post a cute message for them .
"Love is a beautiful thing! Congratulations my sister @kamenegoro and @deejaybonez254 on your wedding day! Love you guys," he wrote.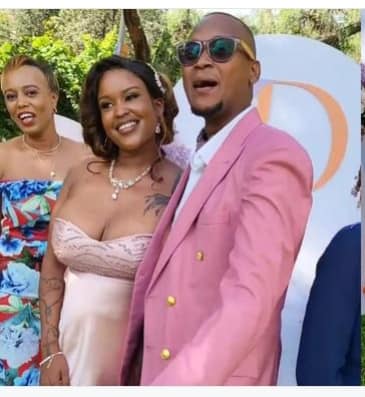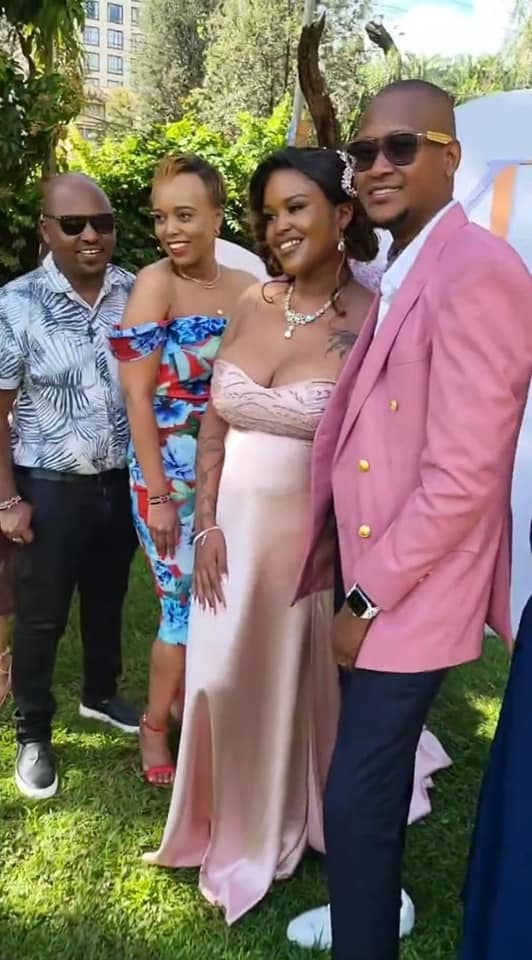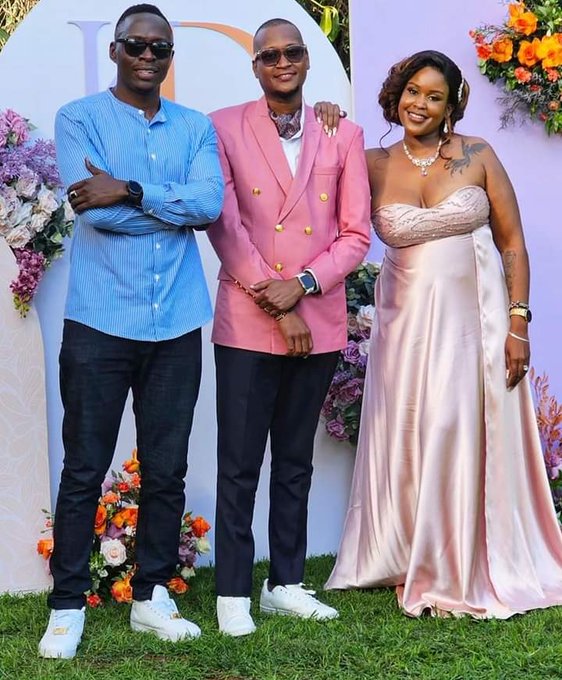 Few months ago in 2022, Kamene told her fans about her type of man and was very particular about what she looks out for.
She said she is not attracted to men who listen to reggae music and would not date one.
"There are small things that just aburst me from men. Let me tell you one of them, there is no way I would be able to date you if you listen to reggae. Don't shoot the messenger because, because I don't listen to Reggae," she said.
Hassan Mugambi
Love was in the air as Citizen TV's very own Hassan Mugambi tied the knot with the love of his life, Mwanaidi Shishi, in a joyous and star-studded ceremony.
The wedding, held in June 2023, was a testament to their deep affection for one another, with close friends and family gathering to celebrate their special day.
Hassan Mugambi, a renowned news anchor and journalist at Citizen TV, was beaming with happiness as he exchanged vows with Mwanaidi Shishi, capturing the hearts of those in attendance. The ceremony, filled with love and laughter, was an intimate affair, with their loved ones sharing in the couple's joyous union.
The star-studded event was attended by prominent personalities from the media industry, as well as close friends and family. The guests were dressed to the nines, exuding elegance and sophistication as they celebrated the union of two souls deeply in love.
Hassan Mugambi, known for his professionalism and captivating on-screen presence, looked dashing in his traditional wedding suit, radiating charm and happiness. Mwanaidi Shishi, the beautiful bride, captivated everyone's attention in her stunning wedding gown, epitomizing grace and elegance.
The ceremony was a perfect blend of tradition and modernity, with vibrant cultural performances and contemporary music setting the celebratory tone. The couple's love story was beautifully narrated throughout the event, leaving guests teary-eyed and filled with admiration for the newlyweds.
As the festivities continued, heartfelt speeches and well wishes were shared, highlighting the deep bond between Hassan and Mwanaidi. It was evident that their love had touched the hearts of many, and their journey together was set to be one filled with happiness, support, and endless love.
The wedding of Hassan Mugambi and Mwanaidi Shishi not only marked the beginning of their lifelong commitment to one another but also symbolized a celebration of love and unity. The couple's star-studded ceremony was a testament to their strong connections within the media industry and the love and support they have from their close-knit circle of family and friends.
With smiles that lit up the room, Hassan Mugambi and Mwanaidi Shishi embarked on a new chapter of their lives, cherishing the memories created on their wedding day. Their love story continues to inspire, reminding us all of the power of love and the joy that comes from finding your soulmate.
As they embark on this beautiful journey together, may their love grow stronger with each passing day, bringing them happiness, fulfillment, and a lifetime of cherished moments.
Makena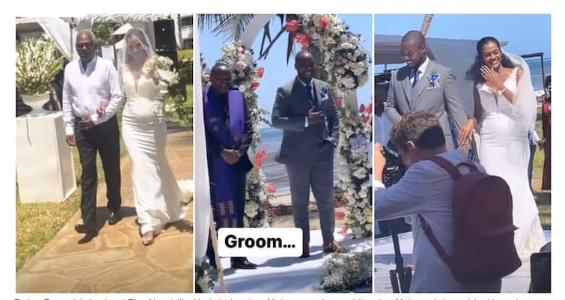 On Saturday, December 10, 2022. Makena got married to her longtime lover, believed to be from a monied Kenyan family .
The lovebirds tied the knot in a private beach wedding and Makena stunned in a simple sleeveless bareback gown with a long tail.
The groom wore a grey suit, white shirt, brown shoes, and blue tie.
Kigen And Becky
Gideon K. Moi, a prominent Kenyan politician and businessman, recently made headlines for his heartfelt message of pride and support for his son Kigen Moi's engagement to Rebecca Chepchumba.
In his message, Gideon expressed his joy and excitement for his son's new chapter in life, calling it a "monumental stride" that was ordained by God.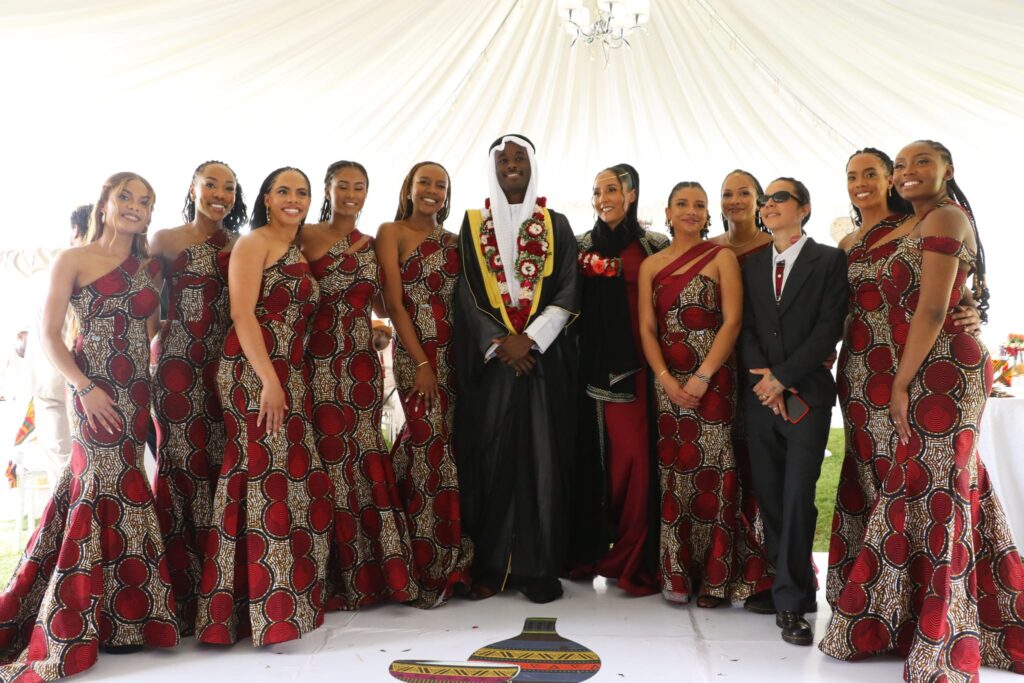 This public display of affection and support is a testament to Gideon's strong family values and commitment to his loved ones. Despite his busy schedule and demanding career, Gideon has always made it a priority to prioritize his family and provide them with the love and guidance they need to succeed in life.
Kigen Moi, Gideon's son, is a successful businessman and politician in his own right. He has followed in his father's footsteps in many ways, but also forged his own path in the world of business and public service. His engagement to Rebecca Chepchumba is a testament to his commitment to family, community, and faith.
Rebecca Chepchumba is also an accomplished individual in her own right, having made a name for herself in the corporate world. Her strong faith and commitment to social justice have made her a beloved figure in her community, and her relationship with Kigen has been a source of inspiration and joy for those who know them.
As the couple begins formalizing their union in Kericho County, Gideon's message of love and support has touched the hearts of many. It is a reminder that no matter how busy we are or how successful we become, family and love should always remain our top priorities. By embracing the values of faith, compassion, and companionship, we can create a better world for ourselves and those around us.
In a world that can often feel chaotic and uncertain, the power of love and family is more important than ever. Gideon K. Moi's message of pride and support for his son's engagement is a beautiful reminder of the joy and beauty that can come from embracing these values. As we celebrate this momentous occasion, let us all take a moment to reflect on the importance of family, love, and faith in our own lives.