10 Shoddy Projects Launched By Alfred Mutua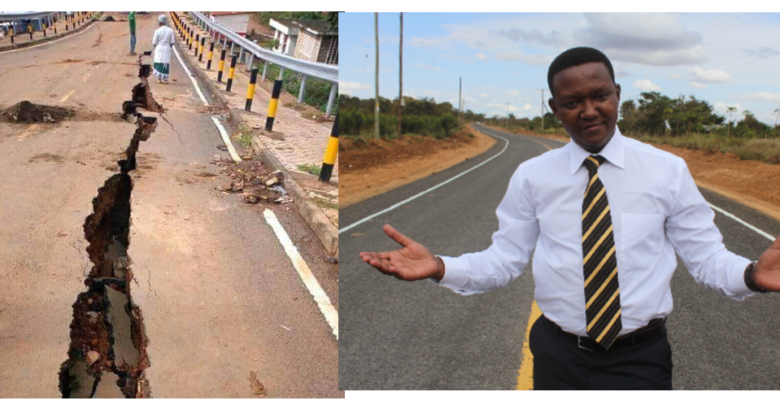 Dr.Alfred Mutua has been praised and criticized in the same measure in regards to his development projects in Machakos County.
For more than 5 years, Alfred Mutua has been one of the top governors in news in regards to development.
But a close look at some of his work he has produced reveals shoddy work marred his development projects.
On many occasions he would stand out and publicize his work, giving a huge room for critics to poke holes in his work.
Below are some of his work Kenyans thought would have been done better than that.
'Painting Roads'
Gov. Alfred Mutua, why do you lie to God and His People. Is this how a road is done? You paint the road and claim it is tarmac… pic.twitter.com/5OC4SnuxrN

— Philip Etale (@EtalePhilip) December 22, 2017
Bridge that takes one vehicle at a time on a major road
Katani road, with 'modern' Ambulances stuck in ditches
This is Katani road, Machakos county. I challenge @DrAlfredMutua To go and take a selfie there without drowning 😎 pic.twitter.com/A2JrLEl9oJ

— Cyprian, Is Nyakundi (@C_NyaKundiH) May 22, 2018
Machakos town -Kitui Bridge
This is bridge that links Machakos town to the Kitui – Machakos road, it has developed a wide rift just a year after it was done.
Another shoddy work by Spin Master Dr. Alfred Mutua.
SHAME. pic.twitter.com/o4qifUw6QT

— Patrick Safari (@patricksafariR) May 17, 2018
That's an empty dam amid heavy rains, where are the waters or the the dam meant to be a picnic area?
Machakos County Chief Alfred Mutua posing inside an empty dam. It's a rainy season, with massive flooding in parts of the county… Where's the water? pic.twitter.com/jZI7I8DEgy

— Saddique Shaban (@SaddiqueShaban) May 11, 2018
Flooded Machakos town, Mutua's next 'Techno city'
Machakos County ran by wanker Alfred Mutua who's bribed opinion pollsters to claim that he can be a Deputy Presidential material. Kwendeni! You think Kenyans are stupid as the Kamba's of Machakos who are impressed by empty words and a People's Park? pic.twitter.com/dw81yrncOk

— Cyprian, Is Nyakundi (@C_NyaKundiH) April 3, 2018
He donated these adult Sandals to Primary kid,
So this is what Governor Alfred Mutua of Kenya 🇰🇪 donated to primary school pupils. What is wrong with African leaders? #BBNajia pic.twitter.com/XPUheH1acq

— Elizabeth (@zabeth_0) February 23, 2018
Potholes on tarmack after few months
A No- Lorry Bridge
Comments
comments