5 Reasons Why Uhuru's Favorite Shirt In 2018 Raises Eye Brows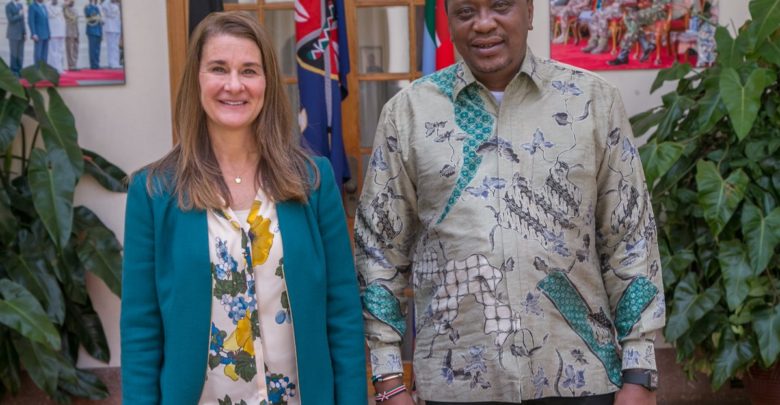 Yesterday, President Uhuru Kenyatta's diary spelled a busy buzz of bees. He had lots of tasks to do within the same day.
First, he began his day by meeting a wife to worlds richest person, Bill Gates
Met with Melinda Gates, co-chair of the Bill and Melinda Gates Foundation who called on me at State House, Nairobi. Agreed to work together to strengthen the delivery of Universal Health Coverage (UHC), one of the pillars of my Big Four agenda https://t.co/RJNrSCYGuA pic.twitter.com/GyCWdlwiEc

— Uhuru Kenyatta (@UKenyatta) January 26, 2018
Then he proceeded to announce his team for the last term, the team was such a large number but he managed to read all of them.
President @UKenyatta statement on the new cabinet https://t.co/a9Cy9TjcXS pic.twitter.com/DI8dEE41pL

— Manoah Esipisu MBS (@MEsipisu) January 26, 2018
Then, it came the moment to depart for a task in Ethiopia, Adis Ababa town, Uhuru did it even though the sun had already gone down.
Margaret and I departing for Addis Ababa, Ethiopia to attend the 30th African Union Summit. pic.twitter.com/YsIBggZ6sw

— Uhuru Kenyatta (@UKenyatta) January 26, 2018
The last bit of it was his reception in Ethiopia, where Uhuru was seen being received by top leaders of the Ethiopian government.
Arrived in Addis Ababa, Ethiopia for the 30th Africa Union (AU) Heads of State and Government Summit, which will focus on governance issues #30AUSummit https://t.co/fy4NBQuolX pic.twitter.com/haZCBK8GA4

— Uhuru Kenyatta (@UKenyatta) January 26, 2018
But let us examine his itinerary with fashion eyes, all along he had used seemingly one shirt, but his fashion dresses can tell us whether he used the same shirt all the day or not.
If he did so, then Uhuru's hygiene is below the standards, How can you attend more than 4 receptions in the same attire for the whole day as a president?
The shirt might have been smelling sweat at the end of the day despite multiple deodorants he applies anyway.
Comments
comments