Blogs
5 Shocking Mistakes Uhuru's Aide-de-Camp Made In Public Before Demotion
President Uhuru Kenyatta made history when he picked his new Aide-de-Camp, Lieutenant Colonel Timothy Stelu Lekolool, from the Kenya Navy.
Lt. Lekolool became the first ever Navy officer to be an aide of the president since its establishment in Kenyan government.
The well experienced Lt. Lekolool succeeds Lieutenant Col Victor Mburu as President Kenyatta's third aide.
Lt. Mburu had preceded Lt-Col Peter Njiru in 2017. Lt. Njiru was recently appointed and promoted to Brigadier and appointed as Commandant, Recruit Training school.
Here are 5 mistakes made by Lieutenant Col Victor Mburu before his recent relegation
At KICC
Kenyans could solve a simple puzzle of Uhuru Kenyatta leaving his vehicle for a red carpert at KICC.
One of the tweeps posted the video which was converted into a GIF format.
Just RT when you see it. pic.twitter.com/bl3VH0IkQZ

— Kenya West© (@KinyanBoy) March 29, 2018
In the tweet, the handle poses a question, Retweet when you see it.Before we disclose to you answers, be a judge first and let's see what you can deduce.
1.Forgot to open the right door
The first mistake, his own right hand man who traveled with him cannot decided which seat Uhuru is seated, because he opens the wrong door before he is shown the right door by someone who did not even travel by Uhuru.
2.Failed To Monitor Presidents movement and advise media not to capture embarrassment
The next point, is how Uhuru leaves the car, he is staggering , making one think there is something like State House breweries limited.
Third he struggles to leave his car, watch his first movements he make, like someone so tired or so sick, one would think he was sleeping in the car, he could have been wakened up from his bed at statehouse to come for the event
3.Car Door Knocks Uhuru Kenyatta
During a reception in South Africa, President Uhuru Kenyatta's bodyguard let him down when he was stepping out of his armored car.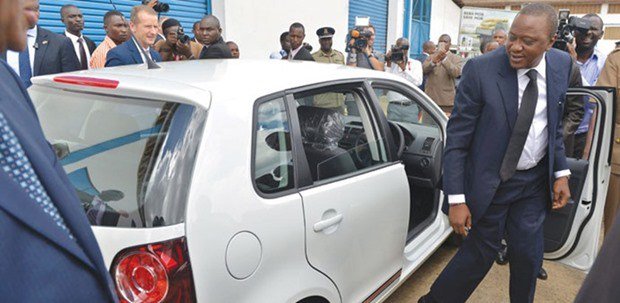 From the video obtained from cameras which were running the tape, the bodyguard opens the door from the wrong side, which thus hit him before he came under the rescue of another bodyguard.
This was not only embarrassing before the present dignitaries and the rest of the world but risked injuring the President who was on official tour in South Africa.
They held the door on the wrong side and it bumped on Uhuru.
Video via @KhayaJames pic.twitter.com/5lH9iVjXvn

— Oliver Mathenge (@OliverMathenge) January 11, 2018
4.Not keeping keen eye on President Uhuru Kenyatta
President Uhuru Kenyatta was pictured with his armed pistol tucked on his waist, with a loose hanging shirt.
This ADC was not able to spot it and let the president hide it.
5.Misdemeanor
Uhuru's guard Lt. Mburu was pictured few months ago, likely in May holding a hand of a woman during Mr.Uhuru's tour in Nairobi's Embakasi area.
With this simple act, he showed off violating President Uhuru's security, an act that could have paid off well if it was a criminal calculated move by the woman.
Below are the daily duties of Uhuru's New Aide-de-Camp
Escorting the president from the State House to a waiting car
Opening and closing his door
Carrying his personal belongings such as phones and written speeches
Attends to presidents needs when required
Standing attention and saluting him, receiving gifts on his behalf