Blogs
8 Kenyan Female Celebs Who Gave Birth During Menopause
For a woman, it is advised medically that she should give birth between the age of 25 to 35 years for the best results and even the healthiness of the kid.
That idea was very practical in the old and golden days, where a man of 20 years would marry a wife of a similar age bracket.
Modern today, things are different.
Education,wealth, career and family planning have made matter more complicated.
Even if a woman might be ready, a man might not be and vice versa.
Logically many Kenyan women are ready for kids as from late ages of 35 years. Bearing in mind that menopause starts as early as 40 years to prime of 45 years old.
But lucky ones , have had miraculous babies beyond the age of 45 years
We look at some of the women who gave birth when they were in their 40 years of age.
Julie Gichuru
The former Citizen TV is now aged 45 years old. With four kids her last born is 4 years old.
This means she had him at the age of 41 years old.
Julie is married to businessman Antonny Gichuru
Anne Waiguru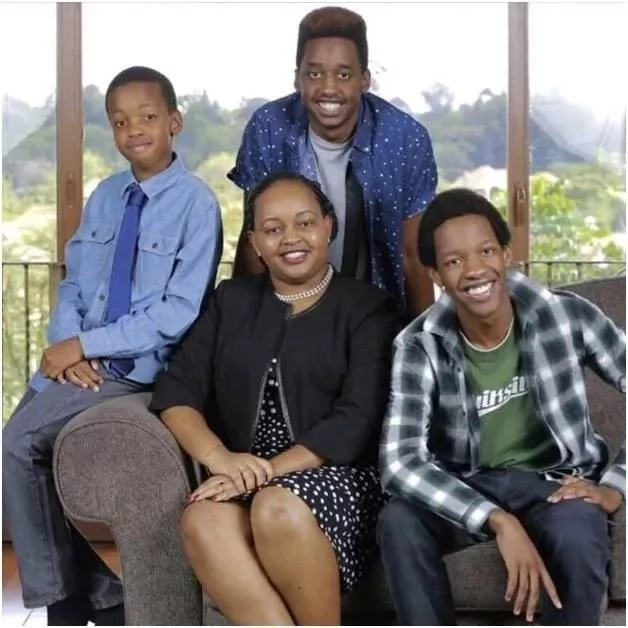 Former Devolution CS and current Kirinyaga governor is 52 years old.
She is  blessed with 3 boys with the last boy at only 12 years of age. Waiguru had him at the age of exactly 40 years old
Esther Passaris
Current Nairobi women rep is aged 54 years old.
She has two kids, a son and an elderly teen daughter. The son is 13 years old who is also her last born.
This means that she had her son at the age of 41 years old.
Michele Obama
The former US first lady with ex President Barrack Obama had their last born 15 years ago. Sasha Obama was born when Michele was 40 years old while Barrack was 42 years old.
Her eldest sister and first born of the first family Malia Obama is now 18 years old and already engaged.
Millecent Omanga
Omanga who is in her late 40s, seems to have a very young family of two kids
Best on the last born, Millicent must have heard her last born at the age of 40 years or more.
Check out her lovely message to her hubby and father of her kids
Caroline Mutuku
Kiss FM host must have had a golden womb because she almost gave birth to a miracle baby.
Caro heard her only kid at the age of 43 years old!
7.Wandia Gichuru
Wandia is like wine, she gets better with age!
She is almost 52 years old, the the founder and CEO of VIVO Activewear looks like she is turning 30 years old.
Wandia has two cute looking daughters. Both of them are as young as you can see.
Basically the eldest is at most 10 years,so this gives as a maths of 42 years birth year of her last born