Hilarious Tweets Shows What You Get When Nyakundi And Murkomen Lock Horns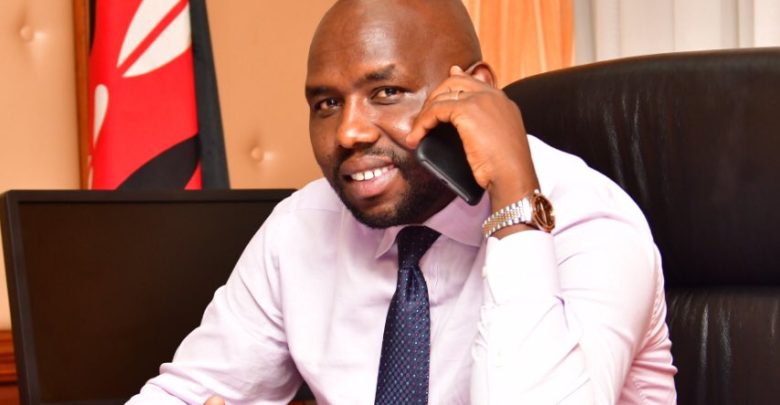 Elgeyo Marakwet Senator Kipchumba Murkomen and self made social media activist Cyprian Nyakundi have locked horns on twitter and poured bile on each other.
The debate came on when Nyakundi listed Murkomen as one of the corrupt officials who have enriched themselves with unlawful money. With debate being sparked by President Uhuru Kenyatta who stated that all state officials should be put through lifestyle audit
Murkomen is building a 200 million house in Karen next to Boghani villa,the owner of that land he bought from is a former employee of Red cross , i'm told that he has also bought a house at elgon view estate in Eldoret. This is Murkomen before NYS #WeKnowYourSalary pic.twitter.com/IO2v9pDmIx

— Robert Syundu (@RobertSyundu) June 18, 2018
Murkomen responded claiming that most public servants had invested so much in other business rathe than relying on basic government salary.
The ultimate f**k you to all Kenyans who are appalled by the callous and wanton looting in the country.

Because we elected you to go do business etc. This is why the govt has achieved absolutely nothing in five years. They're busy being entrepreneurial.#WeKnowYourSalary pic.twitter.com/vLAX3Kivhx

— Sura Mbaya (@surambaya) June 18, 2018
What followed was something else close to personal matters
Murkomen shots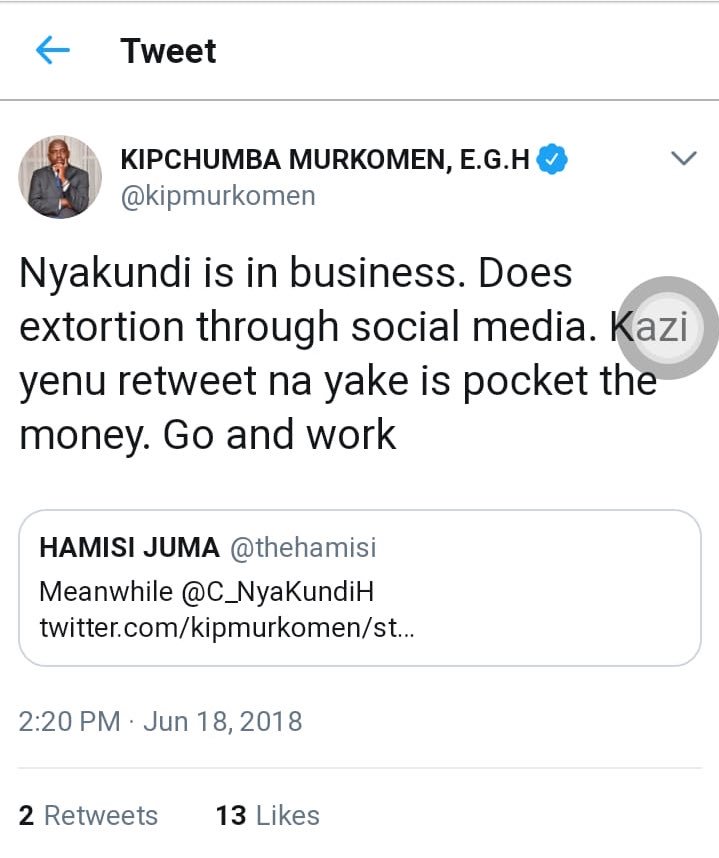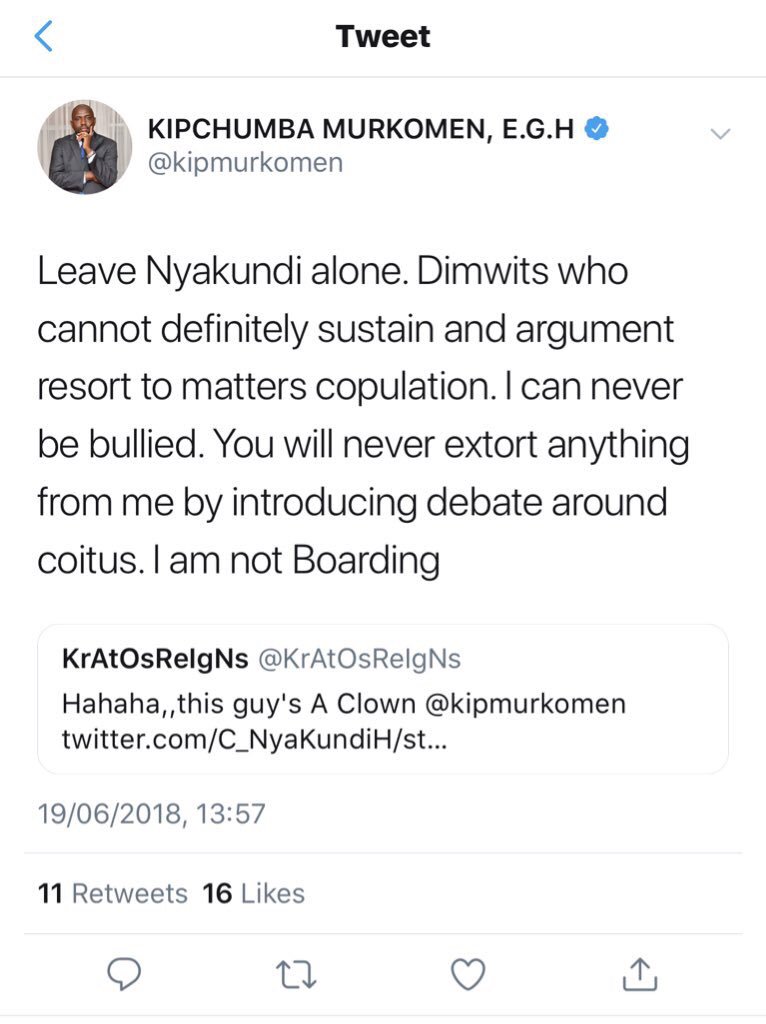 Nyakundi replies
Wewe mwizi @kipmurkomen rudisha pesa za NYS kwanza. The "Nyakundi is an extortionist" line is old. Kila mtu anaijua. Vimal Shah aliitumia in 2015. It's 2018 now. Kama ulikula pesa na malaya mpaka hauna za ku-extortiwa na bloggers, cheza chini Mama Nanii. #WeKnowYourSalary pic.twitter.com/zcKp8o1ZFt

— Cyprian, Is Nyakundi (@C_NyaKundiH) June 18, 2018
Sasa wewe @kipmurkomen nani anaweza ku-extort? I target high-voltage thieves like your benefactor @WilliamSRuto . Wewe I'm sure ushaa maliza float ya NYS na ma slay-queens. #WeKnowYourSalary pic.twitter.com/BWNqapggpe

— Cyprian, Is Nyakundi (@C_NyaKundiH) June 19, 2018
An ordinary Kenyans may think NYS thief @kipmurkomen is busy checking his phone to come up with solutions yet he is watching porn. Murkomen used part of NYS loot to buy a phone and data bundles to watch PORN! #WeKnowYourSalary pic.twitter.com/gTKEQL5SNR

— Cyprian, Is Nyakundi (@C_NyaKundiH) June 18, 2018
Comments
comments