Horrific Accident Along Nakuru-Eldoret Highway Claim 36 Lives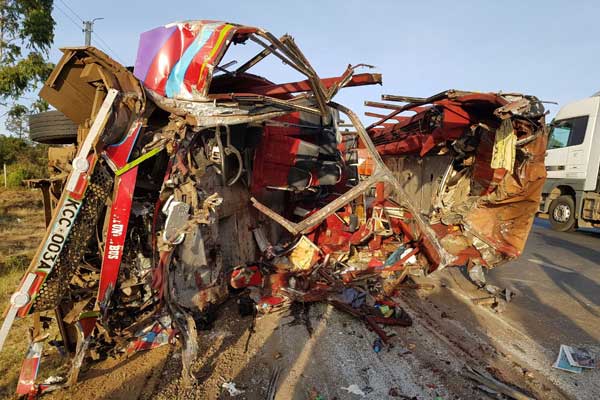 At-least 36 people were confirmed dead after a Nairobi bound bus collided head on with a truck at Migaa area about 3.30am on Sunday 31st.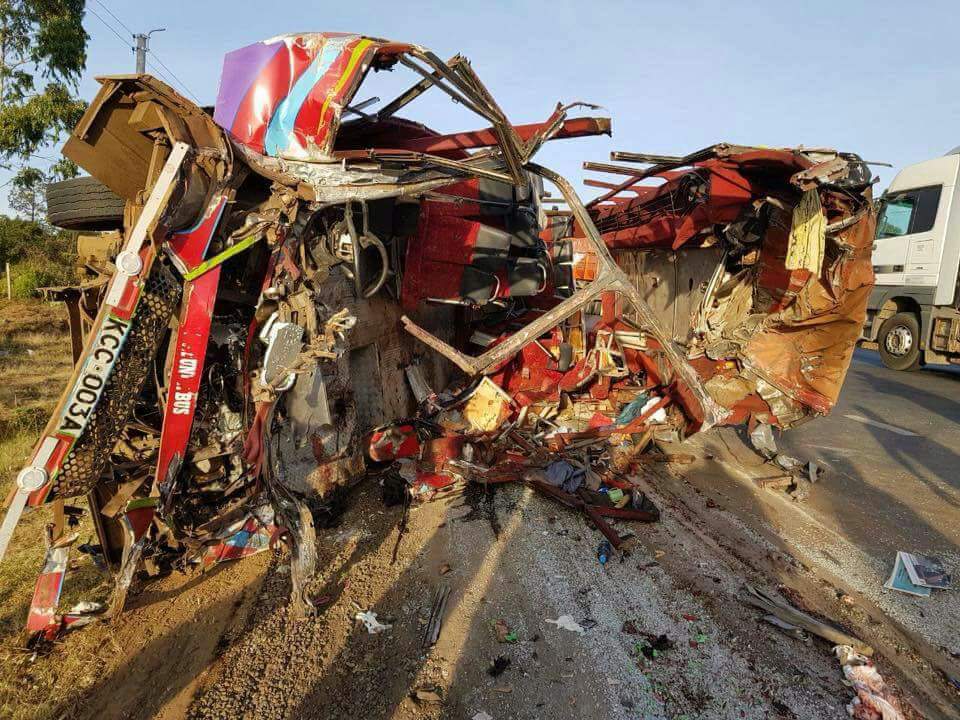 Truck driver and his loader heading for Eldoret passed on with other 28 dead bodies which were retrieved from the bus wreckage. Binging a total of 30 people who died on the spot.
Four people died on their way to a rescue mission while at Nakuru Level For Hospital
Among the four who died in hospital were three children aged two months, two years and 10 years and one adult aged 35years.
Two more victims of the crash also died while undergoing treatment at the Molo Sub-County Hospital, according to Mr Dominic Mburu, the hospital's adminstrator.
Rift Valley Traffic Enforcement Officer Zero Arome said the speeding bus which was travelling from Busia was being driven on the wrong lane when it collided with the truck head on.
Social media mixed reactions
The same bus that has killed people Leo was reported but no action taken.#NTSAfails#Migaa#LoggedOutForever #KOT pic.twitter.com/DMIMs6fmlN

— myles ryan (@Mryan6477R) December 31, 2017
OTEK. The sad part is that the very poor are the ones who opt for Matunda Bus. What's surprising is that they deliberately changed the name to "migaa", to cover up the fact that the accident still occurred on the same deadly "salgaa stretch".

— D I K E M B E (@Disembe) December 31, 2017
On Migaa accident, the problem seem to have been on the bus driver. They rammed head on, he was driving on the wrong side & evidently at a high speed.

It trickles down to driver behaviours on this road & lack of consequences on breaking traffic rules, if caught, bribe & go. pic.twitter.com/VAtrcvSYtQ

— Kenya West© (@KinyanBoy) December 31, 2017
The road is not necessarily the problem, its the character & quality of our drivers, drove a week ago to & fro Nai to Eld. Road properly marked, bumps where necessarily but lane indiscipline very rampant, You see a fool overtaking on a yellow continuous line on a corner #Migaa

— JayJayWaziri (@jjwaziri) December 31, 2017
30+ killed at Migaa near Salgaa makes it 300+ road accident deaths within a month
– NTSA not disbanded
-Ministry stopped making highways dual-carriage
-Drivers hike prices & overtake/speed for more cash
Traffic police pocket Billions via bribes. Stop playing ping-pong with lives!

— Scintillator🤫 (@Atanasi_) December 31, 2017
Comments
comments