Irritated Kenyans Searching Careless Driver Who Almost Costed Lives In Fog Atmosphere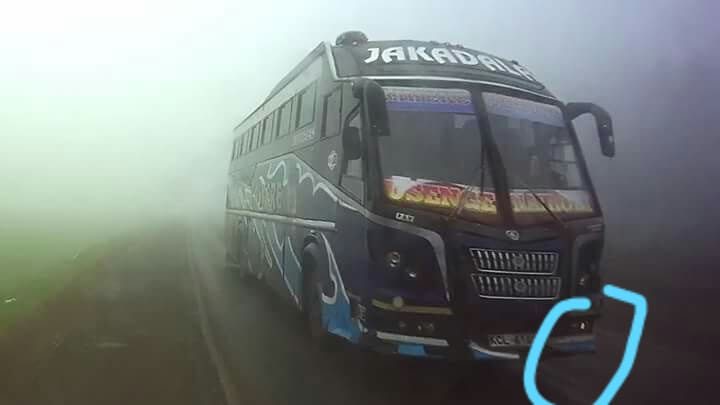 Killer drivers are on loose and Kenyans are appealing for their immediate arrest.
19:27 KCL 414C 6:40PM KAWERE SACCO. 28/8/18 circulate until this killer driver is behind bar@ODPP_KE @ntsa_kenya @OleItumbi @NPSOfficial_KE pic.twitter.com/XMILKL5VLr via @KipAmos

— Ma3Route (@Ma3Route) August 30, 2018
A video showing a bus belonging to Kawere bus sacco has been circulating on social media asking police to take up the matter
Be careful on the Nairobi – Nakuru highway. Mad drivers like the one on this bus will cost us many lives. @NPSOfficial_KE @PoliceKE, please caution them for reckless driving.

Bus is branded "KAWERE" on the side.

Video: Giles Littlewood, Facebook
Cc @Ma3Route @KenyanTraffic pic.twitter.com/n3NwDnfE9G

— Naomi Mutua 🐱🐾 (@AKenyanGirl) August 29, 2018
The driver is seen speeding on a wrong lane careless in a heavily clogged fog atmosphere. Besides his fog lights were also off.
We love travelling. We love Scania buses. But when you act unajua! Drive without lights in a fog; and anga overtake like you own the world, we will mulika you like crazy.

Bus: Kawere (Jakadala)
Sacco: Rengcom Communication
Plate: KCL 414C @ntsa_kenya kazi kwenu pic.twitter.com/QhDK0cPoNy

— Anjeyo Ananda 🇰🇪🇯🇵 (@anj_116_) August 30, 2018
Another bunch of dangerous belong to two luxury bus companies, Tawakal and another unknown far.
The two drivers attempted to cross a narrow bridge at ago, putting the lives of the passengers in great hands of risk
18:16 madness on our roads. The drivers of these buses should be apprehended, they don't value the lives of the passengers. pic.twitter.com/7SulDPXgh1 via @Dahiye_abdille

— Ma3Route (@Ma3Route) August 30, 2018
Comments
comments