On October 24th, 2023, the world of football witnessed a historic moment as Kenyan sensation Michael Olunga found himself on the same pitch as Cristiano Ronaldo. Olunga, who currently plays for ALDUHAIL, was ecstatic despite his team's 3-4 loss to Al Nassr. For the talented striker, the scoreline was secondary to the thrill of competing against one of the sport's all-time legends.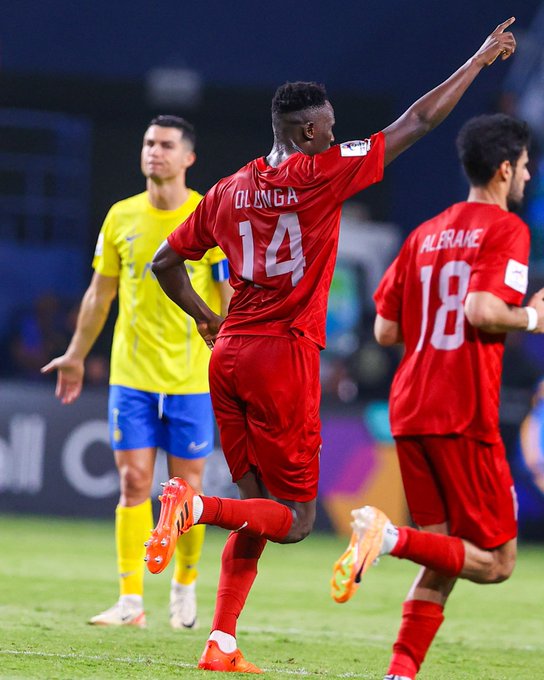 After the game, Olunga shared a series of heartwarming photos on his social media handle, capturing the moment he shook hands with Cristiano Ronaldo. In a caption accompanying one of these photos, Olunga expressed his deep appreciation for the experience: "It's a game of respect. Life gives you great moments and experiences." This simple message encapsulated the profound impact of this encounter on the Kenyan star.
Olunga's journey to this point had been marked by perseverance and dedication. He first made history as the first Kenyan footballer to play against another footballing legend, Lionel Messi, while on loan at Girona in Spain. These encounters with two of the greatest players of our time have solidified Olunga's place in the annals of Kenyan football.
The match against Ronaldo's Al Nassr was more than just a football game; it was an opportunity for Olunga to demonstrate the skills that have made him a household name in Kenya and a respected figure in international football. His performance on the pitch was a testament to his growth and talent, and the fact that his team ALDUHAIL managed to score three goals against a formidable opponent like Al Nassr spoke volumes about their determination.
In Kenya, football fans celebrated Olunga's achievement, recognizing the magnitude of the moment. His journey from humble beginnings to playing alongside football icons has been nothing short of inspirational. The encounter with Ronaldo, a five-time Ballon d'Or winner, symbolized the heights to which Olunga has climbed in his career.
While the final score may not have been in his favor, Michael Olunga's delight in playing against Cristiano Ronaldo was palpable. The shared moments, the handshake with Ronaldo, and the camaraderie on the field were proof that football transcends borders, cultures, and languages. It's not just about goals and wins; it's about the magic that happens when players like Olunga take the field and remind us all of the beauty of the beautiful game.
In a world where football continues to inspire and unite people from diverse backgrounds, Michael Olunga's story is a testament to the power of passion and determination. His encounter with Ronaldo will forever be etched in the hearts of football fans, and it's a moment that will inspire generations to come.