Kenyans Can't Solve The Puzzle In Waiguru's Deputy Governor Viral Sex Video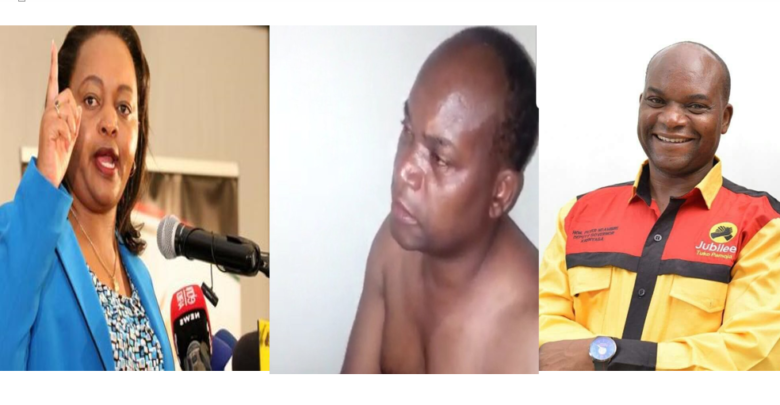 A viral video showing the current Kirinyaga county deputy governor Peter Ndambiri has drawn mixed reactions with Kenyans failing to stand on a common ground.
Whether the sex scandal was staged or it was a genuine sin is the matter which has taken over the 2018 devolution conference happening in Kakamega county.
In the video, unknown men are seen talking to the naked politician from a hotel, who in turn is pleading for forgiveness as a naked woman (loosely identified as to be Liz Njuguna)in his company cries helplessly.
The Deputy governor who is thought to have been at the devolution conference in Kakamega, is puzzling his supporters who think that this is an old clip meant to cripples his politician ambitions.
Liz Njuguna, woman caught with the politician
The victim himself claim that he knew the woman was not married , only to be shocked that she had a husband.
In his video which is mixed with his local language and Kiswahili, he adds that he was even planning to visit her parents probably for marriage arrangements.
The Deputy governor however is married with kids!
A statement from police, which is thought to be largely a false propaganda states that the man was set up by hooligans
Draft Statement for Police Spokesperson to Arrest the Developing Kirinyaga DG Scandal:-

Kirinyaga DG was today forced to undress at his hotel room in Kakamega by the thugs who came in with lady. We call upon the police to act very fast and arrest the criminals involved and stop them from blackmailing any more VIPs at the ongoing #DevolutionConference2018. The National Police Service is requested to beef up VIP security to avoid any further similar unfortunate incidents. We apologize to the H.E. Deputy Governor Peter Ndambiri for this heinous attack on his person and privacy and promise Kenyans we shall get to the bottom of this matter.

NPS Spokesperson
Another twist of the story falls on the woman.
It is alleged that this is not her first time to take part in a sex scandal. She is accused of colluding with money extortionists who prey on unsuspecting politicians for money
She is said not to be married and was largely involved in the set up.
Be the judge!
That video of Kirinyaga Deputy Governor and his clandestine or whatever is so disheartening. The people involved in the assault should be brought to book. When will we understand the distinction between law and morality? Sick!

— Judy Muriithi (@ImJudyMuriithi) April 24, 2018
Let me be the first person to condemn the Kirinyaga Deputy Governor for being caught with someone's wife in Devolution Conference 2018, Kakamega County. This is an insult to leadership. He should lead by morals not eat the electorate's money, opportunities, wives & daughters. pic.twitter.com/LUkKuGPdGT

— Ogari Mtetezi (@Ogari_Mtetezi) April 24, 2018
That Kirinyaga Deputy Governor story smells like a set-up..Stinks from the high heavens!!

— Thee Trend Setter ™ (@xtiandela) April 24, 2018
Kirinyaga deputy governor whose mentor is one malaya Ann waiguru was on a DOGGY style when busted and was forced to ejaculate on the floor…i wish he had masturbated in Waiguru's handbag to be carried back to kirinyaga..Kakamega gods dont accept 0.5 DICKS

— Son of Sankara (@waudasankara) April 24, 2018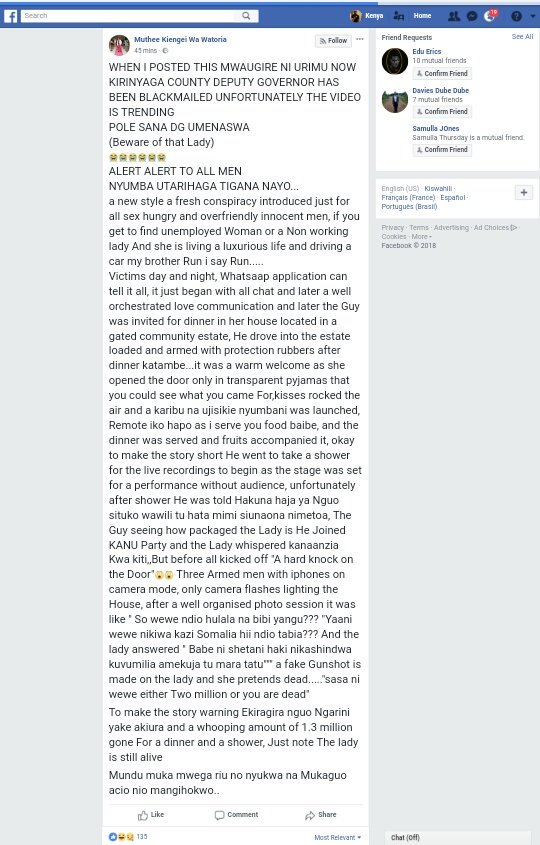 So it has emerged that the Kirinyaga Deputy Governor situation was a setup.
The lady in the clip IS NOT married and the guy assaulting the dp governor IS NOT her husband.

It was an extortion setup. It is not the first time the lady has been 'caught cheating'. pic.twitter.com/6xWjfskoDg

— Vincent Osiemo Keroro (@vinny_wa_) April 24, 2018
Comments
comments