Larry Madowo Jets From A Europe Tour To A Kibandaski Dish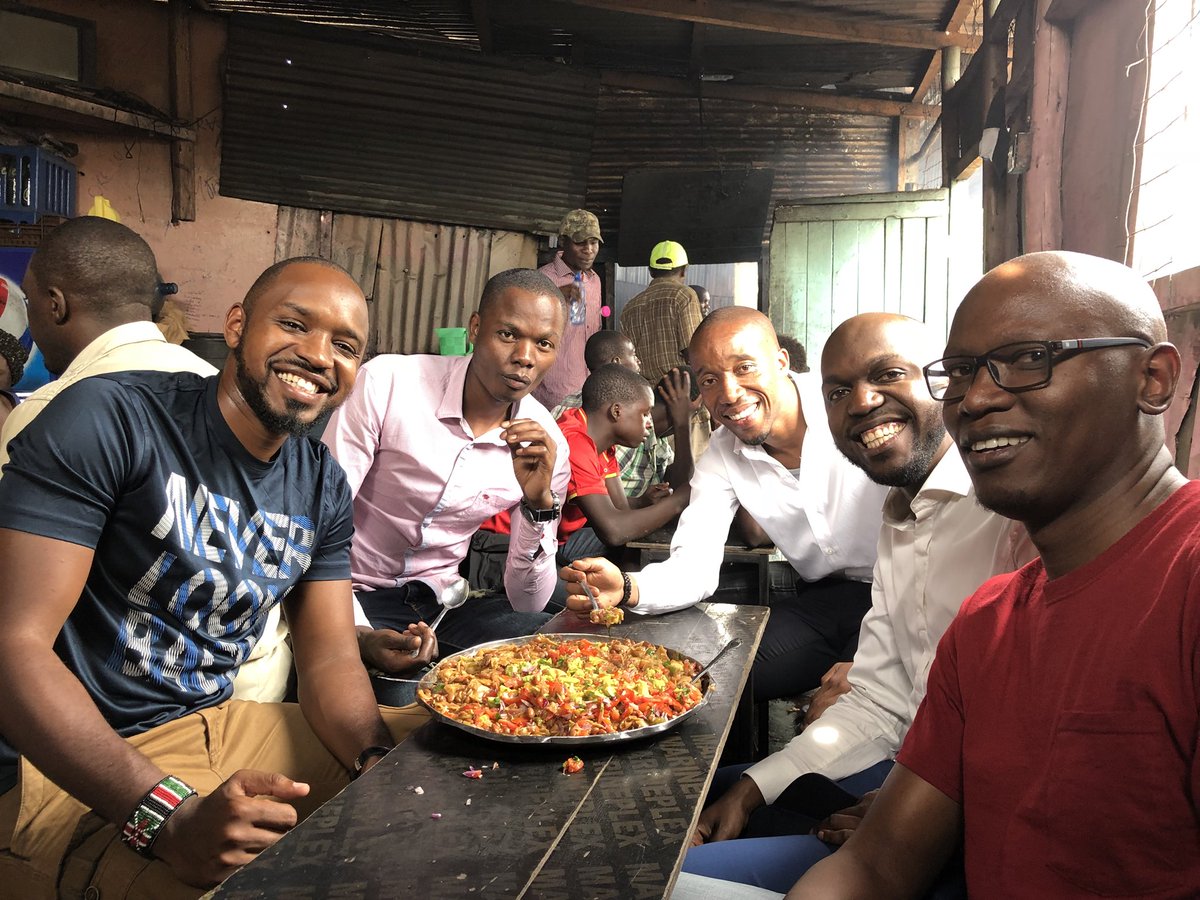 Larry Madowo has amazed his fans after he shared a photo of him enjoying a local dish in a shanty hotel located in one of the Nairobi area bordering Majengo slums.
Great being back in Africa's greatest city. What did I miss? pic.twitter.com/N3C1pgxBze

— Larry Madowo, first of his name (@LarryMadowo) January 6, 2018
Larry in company of other top celebs such as activist Boniface Mwangi, KTN reporter Timothy Otieno and NTV Swahili anchor Rashid Abdala decided to have a quick bite at Nyagah Place before going on to watch the famous final tournament of Koth Biro sponsored by Sportpesa.
And thus concludes my whirlwind winter wanderlust through France, Spain, England, Belgium and the Netherlands. Let the year begin!

— Larry Madowo, first of his name (@LarryMadowo) January 5, 2018
The dish barely costs Ksh.100 and is mainly prepared using cooked beans which are fried together with sliced chapatis. Fanatics of the dish would even add milk, tomatoes, dhania and other ingredients to make it even better.
The dish is popularly called Nyagah due to its founding father who was called Nyagah. The hotel is called Nyagah, derived from the dish it is famous for.
Larry was in Europe and USA for his holiday before he set back to the country.
Noticeably he has grown beard, which has actual changed his look so much than before.
New beard, who dis? pic.twitter.com/4nbmBFxSu0

— Larry Madowo, first of his name (@LarryMadowo) January 7, 2018
Quick takes from KothBiro
They say a picture is worth a thousand words; this one surely speaks for itself.

Yesterday the young boys couldn't leave their disabled friend behind as they went about watching football match in the on going #KothBiro tournament in Ziwani – Nbi.#FootballisLove #FootballisLife pic.twitter.com/TDE6BtRgGT

— Frank Orinde (@FrankOrinde) December 16, 2017
Enjoyed a gripping #KothBiro quarter final meet between Pumwani Sportiff and South C Ward at Umeme Grounds in Ziwani Ward. pic.twitter.com/bosc4k8US1

— #S3 (@SakajaJohnson) December 16, 2017
South B FC Combined face Team God Above All Huruma in the 40th #Kothbiro tournament Final#MadeOfWinners pic.twitter.com/PKQDbFeIIl

— SportPesa (@SportPesa) January 7, 2018
South B beat GAA Huruma 1-0 to win the 40th edition of #KothBiro. And now, a question from a fan pic.twitter.com/CZctCF03Ap

— Larry Madowo, first of his name (@LarryMadowo) January 7, 2018
Comments
comments