Massive Hiring Of Teachers, Over 100 Posts Open
Check below available teaching positions
Please note that sending money to the employers in return of any favor is not encouraged by our site, do so at your own risk.
.Misyani Girls in Kangundo is in need of Two Teachers under BOM Terms for Eng/Lit and Kisw/…. Interested candidates are requested to send their Academic Qualifications through the email: misyanischool @yahoo.com or hand deliver them to the school on or . For enquiries call 0711 587 033. Thank you.
Rutune secondary mukurweini needs an Eng/lit teacher on BOM terms..if interested contact me…0727351363
Maths/business and maths/physics teachers required  at Lake elementai sec school. Call principal 0724315191
BIOLOGY /AGRIC. TEACHER REQUIRED AT LOITA SCHOOL,  NAROK ON B.O.M TERMS.
SAL KSH. 20,000pm with a free house.
Contact Principal (0728 686616)for more details.
Thanks.
kiswahili,/…..teacher needed in sec in Nairobi
for more information contact. 0734384375

TEACHING VACANCIES IN SEGERO GROUP OF SCHOOLS
The Board Of Management Segero Group of Schools (SGS) that manages Secondary and Primary Schools which are owned and managed by the Seventh Day Adventist Church-Greater Rift Valley Conference invites suitable applicants to be interviewed for teaching vacancies in Secondary Schools. The following are subject combinations required:
1. Mathematics/Chemistry
2. Chemistry/Physics
3. Biology/Chemistry
4. Biology/Agriculture
5. English/Literature
6. Mathematics/Geography
7. Mathematics/Business Studies
8. Kiswahili/C.R.E

QUALIFICATIONS
1. MUST HAVE A DEGREE IN EDUCATION (BED) WITH AT LEAST 2ND CLASS UPPER DIVISION
2. MUST BE REGISTERED WITH TEACHERS SERVICE COMMISSION (TSC)
3. SHOULD HAVE ATTAINED MEAN-GRADE OF C+ AND ABOVE AT KCSE
4. SHOULD HAVE AT LEAST B+ IN THE TEACHING SUBJECTS
5. MUST BE WILLING TO WORK WITH  ZEAL BEYOND THE CALL OF DUTY.
APPLICATION PROCEDURE
HAND WRITTEN APPLICATION ATTACHED WITH COPIES OF ALL ACADEMIC AND PROFESSIONAL DOCUMENTS, NATIONAL ID, BAPTISM CERTIFICATE AND LETTER FROM THE RELIGIOUS LEADER TO REACH THE UNDERSIGNED ON OR BEFORE 24/11/2017.

TO THE SECRETARY
BOARD OF MANAGEMENT,
SEGERO GROUP OF SCHOOLS
BOX 2555-30100 ELDORET
OR CALL  0723-636901/0727-344419/

THE SEVENTH DAY ADVENTIST CHURCH IS AN EQUAL EMPLOYER.

Mbagathi Road Secondary School NBI is looking for BOM teachers in: 1.Hist/Kisw 2.Geo/CRE 3.Bio/Agric 4.Maths/Phy or Phy/Chem. one should be registered with TSC.Drop your application & copies of certs, at the school.
Could anyone of you be knowing two graduates with BED who can teach Maths and Sciences or someone with BSC who can teach the same courses? There are some opportunities for such teachers in Seychelles. You can tell them to send me their CVS via my email: romanop2000@gmail by close of business tomorrow Thursday. Bcc me a.oduor@dcp-kenya.org
A catholic school located in Nairobi area is looking for trained and competent staff in the following areas:-
a) A special class teacher.
b) 2  Trained P1 teachers able to:-
1. Teach English std 8 and C.R.E.
2. Lower primary section.
c) An IT teacher.
The following are added advantages.
i) Minimum of 4 years experience in a first class competitive school.
ii) Good communication skills.
iii) Able to handle modern Nairobi child.
iv) Scouting skills, drama, music, and games.
Interested candidates to submit their CVS and other relevant testimonials on or before 24TH NOVEMBER 2017 to:-
ST. JOSEPH'S NURSERY AND PRIMARY SCHOOL
P.O BOX 29332-00625 NAIROBI.
EMAIL; stjoseph.primary@yahoo.com/roseokoth73@gmail.com
MOBILE   0724995339
0714125451
KIJABE BOYS HIGH SCHOOL has a BoM Vacancy for Biology / Chemistry. Interested Candidates to call the No. 0736 644 308 for more details. PRINCIPAL

Kyanginywa sec school

Makueni county
Kibwezi sub county

Asking for English lit.
..call 0729863338 for more information.

ROCKFIELD SENIOR SCHOOL
need the following teachers
kiswahili
chemistry
Biology
Agriculture
business
French
physics
must have 5 yrs experience
for more information contact 0725922988/0791470600
Headteacher p1 teacher needed  contact 0723530143
Head Teacher job at Janta Kenya.Have a Masters/bachelor in Education with some experience  in being a head teacher.Send CV to vacancies@jantakenya.com
TSC TEACHING VACANCY:KIJABE GIRLS' HIGH SCHOOL REQUIRES A BIO/CHEM TEACHER TO BE EMPLOYED BY THE TSC . APPLICANTS MUST BE TSC REGISTERED.INTERVIEWS TO BE CONDUCTED ON WEDNESDAY 1ST NOVEMBER 2017 AT THE SCHOOL.KINDLY INFORM ANY QUALIFIED AND INTERESTED PEOPLE TO APPLY.SCHOOL CONTACT IS 0725854455,SCHOOL POSTAL ADDRESS P.O BOX 90-00220
Kiamwathi Sec, Kirinyaga East, Kirinyaga County.
Looking for Business/Computer Studies teacher for TSC recruitment. Contact Principal on 0721 629 008.
Geo/Agri teacher with 3 years of experience is
urgently needed in Brookshine school.
For more information call 0700428398
Meto sec school is ugently​ looking for a BIO/GEO teacher on BOM terms from jan2018!! Please call the principal on 0723310701 Mr jumbe !!  The school is located in kajiado central subcounty!!!
Meto sec school is ugently​ looking for a BIO/GEO teacher on BOM terms from jan2018!! Please call the principal on 0723310701 Mr jumbe !!  The school is located in kajiado central subcounty!!!
+254 719 440288‬: Am looking for a bio/agri job…will be excited to get one in central… if you know of any chance pliz inbox me
1.
2.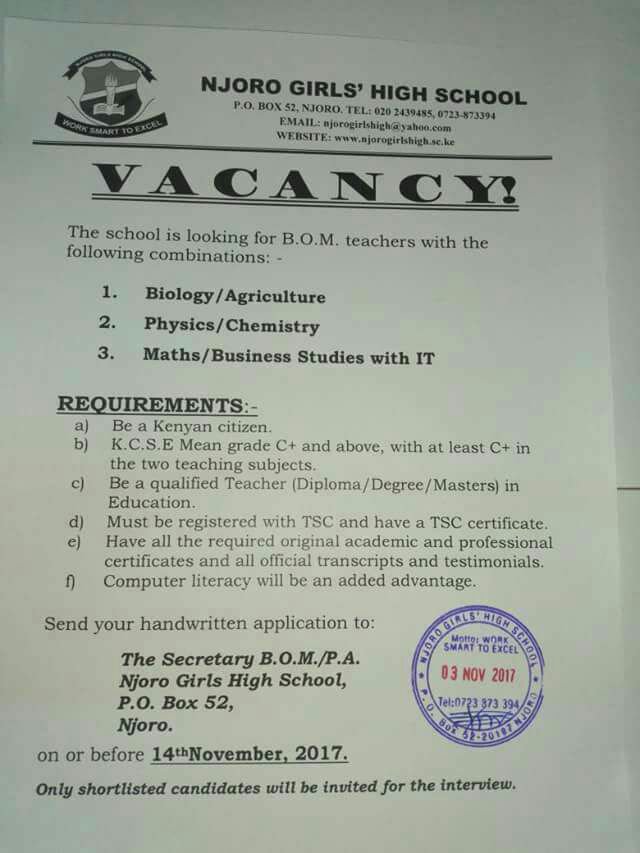 Caution
Avoid sending any kind of help such as money so that you can secure the job. Don't send any facilitation fee too. We shall not be liable to any loss you incur
Comments
comments