Not Again, Fire Razes Down Gikomba Market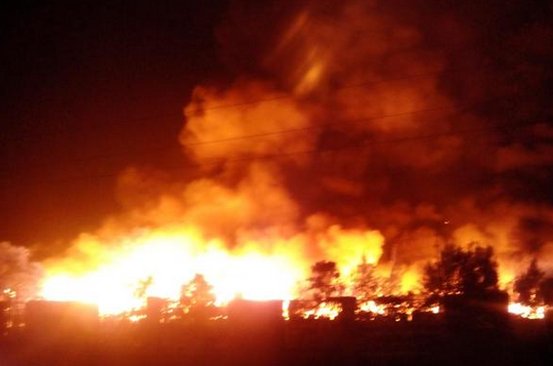 This is not the first time, nor does it seem the last time. Worse the last case just happened few months ago.
The Grisly fire at Gikomba market that Started around 3 a.m. Is a big blow to the traders and Businessmen that had invested their capital. pic.twitter.com/sf3duA3aYc

— Embakasi Finest™🇰🇪 (@mboya_k) October 6, 2017
It should be understood that Gikomba market place is the largest of its kind in the East Africa as a region.
The frequent and even the timing of the fire outbreaks on the market raises the eyes of innocent obsevers.
Why does it have to occur over and over again? Don't we have a government to take care for this and for once!
This case, was just a similar script, a fire broke up from unknown source, around early Friday morning.
Then properties went into blaze, million of shillings.
The cartels if any, must be brought to book!
Retweet if you agree that Gikomba Market now needs it's own functional Fire Engine. #GikombaFire pic.twitter.com/muQ0mhVDO8

— DAUDI (@ItsDaudi) October 6, 2017
The Fire at Gikomba market has been contained. However, property of unknown value has been destroyed #gikombafire pic.twitter.com/uNxFmvKx2Q

— Pal Jeff (@Pal_Jeff) October 6, 2017
Current situation in Gikomba Market after fire broke out again this morning @Kiss100Kenya #adelleandshaffieonkiss pic.twitter.com/rGz5IPvWBd

— #TeamShaffie (@ShaffieWeru) October 6, 2017
Dear Gikomba traders the politician you voted for vehemently wants you out of that place.See message on the wall

— Tee Jay (@thomjoel) October 6, 2017
''I saw a woman cry ,juu ya bodaboda this morning (4.20am) as she went to #Gikomba to check on her property. #Brekko @GhettoRadio895

— Wairimu's Daughter (@Elishifa) October 6, 2017
All those crowds in Gikomba shld be demonstrating demanding good governance 'n Kenya would change overnight. Africans are too confused man.

— Benji Ndolo (@BenjiNdolo) October 6, 2017
Comments
comments