Painter Using His Stumps As A Source Of His Livelihood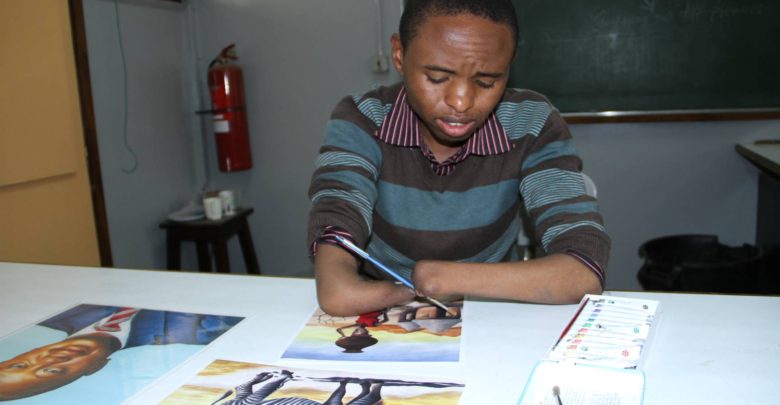 Mr. Richard Kithuki suffered unusual birth defect and was born without any fingers on his hands, yet with a great spirit, the Art and Design graduate can draw, paint, write, type on a computer and carry around lab equipment by simply using his stumps at ease.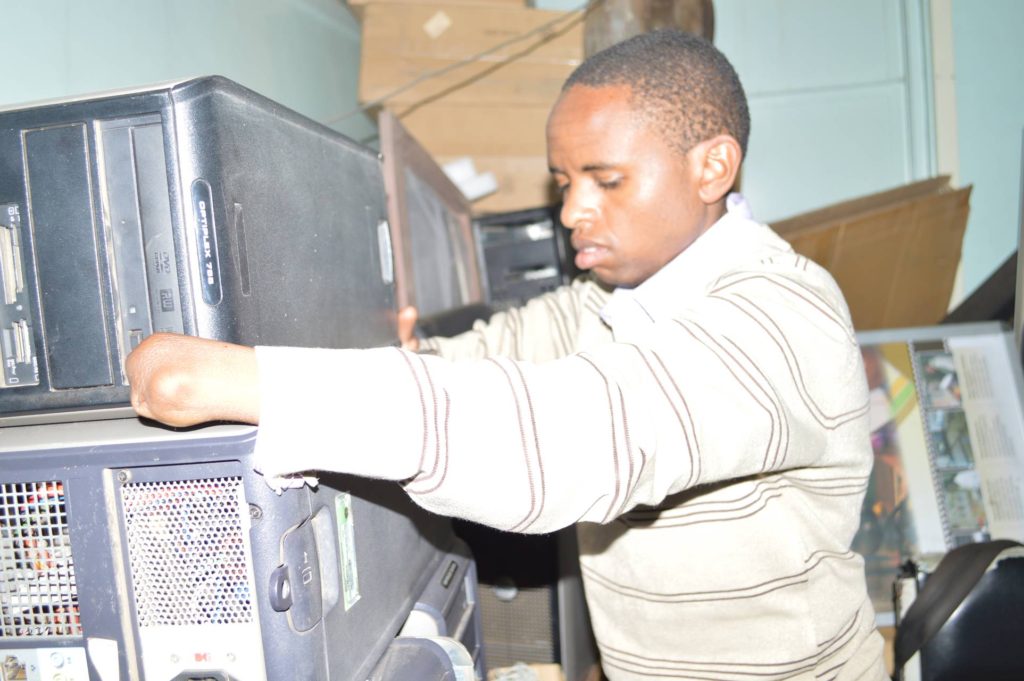 When he wants to type for instance, he uses his both stumps to punch the keys on the keyboard alternating it with the right stump to either right-click or left-click the mouse button with an average speed of 25 words a minute.
"I use both of my stumps to draw and paint by holding my tools within the stumps, and sometimes using my mouth to exchange between the tools." Mr. Kithuki says.
He does almost everything with little or no help from his colleagues, and his amazing artisan work will leave his esteemed customers in stitches, wondering how he does it without fingers.
On weekdays, He is busy working in a computer lab as a technician, when the weekend comes he says, "I have to meet the deadlines of my clients who had ordered me drawings and paintings".
He puts on the two professional hats with ease; the 29-year-old says that his disability has opened his eyes to spot his true abilities.
In the computer lab at Technical University of Kenya he does everything which normally requires physical use of hands, yet he perfectly does it all with his stumps.
"I install computers which are characterized by massive wiring, along with carrying around computer furniture; I have to do with accuracy and in time, not to overlap in the lecturers' timetable", the former student of Joytown Primary and Secondary for Physically Handicapped in Thika says.
Before lecture lessons, Mr. Kithuki is supposed to prepare the lab accordingly, Miss. Emily Nyabere , a lecturer says , in one of her lessons she needs a projector for her tutorials.
Mr. Kithuki understands his job description better and even goes ahead to connect the projector to the laptop or the computer incase of technical problems.
The lab is busied around always since it serves the School of Creative Arts and Technologies, which leaves him with little room to breathe in.
Miss. Mercy Korir, a third-year-student taking Bachelor of Technology in Design Technology states, "He assisted me to fix a keyboard which wasn't functioning, he also helped me to install editing software, by use of stumps with ease."
He is always understanding to students' issues and not easily vexed, polite and down to earth, this makes him more approachable by students, Miss Korir says.
"He feels good whilst serving you, personally I would reach out to help him just incase but he would still do it without asking any help," Mr. Rufas Nasibi, Miss Korir's classmate states.
"I asked him for a little assistance but instead he went ahead offering more than I had expected," Mr. Nasibi says.
Mr. Kithuki is not only good and refreshing to students but also to his fellow workmates, Mr. Roy Kisielo, his workmate says he enjoys working with him and never feels that he is incapable but competent.
Being a University of diversified students, Mr. Kithuki is not safe from rogue and tough headed types; he approaches them with his mental strength calming even the most hardened rag tag students, he says.
He remebers sullenly when a lecturer dispirited him and even quickly advised him to take a theory course that will involve less physical attention, after enrolling for Diploma in Art and Design in 2008 at the same institution he is working for.
He says his desire and passion to become an artist had rose in him in class seven and no one would have uprooted it.
Mr. Martin Ngugi had inspired him as his mentor, inspirations that saw him start earning a living from drawing and painting before he got a second job at the university.
He says that most of his artisan work raises the eyebrows of his customers, some of whom had little faith in him before. These customers end up frequenting him.
Right now, he is the sole breadwinner of their family; he pays school fees for his siblings including one at Mount Kenya University, something that makes him proud to have lifted a weight from their both parents who had survived on casual jobs.
His former lecturer Mrs. Lily Kimaru says that he was one of the best students in class.He looked even more perfect than even other normal students
The big hearted and versatile Kithuki plans to further by doing a degree in Graphic Design and later on open up his own exhibition art firm with other disabled artists.
He advises other disabled to do something challenging to their disability because every person was created with a purpose.
Comments
comments