Zinedine Zidane Leaves Real Madrid After Third Champions League Title
Zinedine Zidane has shocked the football world by resigning ace Real Madrid coach just days after winning a third consecutive Champions League with the La Liga giants.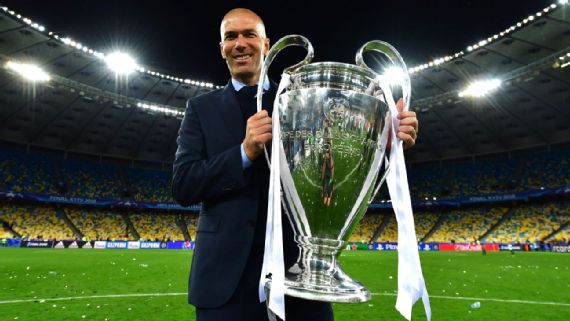 At a news conference scheduled on short notice Thursday, the 45-year-old confirmed he would step down following Saturday's 3-1 victory over Liverpool that made him the first coach to lift the European Cup three years in a row.
"I am doing this for the good of this team, for this club," Zidane said. "It would have been difficult for me to win again next year." I do not forget that. And at this club you must know this: I do not want to start a season and have a bad time, I want to end with Real Madrid when everything is going well, I did it as a player, and now again as a coach.
Zidane said he had no longer had a clear idea of ​​how he could manage the team to more success next season, hence the decision to step aside and allow a change to be made.
"I had the respect of all, above all the players, which has been fundamental in achieving things," he said. "The players have nothing to do with my decision, it is about what I think, after three years it is difficult to keep coaching, above all having won three Champions Leagues. I have the feeling I will not win, a change must be made As a player, if I was not happy as I was not winning, I left myself, did not blame other people, took a decision, and that's that. "
Zidane admitted there were some difficult moments over the course of the 2017-18 campaign, mentioning the Copa del Rey defeat to Leganes, and I felt that after two and a half seasons together, I just could not ask any more from the Madrid players.
"There are difficult moments when you can wonder if you are the right person still," he said. "I do not forget the hard times, as well as the good times, and that makes you reflect and the players need a change, I want to thank them too, as in the end they are the ones who fight on the pitch This is a demanding club, not easy for them, with this great history We need more voice to return to winning again. If I do not see clearly that we are going to continue winning, a moment comes when you say, 'better to step aside.' "
Zidane denied that his decision to leave was in any way linked to uncertainty over Cristiano Ronaldo's future at the club, and avoided a question about what kind of changes were needed within the squad ahead of next season.
"This is a squad which has shown its worth in these recent years," he said. "About what you eat next, I've had a good relationship with the president and we've talked about signing players, but that's not why I'm leaving."
Comments
comments