10 'Abnormal' Jobs That Actually Exist In Kenya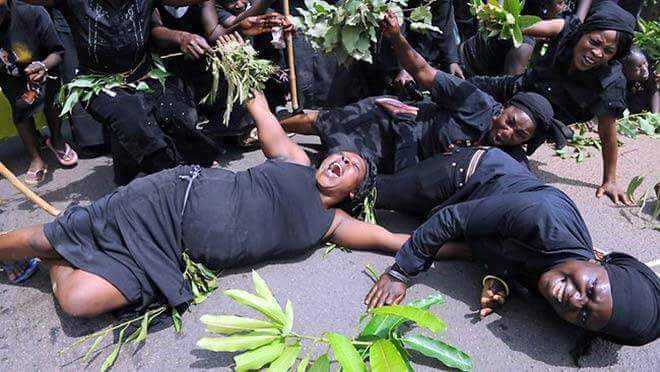 You can get a job through a career education pursuit or via living up with your God given talent. It will be safe to say that any job that falls out of this spectrum is not a job but rather something else.
With that in mind, let us find some of such jobs that are from not the usual world.
1.Professional Mourners
They are available on just a call away, they do come in handy when you want to hype a funeral service via means of wailing, screams and cryings.
They are good in funerals of prominent people such as politicians
2.Temporary Bridges
During rainy seasons in Nairobi, the banks of the seawge and water lines burst off, flooding the path and walking ways in many parts.
But you should not get worried, someone is there to lift you of on his back by carrying you over there at a fee.
3.Selling Loose Change
There was a time when loose money in Kenya was like a treasure in Nairobi, but merchandises sort to fill the position by selling off loose money at a fee.
Even some supermarkets were inviting loose money at a fee
4.Touts
If you want to travel from one place to another in Nairobi city, there are a number of callers you will meet on the bus stop, touts, they call passengers to board their vehicle. What is interesting is that you will fianlyy board the vehicle even if they did not call you.
5.Direction givers
If you wanted to get from one place to another but in the meanwhile you got lost, someone would be on standby to give you tips on direction, but at a fee
6.Ugly Models
Some companies have been on the loose hiring ugly models or belly bottomed, fatty models on the scenes. Like many milk selling ads will invite belly bottomed models
7.Grave guards
At Kariokor war cemetery, there are guards who are guarding the cemeteries, it is interesting bearing in mind when one dies he or she is still important to be given security
8.Worm Pickers
It is such a crazy job, to walk in muddy swamps picking worms so that when a fisherman man walks into your shop, you got something to sell to him.
9.Compost Guards
In Nairobi still, there are those who guard compost centres, the biggest one being in Dandora. What is funny is how one is providing security to waste materials which have no got use.
10.Pastorprenuers
There is a flock of pastorprenuers in Nairobi and the rest of the country. Actually opening a chuch is much regarded as a business than a spiritual calling.
It is obvious that pastors in Nairobi must be paid on a monthly basis, just like other private and public worker
Comments
comments