Employment
10 Kenyan Celebs Who Have Been Conning Innocent Job Seekers
Among the con men who have been conning innocent young job seekers and upcoming artists, Kenyan celebs have also sadly been involved in conning this vulnerable Kenyans.
Let us expose them below so that you can take caution when closing any deal with them
1.Brian Oduor
Former Nation FM and 1 FM presenter has been conning media job seekers for a couple of years ago. He claims to have a lucrative well paying job which does not require an interview test and application CV.
But for one to secure, you must send him document processing fee which is close to Ksh.10,000
He has conned so many innocent young Kenyans and he is still conning more
2.DJ MO
DJ Mo has been conning upcoming artists who pay him money so that he can play their videos on TV.
The sad thing is that he is a gospel artist and he is asking for bribes to play Godly music.
At time artists have claimed he barely play their music to the agreed contract
3.Bahati
Thuranira Kathiai claimed that gospel artist had vanished with his hard earned Ksh.200,000 when they thought of opening a studio for music recording.
The deal broke down and when he sort to be refunded Bahati did not do so.
The accuser hen reported Bahati to the police who was then arrested and released on bond
4.Sauti Sol
Sauto Sol were forced t come clear about an event organizer who was conning innocent young modellers in an event they were set to grace.
Even though they terminated the contract, the modellers were to be paid only food and transport after working with them for atleast a week
5.Jamby Koikai
When she started collecting cash for her treatment of a rare disease abraod, it was claimed that she is collecting more than she needed therefore conning unsuspected well wsihers.
She was forced to come close and defend herself
"It has come to my attention that false information is being shared about the cost of my treatment. I've shared my journey from 2015 and the public is aware of this endometriosis battle. My Mom, my sis and I have met all our medical bills even after my grandmother passed away,
7.Shebesh
Presidential and gubernatorial aspirant Peter Kenneth lost close to 20 million during the last 2017 election
During the primary election, Rachel Shebesh claimed that she would woe his close rivals step down for him if he parted with 20 million shillings.
Rachel Shebesh with other Jubilee party officials were to woe rivals such as Nairobi Senator Mike Sonko, Dagoreti South MP Dennis Waweru, and former Starehe MP Margaret Wanjiru among others to step down for the former Gatanga MP.
But the president and his deputy squashed down the deal claiming that they had no any favorite interests in a certain candidate
8.Kidum
In 2017, Kidum is said to have conned a Nairobi event organizer more than Ksh.250,000 and proved to be arrogant in paying the damages back.
Hailemind Entertainman claimed that Kidum was paid Ksh.100,000 but still skipped the show that was supposed to be in Kericho
On the other hand, Kidum claimed that he was being conned
9.Owago Onyiro
Though he was conned of Ksh.70,000. He never stated the kind of business they were transacting with the con lady.
He just lamented on Facebook.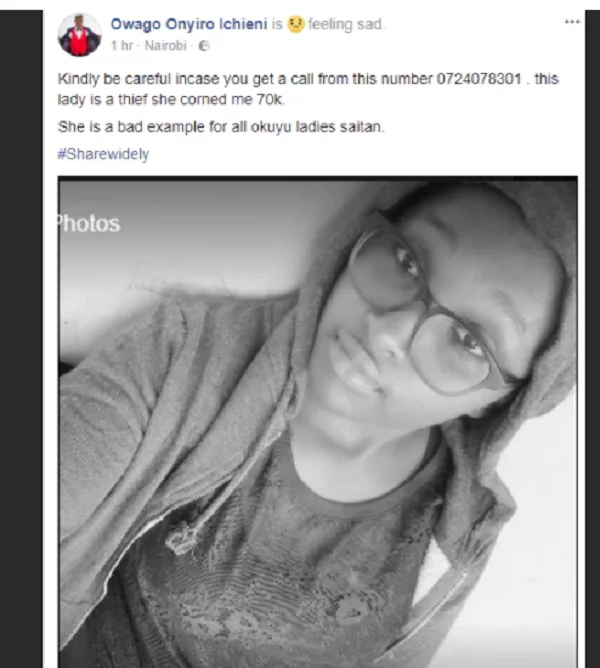 10.Daniel Komen
The 3000 world record holder Komen was charged in court for trying to pretend he could pay Kamotho Thomas cash 1.7 million for his car Suzuki escudo