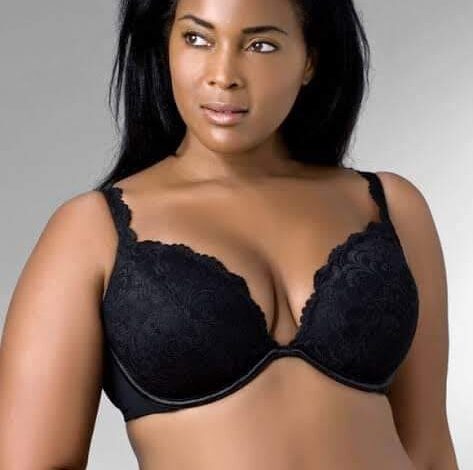 There are different types of bras and consequently give a man different vibes.
This means that every time a woman uses a bra, she can vibe differently to a man depending on the message she wants to deliver home.
'The padded bra""

This makes the woman's chest look fuller; it brings out the shape of her twins and makes the man wish his hands can replace the lucky pads.
"The sports bra"

Yes, her chest may not jump up and down as she actively works out or goes all sporty, but this makes the man see fitness and sexiness in her at the same time. Uuhh, the wonder of tight fitings.
"The clear strap bra"

This brings out an element of mystery. It makes him concentrate on her skin; her arms and shoulders. It makes him want to trace the clear straps with his playful fingers, may be they might lead him to the peek of her two protruding hills.
"The non-padded bra"

This brings out her feminine softness, her chest perfectly pushes out and depending on how cold it is or how aroused she is, he can get a view of her two hard grapes poking out through the thin fabric.
"The push-up bra"

One word for this: CLEAVAGE!
"The laced bra"

This bra is more like lingerie, absolute eye candy. It loudly speaks out sensuality. He looks at his woman feeling romantic, and a sense elegance and maturity. He wants it removed but not in a hurry, because it really looks good on her; so classic, grown and sexy.
"The strapless bra"

This is the one that amuses yet puzzles. She wears a bare back, he looks at her back and sees no bra but her front looks dressed. He wonders how she can just put on a strapless thing and it doesn't fall off. The woman's body makes for some good study.
"No bra"

He smiles when his woman let's the twins loose. Or when she wears a dress or t-shirt and sees the twins free, what a view!