The Kenya Universities and Colleges Central Placement Service (KUCCPS) wishes to announce that the online application system for placement of students to universities, public TVET colleges and TTCs is now open, from May 17, 2023 to June 7, 2023.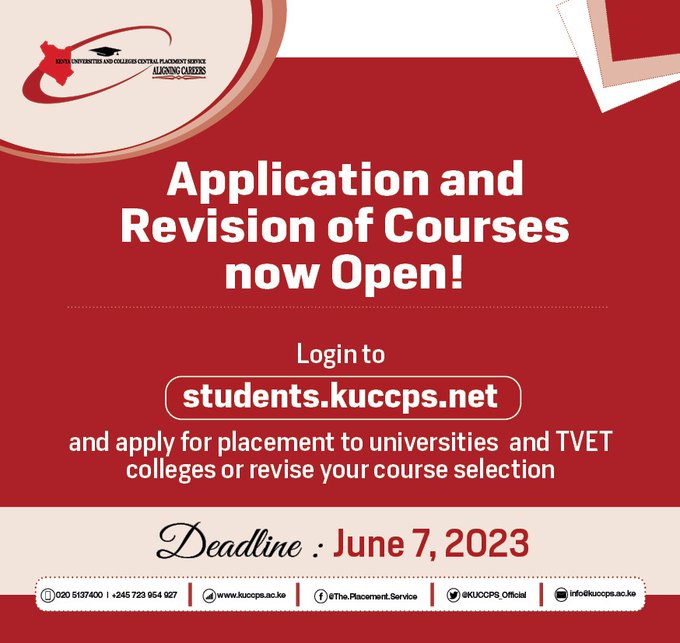 All the 2022 KCSE candidates who applied for courses at school MUST revise their choices. In addition, those who did not apply at school are required to submit their application within the period.
Minimum Requirements
The minimum entry requirement for Degree Programmes is a Mean Grade of C+ (plus).
The minimum entry requirement for Diploma Programmes is C – (minus); for Craft Certificate Courses is D (plain); and for Artisan Certificate courses is E.
Who can apply?
Application for degree courses is open only to the KCSE examination class of 2022 for applicants with C+ and above.
Form Four Leavers who sat the KCSE examination between the years 2000 and 2022 and have never been placed by KUCCPS are eligible to apply for courses at all levels except Degree. They can only apply for courses offered in the TVET colleges.
Form Four Leavers who sat for KCSE between the years 2000 and 2022 and scored C (plain) and above are eligible to apply for placement to Primary Teacher Training Colleges (TTCs).
Application to Primary TTCs is also open to Kenyans who have done other courses but wish to train to become teachers, those with foreign qualifications and non-Kenyan citizens.
How to Apply
Visit the KUCCPS website www.kuccps.ac.ke and click Student's Portal tab.
On the portal, click the Login tab.
To log in, enter your KCSE Index Number, your KCSE year and your password. (Your password is your KCPE index number OR your birth certificate number).
Once logged in, view the available courses, universities and TVET colleges on the Programmes and Institutions tabs. When you find the courses you want and qualify for note down their programme codes.
To apply, click Application/Revision and key in the programme codes in the provided form in the order of priority.
Once the system has accepted all your programme codes, submit.
To complete your submission, follow the payment procedure that will appear on your screen.
For detailed guidelines, download and read the Student's Guide available on the portal under Downloads.
Application Support
Applicants who may need support are advised to visit our officers stationed in the Huduma Centres located in Nairobi (GPO), Mombasa, Kisumu, Nyeri, Garissa, Kitui, Eldoret, Kakamega, Meru, Kitale, Thika, Isiolo, Narok, Laikipia and Nakuru.
Applicants may also seek help in all other Huduma Centres countrywide.
For more information, visit KUCCPS website www.kuccps.ac.ke or call 020 5137400/0723954927.
CHIEF EXECUTIVE OFFICER