Careless Overlapping Mash Driver Brushes Shoulders With Death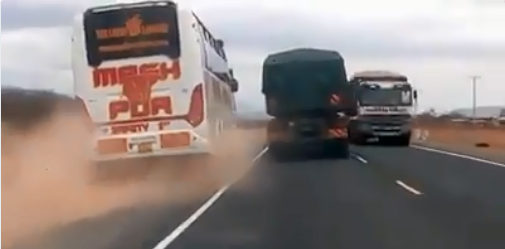 A  luxury bus belonging to Mash Poa has been captured on tape being driven carelessly and overlapping during when it was too dangerous to do so.
The bus driver overlaps the speeding truck from its left side while the same truck is having to balance between an oncoming truck and the huge bus on its left wing.
About a month ago on July 4th, a bus belong to Buscar went onto head on collision with an oncoming truck, killing 9 on spot and leaving more than 20 injured .
Luxury buses along the same route to Mombasa from Nairobi have been faulted for dangerous driving
10:57 This behaviour should be condemned on our roads. This is dangerous driving, people are dying on our roads due to this stupidity. Has this driver been arrested and charged? @ntsa_kenya @NPSOfficial_KE pic.twitter.com/olSXzV0NEI via @PRSA_Roadsafety

— Ma3Route (@Ma3Route) August 6, 2018
Another coach belonging to Transmara was also caught overlapping dangerously
Shame on you Transmara coach KBX 053S(virgin Atlantic) @PoliceKE @NPSOfficial_KE pic.twitter.com/dVTabPE55d

— KenyanTraffic (@KenyanTraffic) August 6, 2018
Comments
comments