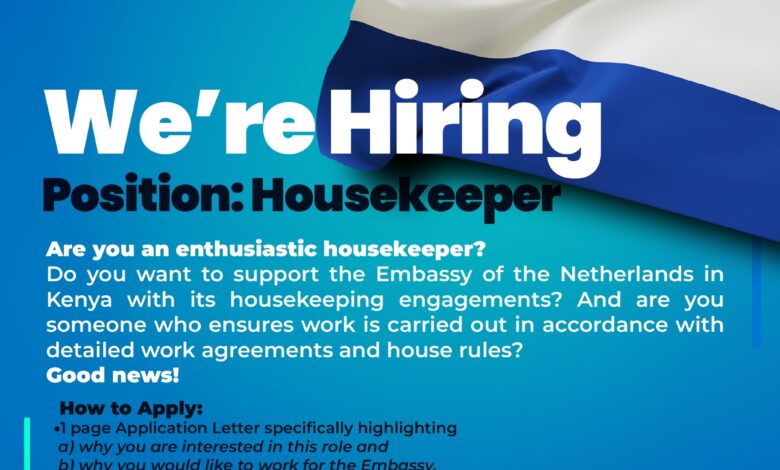 Are you an enthusiastic housekeeper? Do you want to support the Embassy of the Netherlands in Kenya with its housekeeping engagements?
And are you someone who ensures work is carried out in accordance with detailed work agreements and house rules? Good news!
You will be the focal point for keeping the building clean, restock supplies of toilet requisites, and notes when stocks of cleaning products and toilet requisites are running out, in addition, you'll also be accountable to the Head of Operational Management for the way in which cleaning duties are carried out, however, youll report first to coordinating General Affairs Officer.
Finally, you'll ensure the work is carried out in accordance with detailed work agreements and house rules concerning the way in which, and the time within which, the work is to be done.
About the Embassy of Netherlands:
The Embassy of the Kingdom of the Netherlands in Nairobi is, besides Kenya, also accredited in Somalia and the Seychelles. In addition, the Ambassador is the Permanent Representative to UNEP and UN-Habitat, headquartered in Nairobi.
The embassy is an organization that consists of 60 employees, both Kenyan and Dutch nationals, including attachés from several ministries in the Netherlands.
The Embassy works on trade, economic development, development cooperation, security, political, consular, humanitarian and general affairs. The Embassy has a regional role with regards to climate and migration.
Key Roles & Responsibilities:
Cleans that part of the offices as per the cleaning schedule by means of hoovering, mopping and/or sweeping of floors, stair cases, dusting, cleaning windows (inside only), cleaning of blinds, cleaning of furniture (also on terrace) and toilet areas, emptying bins including the shredders, when need be, clearing of dishes and placing them in the dishwasher, watering of plants at terrace
Assists with drinking water and other deliveries.
Accompanies suppliers or representatives of other enterprises when they need to be in the Embassy premises for a longer period (to ensure they do the job they came for).
Reports directly to supervisor on cleaning issues
Assists colleagues with preparations for meetings (check cleanliness of conference rooms and take care of coffee/tea or other drinks)
Assists with other miscellaneous tasks.
Key result areas:
Chancery cleanliness is well taken care of.
Requests for maintenance are made to the supervisor in time.
Refreshments, coffee and tea are provided.
Requirements for meeting rooms are executed in a proper manner.
Required Knowledge and areas of experience:
At least K.C.S.E education.
Knowledge of cleaning materials and techniques.
Experience with cleaning appliances and products
Forming contacts with suppliers and maintenance workers.
Rapport creation with visitors and embassy staff.
Full of enthusiasm and proactiveness.
What you get:
Attractive salary.
Competitive package of other benefits such as a (local) healthcare plan.
Working in a challenging, high level international environment.
Friendly, open work atmosphere.
How to Apply:
Interested individuals are invited to submit a 1-page Application Letter specifically highlighting 1) why you are interested in this role and 2) why you would like to work for the NL embassy, a CV of maximum 2 pages, and a minimum of 3 professional references to https://www.careers-page.com/g… not later than Wednesday 01st March, 2023.
If you are not a Kenyan Citizen, please also attach a copy of your Kenyan work – and residence permit. Work permits will not be arranged by the Embassy.
Only shortlisted candidate will be contacted.
Neither Gap Recruitment Services Limited nor the Embassy of the Netherlands in Kenya charges candidates for job placements.
Any form of canvassing will lead to automatic disqualification.