Entertainment
How Grace Mugabe Dropped His Husband From Grace To Grass
Mrs. Grace Mugabe's acts of wanting to take over his old aged husband through force has costed President Robert Mugabe's 37 years rule end in agony.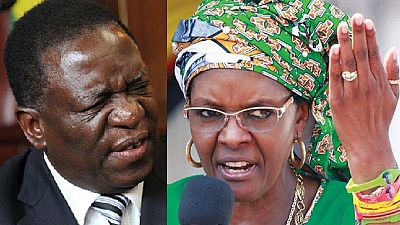 President Mugabe, had made it clear that he wanted his wife to take on the throne, which is vice president Emmerson Mnangagwa was too salivating over.
The two powerful Mugabe's were poised to do what it takes to ensure that 45 year old Mugabe would succeed 93 year old Mugabe.
Africa: Zimbabwe, Zimbabwe's first lady Grace Mugabe is angry after being booed by inhabitants allegedly hired by the Vice President Emmerson Mnangagwa's supporters during a Zanu PF rally in Bulawayo. 04-11-2017 pic.twitter.com/czLgig4R2s

— Rowan Van Dijk (@Lastkombo) November 5, 2017
Following a booing of Mrs. Grace Mugabe at two political rallies over her fight with the Mnangagwa, President Mugabe immediately sacked the VP.
What followed was a public outcry, after it emerged clear that Grace Mugabe was to be announced as the new VP of Zimbabwe.
But despite his sacking Mnangagwa is a veteran who had won the interest of popular vote including the military.
https://twitter.com/ZimMediaReview/status/927558069340557313/photo/1
The Military had to come in, before Grace could be announced, stripped both of them powers, and put a house arrest order under their weakened shoulders.
It is clear that the people of Zimbabwe nation had gotten enough of the 37 years dictatorship rule of Mugabe, it is only his wife Grace who light the fire for the second liberation of Zimbabwe.