Kenyans Scold Ghanaian Reporter Who Exposed World Cup Bound Referee Aden Marwa Receiving Bribe
Popular Kenyan referee Aden Marwa has pulled out of World Cup Russia 2018 after an investigative video showed him receiving a bribe.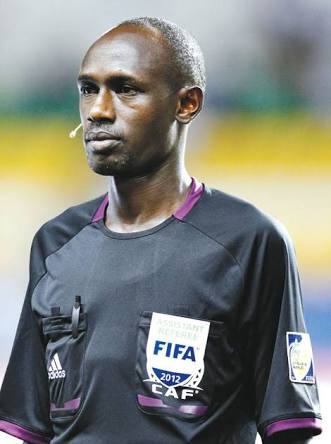 Marwa was among the referees exposed by a Ghanian journalist Anas Aremeyaw Anas receiving cash bribe .
He was to be an assisting referee in the much awaited FIFA World Cup 2018.
The expose indicates that Marwa received $600 which is about Ksh.60,000.
Video
Kenyan Referee Aden Marwa ameshikwa akipewa Hongo… Only 60k has costed him 2.5 million 😭😭😭😭😭😭
Kenyans Are we cursed with corruption? pic.twitter.com/8psk5s7jk3

— Moseax 🏉 🇰🇪 (@Moseax) June 7, 2018
Twitter feed
Kenyans took their anger to denounce the expose, from their tweets, it is no doubt that some of the posts were siding with the referee's corrupt allegations.
I concur with you, Aden Marwa is doing better to our economy too for earning it $600 in foreign exchange…

— Machpoa1 (@Machpoa11) June 7, 2018
Now that Aden Marwa has hit the headlines, he should vie for an MCA.

— Karanja Jerq (@KJerq) June 7, 2018
If the Ksh. 60,000 Aden Marwa received is a bribe then he should be taken to Kamiti for LIFE. Locally we are stealing Billions at NYS and NCPB then you embarrass us by taking 60k bribe abroad? Hapana.

— Ole Teya (@Kevin_teya) June 7, 2018
Why did the investigating journalist do this to our Aden Marwa?

It doesn't add up at all,so FIFA decided to set up Aden Amd eliminate him from World cup lol.

FIFA would have tested all the referees then release official reports,not just targeting one Black Referee.
SO SAD

— Dennis Nyambane™ (@ItsNyambane) June 7, 2018
We also have those who sided with the reporter
Aden Marwa destroyed a long term career and country's reputation for 60k only. I'm mad for real, he was to receive millions for officiating world cup matches but he's now out.

— Kech 🇰🇪 (@RonohKechem) June 7, 2018
How to know you are corrupt…👇

If you think Aden Marwa should have been bribed by atleast something huge not with $600.

A bigger amount does not make it less of a sin.

— Brian Maktejah ® (@maktejah) June 7, 2018
Comments
comments