Kenyans Visualize In Memes Why Amina Mohamed Lost The AU Chairperson Seat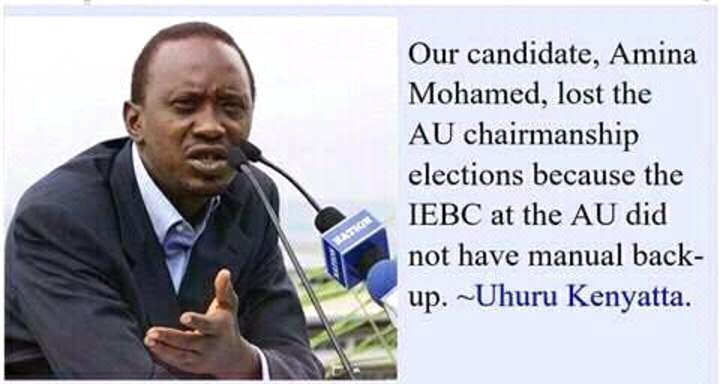 Among the aspirants who were salivating for the African Union commission chairperson, Amina Mohamed from Kenya was the immediate contestant and a favorite.
#WhyAminaLost they held for her the farewell party before the vote. pic.twitter.com/uqhestcBX8

— Robert ALAI (@RobertAlai) January 30, 2017
And true to the word, Amina Mohamed came second, after losing to Chad's Moussa Faki Mahamat who won by 28 votes to Amina's 25.
Kenyans went to the social media to discuss why Amina failed to clinch the much hyped seat
Jubilee can't excel where things are done in a free and fair process. They must corrupt the system! #WhyAminaLost #AminaDDay #AminaLost pic.twitter.com/w6lJZ897qk

— Wakili Ochieng (@ItsOchieng) January 30, 2017
#whyAminaLost with kenyans languishing in foreign prisons, what Amina needed were 'lighter duties' not the AU job!

— francis muthui (@muthuiFrancis) January 30, 2017
I wrote it here before.Amina lacked the charisma to chair Au! #WhyAminaLost

— tom (@oumatj) January 30, 2017
#WhyAminaLost President Uhuru Kenya prioritized on
1.Amina over KDF.
2.Amina over Doctors/patients
3 . Amina over Lecturers/students

— NG'ANG'A THE BLOGGER, A FINE SON OF THE MOUNTAIN (@IamNjokiKelvin) January 30, 2017
#WhyAminaLost Those Voting realized that a Vote for Amina was a Vote for Status Quo, Impunity , Extrajudicial Killings and Corruption

— Cyprian, Is Nyakundi (@C_NyaKundiH) January 30, 2017
Those voting Wondered why Millions were being spent on Amina Lobbying while Kenyans are dying due to hunger #WhyAminaLost

— Cyprian, Is Nyakundi (@C_NyaKundiH) January 30, 2017
https://twitter.com/ItsSirGeorge/status/826097325588242432
Comments
comments