Melanin Model Inspires By Drawing New Lines In Black Fashion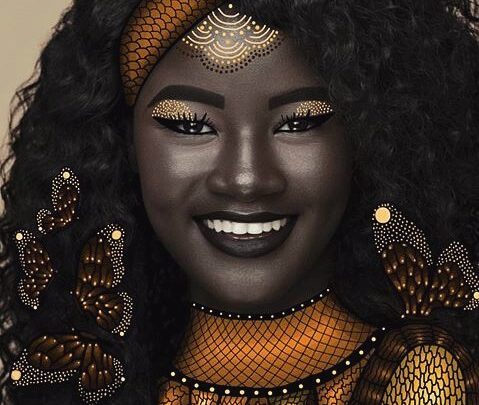 Khoudia Diop is 19 years old and since she was a child, she has faced mockery and aggression due to her skin color.
However, today it has become a model that devastates social networks.The "Goddess of Melanin" , as the young woman calls herself in honor of her dark skin, began her career with The Colored Girl , where she campaigned to promote diversity and celebrate the beauty of black women.
In Paris, she was a full-time model and before moving to New York, her popularity grew in a few days, as in her Instagram account she went from 300 followers to 350,000.
Diop is one of the few black women (a quarter of the models) who participate in the catwalks of the most important fashion events, such as the New York Fashion Week.
The story of the "Goddess of Melanin"
Although Diop is proud of her skin color and is being recognized in the fashion industry, she has had to face numerous attacks of racism.
"Although my skin tone is very common in Senegal and in many places in Africa, they made fun of my dark skin," she says.
However, those attitudes inspired her to be a better version of herself, to find things to love and celebrate each of those things.
"First I tried to confront the people who made fun of me, but very soon I learned to stop paying attention to those comments full of negativity, which made me more secure and taught me to love myself," she says.
Her friends, family and now her followers, she points out, are the ones that have helped her to reaffirm that it is worth it, that they love her and that she is beautiful.
"I hope everyone can see that within themselves and they can feel the same," he emphasizes.
Experience with The Colored Girl
Diop came to the agency because she was contacted to participate in her new " Rebirth " campaign that had the objective of empowering and improving the situation of black women around the world.
"We started working very closely after the launch of the campaign and now they are my agents. I love working with them, what they represent, and being part of their cause makes sense and feels good, "she says.
Comments for and against
The young woman confesses that there are still people who attack her or make offensive comments, but they are very few.
"Most of the comments made to me, people from all over the world, not just women and not just black women, have been very positive," she confesses.
He adds that diversity is what makes life different, so all women should feel safe because of the color of their skin, because they are all beautiful, you just have to realize it and celebrate it.
"Beauty is not what is outside, it is what you are. Your interior is your true essence and beauty comes from there. It's pure energy, "she emphasizes.
It also indicates that the fashion industry has had important achievements in the inclusion of black women, but there is still much to be done.
Therefore, he believes that it is necessary for the industry to fully embrace the idea of ​​diversity and stop believing in ideals of beauty that are generally restrictive.
"We need more black women to be considered beautiful by the industry and chosen and hired to participate in fashion shows."
A tool that helps make this change is the use of social networks, which allow us to show the world and think about our own beauty standards.
"To the extent that people use platforms like Instagram to share their unique beauty, it helps to change the way beauty is perceived. We can see more diversity and that is how it should be, "she concludes.
Courtesy of CNN
Comments
comments