Internship
NSSF 2023-2024 Internship Program Open For Applications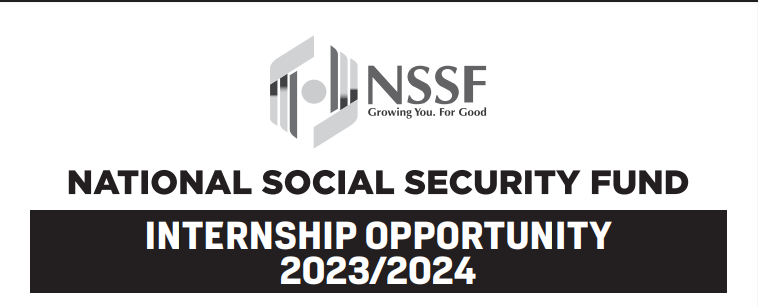 The National Social Security Fund intends to run the above referred program to enable youth gain practical experience on the job training for a period of six (6) Months.
This is in line with the Government Youth Initiative to develop a pool of young talent for the Kenyan Labour Market.
Requirements:
Must be available for the entire period of the programme (Six months);
Must not have been exposed to work experience since graduation;
Must be a graduate with a relevant first Degree or Diploma obtained from an accredited institution within the last four (4) years (2019,2020,2021 and 2022). The candidate must be in possession of the relevant certificate;
Must be an unemployed Kenyan youth aged between 20 and 34 years; and
Must be computer literate (Please attach evidence)
Personal Attributes:
Must be a person of Integrity.
Must be goal oriented, dynamic, self –driven and a diligent individual.
Must possess excellent interpersonal and communication skills.
Please note:
Only shortlisted candidates will be contacted.
The Fund does not guarantee employment after completion of the internship program
How to Apply
Candidates who meet the requirements outlined above, should forward their Curriculum vitae, applications, copies of their testimonials and certificates by 17th March, 2023 to the address below and ensure that the envelope is clearly marked

INTERNSHIP:

The CEO/Managing Trustee
National Social Security Fund
P.O. Box 30599-00100
NAIROBI

NSSF IS AN EQUAL OPPORTUNITY EMPLOYER AND PERSONS LIVING WITH DISABILITIES ARE ENCOURAGED TO APPLY.
Career Opportunities Available: