Politician Whose Awkward Sexual Video Leaked Online Hospitalized After Trying To Commit Suicide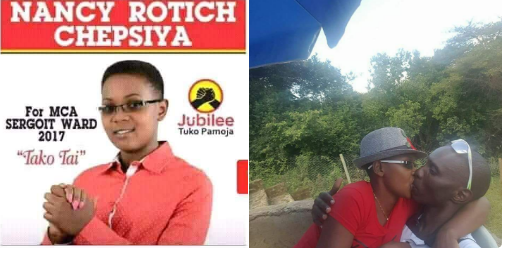 Kenyan talented athlete Asbel Kiprop is back again in news for a bad course months after he tested positive with banned drug substances.
A viral video was leaked on social media, showing the three time 1500m World Champion groping and kissing passionately a woman believed to be his wife's close friend.
The salacious video which was recorded by the 29 year old sportsman is not clear how it found it's way to the internet.
The woman who is aware of the filming, enjoys a background vernacular music as she shows off seductively her bare chest infront of the champion while inside the car that was in motion.
Kiprop brags of being the world champion in middle distance in  Daegu, Moscow and Beijing in 2011, 2013 and 2015 respectively.
About three months ago, International Athletics Association Federation (IAAF) discovered traces of the banned Energy Enhancing drugs -EPO in his urine sample.
The athlete pleaded innocent and later own toned down via his lawyer claiming that he did not have fiances to fight with the charges.
He faces two year ban if his second sample of urine will turn positive.
Leaked video of Kenyan athlete Asbel Kiprop kissing ghis best friends wife #AsbelKiprop pic.twitter.com/aKagbnUV8g

— KenyanBytes (@KenyanBytes) August 27, 2018
Twitter Feed
Why is everybody vilifying Asbel Kiprop like he's some demon from hell who hoodwinked Nancy Rotich into adultery. Nancy is a grown who made a choice to sleep with her husband's best friend and best man. She is as much to blame as Kiprop is, maybe more for knowingly cheating. pic.twitter.com/WBLOEN0a91

— Maurice Mbai (@mauricembai) August 27, 2018
Andrew Rotich Kiptoo is the man whose wife Nancy Rotich Chepsiya former 2017 MCA Sergoit Ward contestant, Asbel Kiprop has been chewing.

Been told, the wife have since been hospitalised after the photos surfaced in Kiprop's Facebook Timeline and which've been deleted. pic.twitter.com/i9L5ONs7Hl

— J.B Kenya™ (@JohnBosco_Juma) August 27, 2018
So apparently, after the Expose, Nancy Rotich took poison and is Currently at Eldoret Hospital. It appears that Asbel Kiprop was angry with Andrew Rotich his Pace Setter for Spreading Drug us rumors about him so he decided to expose how he has been Chewing his wife. Machos!! pic.twitter.com/cDGZNzooCN

— BRAVIN™ (@ItsBravin) August 27, 2018
Photos
Comments
comments