Watch Out As Fake Faulty Trust Condoms Get Into Market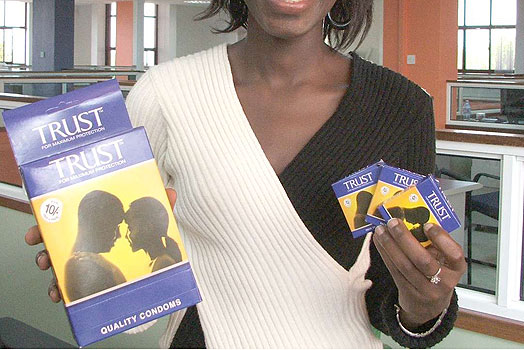 Population Service Kenya which circulates Trust Condoms in Kenya has warned that fake and faulty Trust Condoms are out and widely being circulated by rogue sellers .
Through there adverts which have been placed on local dailies, the firm has directed the users on how to spot genuine condoms manufactured by Trust Condoms .
PSK has noted that their products have special marks which are used to identify its genuine products .
How to spot a genuine Trust Condom, according to PSK
Look packets with marks of high quality especially on Trust Studded condoms
The name studded should appear at the centre and in bold.
Triple tested icon should be on the front face of the packet
The Pack should bear PS-Kenya contact details
Fake and faulty condoms indicate that users could get infected with STI,s or HIV or even get pregnant when they are not expecting it as it stands a high chance of getting torn during the sex moments.
Kenyans who go on to shop condoms are likely to buy fake one bearing in mind that many shy off or buy incognito without even discussing more about the product in question.
It is also undeniable that counterfeit firms have been circulating condoms in the name of Durex among other firms.
Back in 2013, ABC News reported that a huge counterfeit firm based in China was shut down just when it was about to release more than 5 million fake condoms
Comments
comments