Tech Review- Mula App Putting All Your Bills In One Place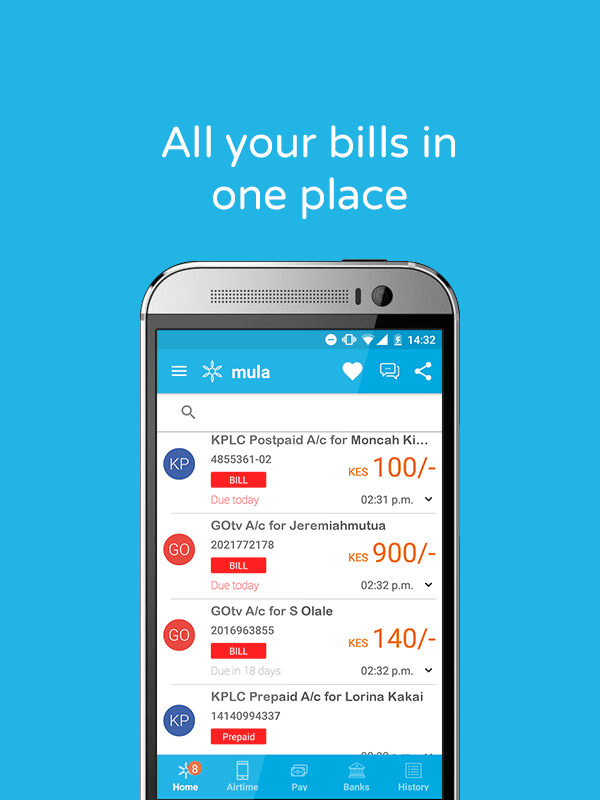 Mula App has come at the rescue of many online money users by simply putting together all your bills payments and airtime purchase in one platform from available platforms such as Mpesa, Airtel Money, Orange Money (coming soon), Visa and Mastercard, local bank mobile platforms among others.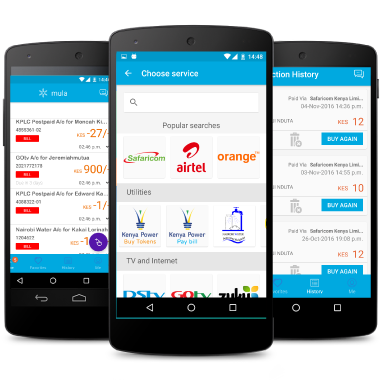 Interface
The app has got 5 main interface menus from the time it is launched.  Namely Home, Airtime,Pay,Bank and History.
The interface menus are very easy and efficient to understand as is ABC.
Say 'Pay' is where you pay for your bills, 'Airtime' where you get to purchase your airtime and 'History' where you get your transaction details.
For example,
To buy airtime, you just dial 369amount# e.g 36950# buys you a credit worth Ksh.50
Mula is currently available for android via the Google playstore. You can also enjoy the Mula experience on USSD by dialing 369#
What you can do with mula app from your palm
With Mula's easy to use features, you get more control as you free your mind from bills and airtime purchases.
Pay your bills with the different wallets you have
Get bill reminders sent straight through the app
Save all your account and paybill numbers in one place
Buy airtime for different phone networks with one wallet
Pros of Mula
Very first, supportive and quick response team
Reminds you of bills you need to pay
No log in details needed, just a verification code sent to you number and you good to go
Easy to understand and use
Cons of Mula
Mula is not yet supporting platforms such as Paypal but plans are on the way
They have also not introduced bills to rent, betting or rather customized bills
They have only listed communication service providers such as Multichoice and Zuku the majority of them such Startimes, Bamba and the rest are left out
We hope that the plans to include more integrated platforms will not keep the customers waiting for long
Mula App has been developed and released by Africa's Cellulant Group, a digital payments' service provider that prompts, collects, settles and reconciles payments in real time.
Africa's Cellulant Group is famous for pioneering the very first entrance of ringtones where users could buy songs and ringtones for their phones from the codes advertised in the local newspapers.
Do you feel like having a test at the app, surely you will love it.
Comments
comments