Education
Top 10 Most Popular Fonts Of All Time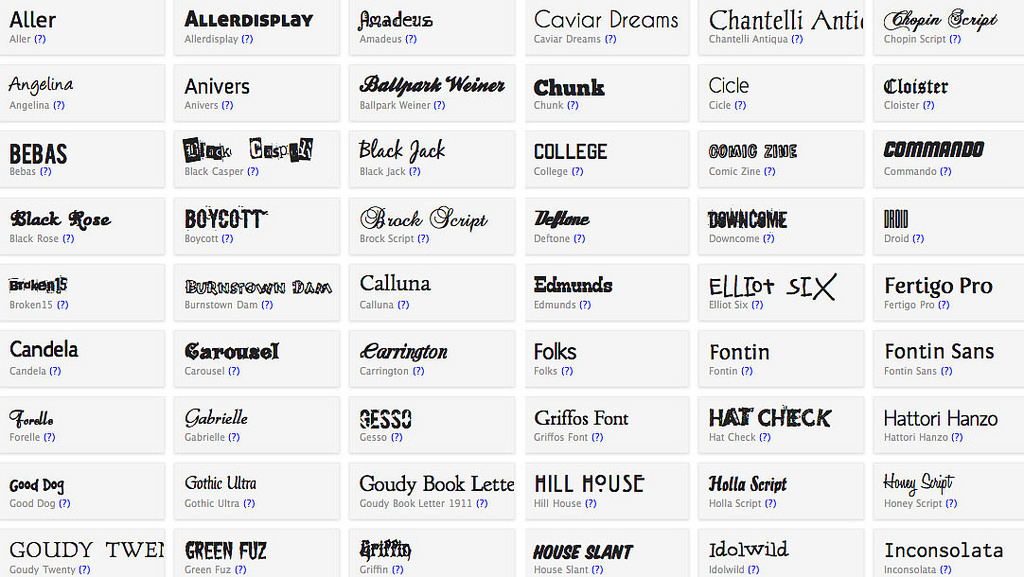 Typefaces have been an integral part of the 'reading-writing' society for centuries and now they have evolved into the digital era of typography and design where fonts matter a lot more than they have any time before.
Fonts affect, to a large extent, how your typographic material looks and feels to the audience, so it is important to choose the font carefully for your printing, publishing, web designing and other tasks.
Below we have put together a list of the most popular fonts for you to choose from for your printing and design needs.
11. Bembo (Aldus Manutius, Frank Hinman Pierpont and Francesco Griffo, 1929)
The British branch of Monotype Corporation created this old style serif typeface under the influence of Stanley Morison in 1929 when the printing of Italian Renaissance was seeing a renewal in interest.
It is essentially a revival of serif typeface originally cut by Francesco Griffo in the late 15th century. Now it offers many beautiful weights, symbols, and numeral sets for design works.
12. Rockwell (Monotype Foundry, 1934)
Rockwell is one of the best-known examples of slab serif fonts with thick, edgy serifs and distinct bold geometric shapes. Designed by the in-house design department of Monotype foundry in 1934, Rockwell is primarily popular as a display font but it's known to add elegance to any piece of design.
13. Franklin Gothic (Morris Fuller Benton, 1903)
Created by Morris Fuller Benton in 1903 in America, Franklin Gothic was redrawn in 1980 and the updated version came out in 1991 with a broad range of weights. This font of realist sans serif category boasts more characters than any other of its family and its boldness is loved by many designers.
Although its popularity saw a downfall for a brief period in the 30s after the introduction of European competitors like Futura, it soon regained popularity and it is now favored by many for different design works to this day.
14. Sabon (Jan Tschichold, 1966)
Sabon was created by Jan Tschichold, a renowned Swiss graphic designer as well as type designer, in 1966 from both Monotype and Linotype machines. Tschichold has contributed a lot to modern graphics design and given many good fonts to the typographic world but this old-style serif is what stands out from all his works and is widely popular.
Sabon's uniqueness is apparent in its semi-sharp edges and beautiful cursive details.
15. Georgia (Matthew Carter, 1993)
Matthew Carter designed Georgia with Tom Rickner in 1993 for Microsoft Font collection. Created as a charming font for legibility and simplicity, it was envisioned for low-resolution screens for clarity with the counterpart Verdana- both of which are now widely popular.
16. Garamond (Claude Garamond, 1530)
This typeface was originally designed by Claude Garamond in the 15th century during the turbulent times of French Renaissance. Claude was an apprentice to Antoine Augereau, a printer and publisher, under whose supervision he cut his own cicero typeface for the famous printer Robert Estienne, which received great admiration. Around 1620 it was reproduced by Jean Jannon, a Swiss printer, under the name Garamond.
Adobe Garamond  designed by Robert Slimbach in 1989 is the most popular digitized version of it today.
17. News Gothic (Morris Fuller Benton, 1908)
News Gothic is another popular typeface designed by the popular Morris Fuller Benton in the early 19th century as an American san serif, created specifically for ATF. This neat and clean looking font with sharp edges is preferred by many up to this day for newsprints, publishing, and other purposes.
18. Myriad (Robert Slimbach, Carol Twombly, Christopher Slye and Fred Brady, 1992)
Myriad is one of the Adobe's original fonts designed and created in 1992 specifically for Adobe font collection. It's been adapted by many companies and institutions as their corporate font including Apple.
19. Mrs Eaves (Zuzana Licko, 1996)
Licko was unsatisfied about the digital revivals of old typefaces in this modern era of "absolute freedom" and thus, she created Mrs Eaves in 1996, a modern interpretation of the legendary John Baskerville's typeface and named it after his housekeeper (who later became Baskerville's wife) Sarah Eaves.
20. Minion (Rober Slimbach, 1990)
When Robert Slimbach was working on Adobe Garamond, he gathered plenty of prints and literature on Renaissance typefaces from European museums. And along with the digital possibilities of the 80s, he put down the all the usable ideas from the materials gathered to create Minion with a distinct personality.