Led by their national Harambee Stars captain, Victor Wanyama, Kenyan football stars have cute looking lovers to adore.
Besides, one need not to say that footballers are one of the lucky cohorts who are most admired by cute girls, since the old good golden schooling days.
Have a look at the below Kenyan footballers who bagged cool and cute looking girlfriends
Micheal Olunga
Since announcing his move to China in February 2017 to join Guizhou Hengfeng Zhicheng, Michael Olunga has also announced something special in his life.
Grace, a girl that he loves most. Olunga who earns about 12 million from the club, is Kenya's most paid soccer person after Victor Wanyama who pockets 36 million a month.
In 2016, 22 year old Olunga had also hinted something about Grace, when he celebrated her birthday.
"May every soul you touch bring comfort and peace. May every friend you hug bring joy and solace. On your special day, my wish for you is to have everything that your heart desires because you are worth it. HAPPY BIRTHDAY ENGINEER," Olunga's message to his girlfriend when she turned a year older.
The Harambee Stars striker recently took to social media to share photos of Grace and him having a nice time together. See the photos below:
Allan Wanga
Tusker FC ace who now works at Kakamega county government, married Citizen TV reporter Brenda Mulinya.
The two are no doubt perfect match
Denis Oliech
Oliech has dated several ladies, but better known is Paula Mumia who was leaving a lavish lifestyle after meeting Oliech.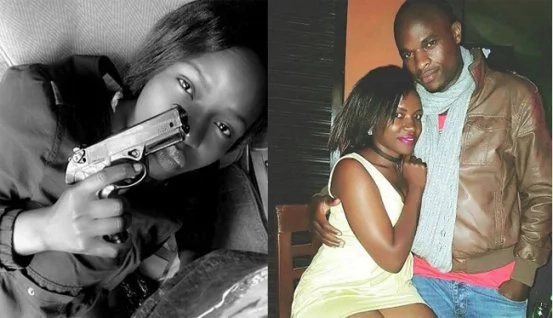 Even though she brandished guns, depicting a criminal lifestyle
Victor Wanyama
Totenham ace who earns more than 31 million shillings every month is no doubt not married publicly. But he has several secrete lovers behind his back.
Wanyama has bee seen with his own kids whom he has never disclosed their mothers or mother.
Sometime before he was romoured to be dating Victiria Kimani and Avril
Mcdonald Mariga
After breaking up with his ex Rwandese fiancee Arian Umutuni.
, Mariga popped out with photos of his kid, new wife and new dad inlaw.
Mariga is the first Kenyan to play in the UEFA Champions League
Ex Rwandese lover
Arnold Origi
The 32 year old goalkeeper proposed to Tanzanian Zulekha Ibrahim whom they met about 10 years ago while working in Norway.
The two are now a happy couple