10 Bizarre Way Kenyan Lovers Shame Their Cheating Partners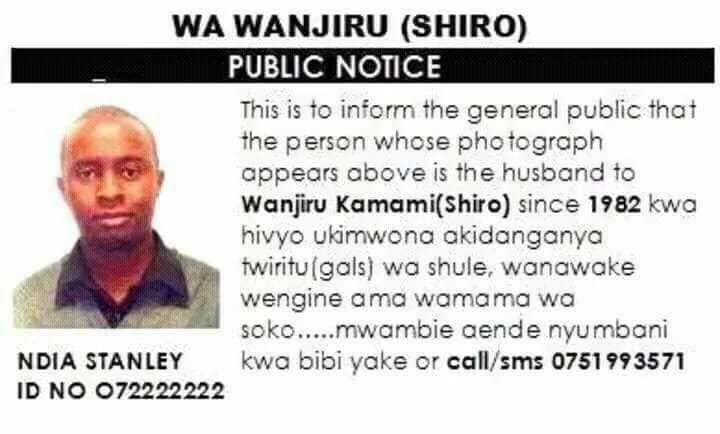 In Kenya, cheating in love is not news, however the difference in the plot with the same players is what becomes the news.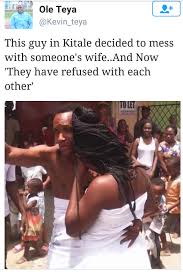 How the manner of the love triangle becomes so difference from the rest is infact the main story.
Apart from that uniqueness, lovers have formed a unique way of shaming and taming their prolific cheating angels in style.
This has become so common in the recent years
Here are 10 ways Kenyan lovers shame their prolific cheating angels in Kenya. This is not just bizarre but disheartening to those who are in serious marriages and have gone through the same pain of being cheated on
Public Adverts On Media
Cheating lovers have been placed on adverts warning other unsuspecting angels who are preyed on by such unfaithful lovers. Here is a case study
       2.Daylight Shame
The disgruntled faithful lovers who have felt enough have gone live in broad daylight and shamed their cheaters in good style. Sometimes not forgetting the scenes
range rover spray painted for cheater pic.twitter.com/gKrO5jEVbQ

— irdina (@farishamarzuky) August 28, 2016
       3.Using Witch to Get Cheating Lovers Stuck
Reports have it that lovers, use witch doctors to get their cheating lovers get stuck to each other the moment they  get into the sex act.
Drama As Two Lovers Get stuck During sex In A Hotel==> http://t.co/AEhT3hJjIb http://t.co/UUJCjqDZBY

— Mushene Ya Nairobi (@Mushene_Nairobi) March 25, 2015
Even though this has become so common, it is always a shame for the victims of love. With the biggest causality paying a large lamp-sum including losing part of the land to be separated
    4.Suicide
On most occasion ladies in the marriage who are offended normally kill their loved ones by poisoning them to death before killing them. Men als o are such victims of killing the rest of the family members due to marriage infidelity
Odisha: After fight with husband, mother poisons kids https://t.co/E0FHV1BBma pic.twitter.com/MEgG87JpgS

— Global Issues Web (@globalissuesweb) March 31, 2016
5.Social media
Social media has been a tool to shame the adulterous chaos in marriages. Here is a sample from a blogger known as Njeri
A Kenyan woman is going to unusual lengths to save her marriage. Njeri Mucheru is fighting back on what she terms as her husband's "deaf ears" through her blog NjeriMucheru.com. Njeri narrates how she came to find out that her husband was HIV positive even before they were married. She says however that through the 9 years of marriage and 3 children, she is still HIV negative. Njeri says once she discovered her husband's infidelity, she has not been speaking to him nor picked up his phone calls. This prominent lawyer has turned to blogging to seek the public's help in reaching out to her husband for him to get saved. She says this is the only way she is ever talking to him again.
Comments
comments