Entertainment
10 Crazy Things Chinese 'Investors' Have Done In Kenya
China's presence in Kenya was catapulted to fame by the construction of Thika Highway and Standard Gauge Railway. But when President Uhuru Kenyatta borrowed 230 billion in 2018, their fame went over the roofs.
Reason, the loans added more pain to the already poor mwananchi who had been slapped by more VAT taxes to pay.
Otherwise Chinese presence in Kenya has been long since the pre-colonial period during the 1400s. They first docked in Mombasa, trading with the locals.
Facts about Chinese in Kenya
Chinese government indicate that there are about 10,000 Chinese nationals living in Kenya majorly in Nairobi and Mombasa
Most Chinese migrants in Kenya deal with trading of computers, glassware, and automobile parts for import, and shark fins for export
Chinese have their own school in Kenya, called Kenya-China School (肯尼亚中国学校)
KBC has a dedicated frequency for Chinese nationals in Kenya who usually tap into their local news at home via China Radio International and China Central Television
In Nairobi, there have been secrete Chinatowns where locals have often complained of 'discrimination'
Chinese who settled in Nairobi usually live around the Chinese embassy, which is located near the State House and the Defence Headquarters, in a relatively high-security part of the Nairobi city
Chinese who live in Kenya also have gone to a large extend of integrating into the society through marriage.
Most Chinese nationals who are in Kenya are largely middle aged, since most of the young generations prefer US and Europe destinations
University of Nairobi and Kenyatta University have enrolled Chinese programs in their studies
Chinese language- Mandarin is largely taught in higher learning institutions as a foreign language, it is among the less preferred language to study at the moment.
10 Crazy Things Chinese 'Investors' Have Done In Kenya
1. Grinding and kissing strippers in Night Clubs
A Chinese man was spotted with a local woman, at a night club all dancing and groping on each other in a sexually suggestive manner
2.Commercial sex workers
Atleast 15 foreigners of Chinese national were arrested in a brothel at Nairobi's South C estate in 2018
The suspects who were being processed for deportation were engaging in commercial sex as well as running a number of brothels.
Immigration Police had been tipped off before they raided the sex dens.
BREAKING:
15 Chinese were arrested by Immigration officers @DCI_Kenya this morning in South C estate BROTHEL, it's believed they have been engaging in Prostitution. They are being processed for deportation. Cc. @GKihalangwa @InteriorKE #AskImmigrationKE @TheStarKenya pic.twitter.com/R4bmu5DWRV

— Immigration Kenya. (@ImmigrationDept) September 19, 2018
Photos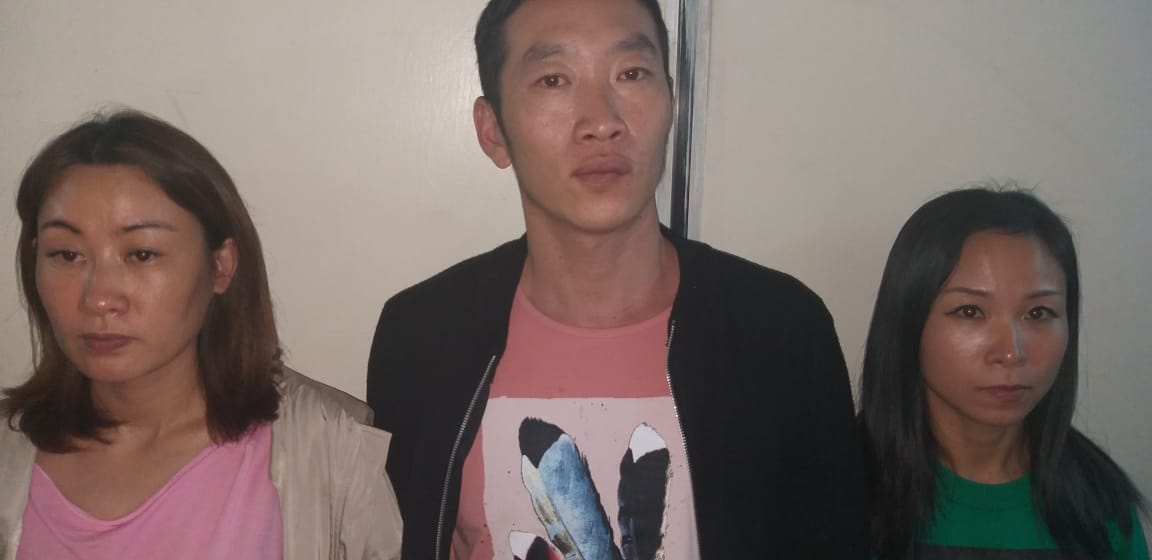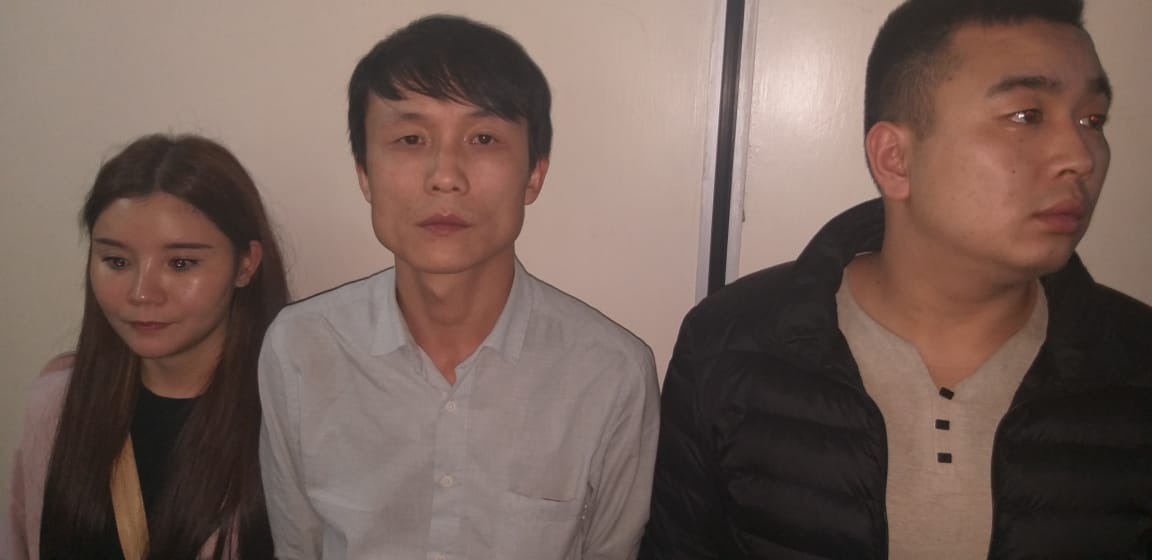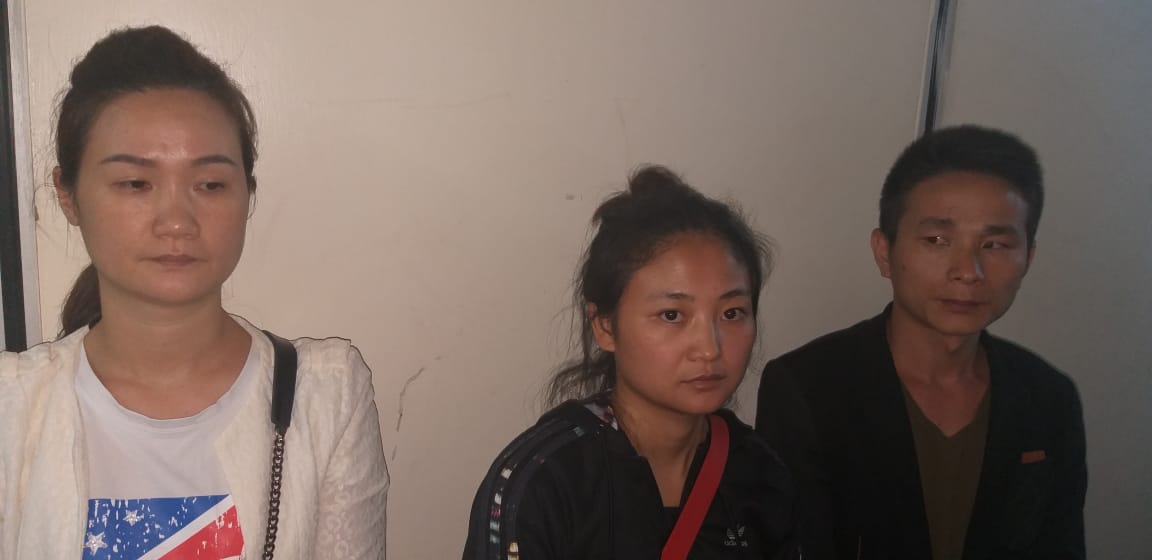 3.Learning Kikuyu among other local languages
A funny video of little Chinese speaking Kikuyu language will definitely tickle you funny born.
The video shows the kids reciting some familiar Kikuyu language phrases in unison.
Prior to their Kikuyu knowledge, they are listening to their enthusiastic teacher who is well served with Kikuyu language, probably from the central region.
The video comes at a time when the relation between Kenya and China have increased their trade and economic ties.
Kiambu MCA 2042, Kin Yan Juih, women rep, Wan Gah Rih, wameanza kujifunza kikuyu 😂😂 #TuendeleeKuChat pic.twitter.com/3eksQ8Ic0X

— Verified (@njiiru) September 28, 2018
5.Engaging in hooliganism
A Chinese man who is believed to be working on a section of a road, shocked Kenyans when he was seen chasing a Kenyan man with a machete.
The man dressed in a purples shirt, is seen with what looked like a machete in his hand. Fortunately the man was fast enough to save his life
A Chinese chasing a Kenya with a machete. We are a fucked up country. pic.twitter.com/A6FqvHTwpx

— Hon Lee Makwiny (@leemakwiny) September 27, 2018
6.Launching Kenyan government projects in Mandarin
Kenyans were angered by Chinese engineers who were working on the Ngong Tunnel project on the outskirts of Nairobi city.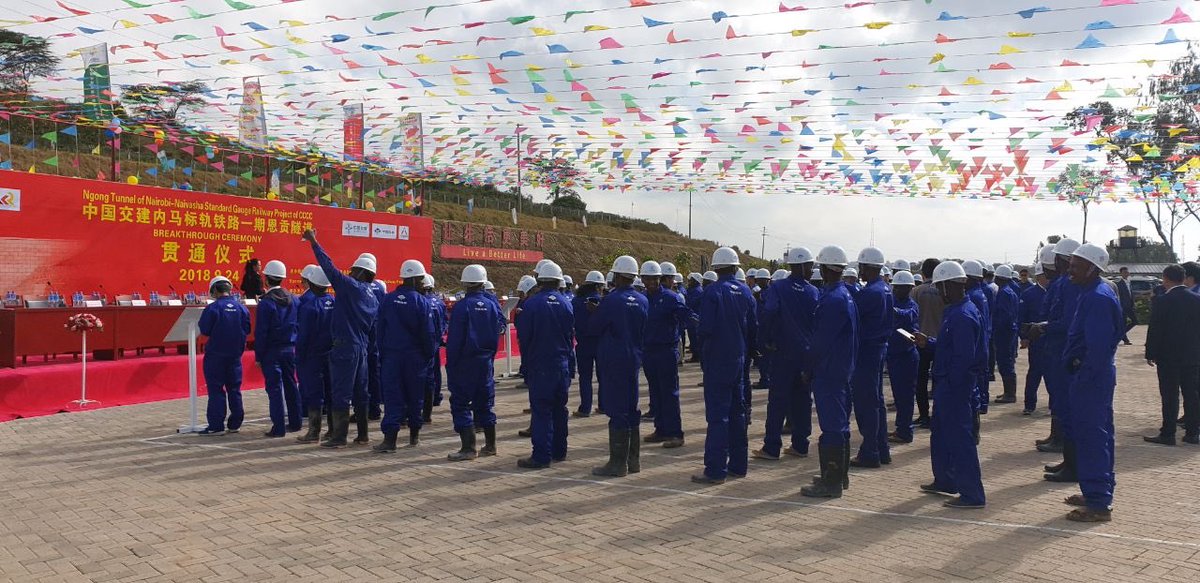 The engineers choose to celebrate the East Africa's longest tunnel rather in their native language, Mandarin , with just small English translations on bold Chinese writings.
Kenya is officially home to the longest railway tunnel in East Africa. SGR Ngong Tunnel completed. @SGRHeadOffice @JamesMacharia_ #TransformingTransportKE pic.twitter.com/JaQ2Un37hh

— Dennis Itumbi, HSC (@OleItumbi) September 24, 2018
It left Kenyans who can barely read or write Chinese wondering who the Chinese were dedicating the project to, rather than the Kenyans they had procured.
Few months ago Kenyans were in rude shock after they woke up to a Chinese billboard along Mombasa. The board was later brought down after public outcry
France, Italy, Germany & Japan have financed many projects in Kenya & we never saw Banners in their languages. China has given us a loan but the SGR Banners are in Chinese . The day we default, which will happen, the tiny English translations will be removed. All will be CHINESE. pic.twitter.com/mkPNNlsmy4

— Donald B Kipkorir (@DonaldBKipkorir) September 24, 2018
7.Insulting President Uhuru Kenyatta
Kenyan immigration department reported that a Chinese national caught on tape with racist remarks was deported.
UPDATE:
LIU JIAQI a Chinese National who was arrested due to his RACISM remarks has been DEPORTED . Via @GKihalangwa cc. @InteriorKE @FredMatiangi #AskImmigrationKE pic.twitter.com/yHJu3azx2i

— Immigration Kenya. (@ImmigrationDept) September 6, 2018
Chinese Embassy said that racist slur used by their citizen against President Uhuru is personal talk; says it does not represent the views of Chinese people
Liu Jiaqi, Chinese trader working in Nairobi was a wanted man after he was tapped on phone abusing President Uhuru Kenyatta.
The small business trader is filmed on phone forcing his employee sign a contract or else face dismissal. The man trading motorbikes in Kenya goes ahead to abuse him and the rest of other Kenyans with unprintable racist words.
President Uhuru Kenyatta  is neither spared in the racist slats.
This idiot MUST be deported back to China ASAP! Wametuzoea sasa! @ODPP_KE @FredMatiangi pic.twitter.com/NxV9ark2Ve

— Babu Owino (@Babu_Owino) September 5, 2018
8.Erecting Billboard on Kenyan roads with Chinese writings
A Chinese advert which had been placed along Mombasa road was pulled down and done again in English.
Kenyans had cried fall of such 'discrimination' and wondered who Chinese were targeting in their advert.
To solve the puzzle, Kenyans have 'translated' some hilarious meanings carried in the advert.
I disagree. Inasema "Our New Colony, Kenya".

— Kipchirchir Chuma (@dan_chuma) July 28, 2018
Na hio number wameweka hapo no ya nani ama ni mkubwa a Kenya railway corporation

— Peter (@Mukangula1) July 28, 2018
It's an ad for a massage parlour in hurlingham.

— A.W.O.L (@krazygb) July 28, 2018
9.Misbehaving in public
The Chinese nationals have been caught urinating in public and even going for long calls in nearby bushes. This is so shameful and a health hazard habit.
10. Corporal Punishment on SGR Kenyan employees
In 2018, Kenyans were shocked when they discovered that workers at SGR were less relegated as mere receptionists while train operating crew was entirely left for Chinese to handle, even captains trained to take over the routes of the Mombasa-Nairobi train were reduced to tea girls.
More shocking revelations that shocked the nation was the expose from the Kenyan workers at SGR, stating that Kenyans were being canned by Chinese seniors as a form of corporal punishment
Kenyan government ironically told Kenyans to 'behave' as they jumped at the rescue of Chinese nationals over the allegations
11.Hawking
Chinese nationals have been reduced to hawkers, low business key persons and poor beggars yet they came to Kenya as investors
11.Twerk Dancers
A Chinese man in a night club grinding on a twerking dancer kicked storm on social media with his viral video.
The man, who looks like in his 50s, is seen first dancing for the lady who is seated on a seat.
The lad no doubt has got crazy moves as Lingala song come from a live singer and band. The man then welcomes the lady who faces him away and begins to round her waist infront of the Chinese traveler.
The party goes on as other party-goers shout in cheer.
Walai sioni hii deni tukilipa… 😂 pic.twitter.com/DvIc86XWAh

— Victor Mochere (@VictorMochere) September 29, 2018
12.Killing those who dare marry Chinese female nationals  – Zambia
Crispine Mwale, an Engineering student was clobbered to death after spending a night with his Chinese girlfriend.
The Civil Engineering student was brutally killed by four angry men on Sunday after he had spend the night with his lover following a night out together.
"We went out drinking on a Sunday night as a group. After our drinks we got on a taxi heading to our apartment. On the way Mr. Mwale's girlfriend said she wanted to spend a night with him. That's how they left and I was only called by the girlfriend in the morning to come and save my friend," a friend recounted.
After the Zambian born student was dragged out of his house, witness accounts that he was met with stones, iron rods among other crude weapons before his sudden death.
"They insulted him that Africa was too poor and they would not allow black beings to be raised in their country. Despite pleading, they hit him with iron bars and stones until his final breath," the friend stated.
Video
Photos