10 Facts You Didn't Know About Croatian President Kitarovic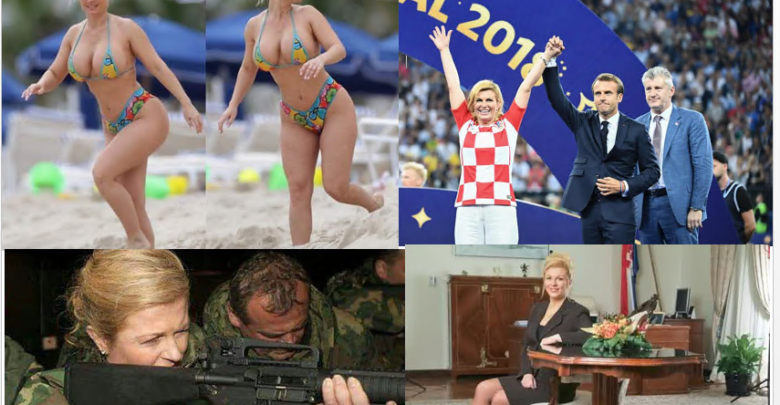 Football lovers were treated to rare scenes of a female football follower during Russia 2018 world cup.
Kolinda Grabar supported her team, Croatia from the group stages to the final World Cup Final where they lost to France.
The Russia 2018 world cup has no doubt made Kolinda a world wide celebrity than before.
Here are 10 facts you should know about Kolinda
The Croatian President was born 50 years ago on born 29 April 1968 as Kolinda Grabar in Rijeka, Socialist Republic of Croatia, Yugoslavia. Her parents owned a butcher shop and a ranch
She is married to Jakov Kitarovic whom they got two kids, Luca and Katarina
She made record in 2015 when she assumed office of the presidency at the age of just 46 years old. She served as then the youngest president in the world. The 4th President of Croatia became also the first female president to be elected since multiparty in 1996
She graduated with a degree in International Relations and a doctorate from George Washington University, Harvard and John Hopkins University in the United States.
She served as Croatian Ambassador to USA during the reign of Barack Obama and George W. Bush. She also served as Minister of European Affairs and Minister of Foreign Affairs and European Integration, Assistant Secretary General for Public Diplomacy at NATO under Secretaries General Anders Fogh Rasmussen and Jens Stoltenberg
In 2017, Forbes listed Kolinda as one of the Most powerful women on earth at number 39
She served in Croatian military after finishing her military training. She acquired the title SWAMBO- one to be obeyed
During her stay in Russia 2018, she paid her own economy ticket, ordered not to be paid by government and mingled freely with players and fans
Kolinda as a politician has supported same sex marriage and abortion rights, issues that have divided so many heads of states. Grabar-Kitarović is a practicing Roman Catholic and declared her adherence to traditional Christian values.
Last but not least, Kolinda speaks Seven languages , she speaks Croatian, English, Spanish and Portuguese fluently and has basic understanding of German, French and Italian.
Comments
comments