10 Kenyan Females Celebs With Dazzling Machines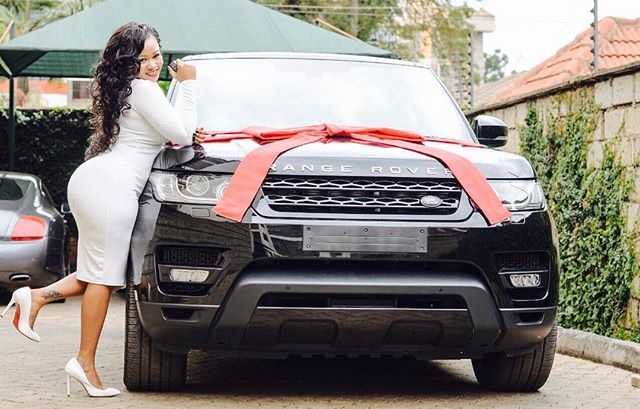 A close look at these female celebs reveals two facts, the body and their car all drive men crazy. When the two things get combined all together, for men their is no witch doctor who can overturn their level of madness!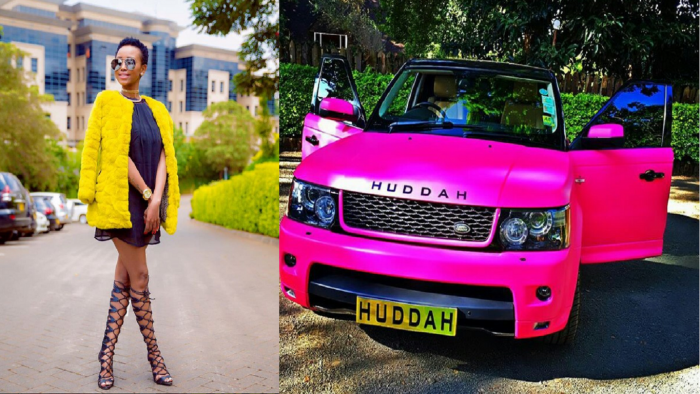 Check a look at them below
1.Emmy Kosgei BMW X6
On her collection of cars, she has a 2013 BMW X6 and a 2013 Toyota Prado LC 5 worth 6 million and 4 million respectively.
2.Size 8 Jaguar XF
She recently bought a Jaguar XF which is said to be worth 7 Million.
3.Chantelle
Erick Omondi fairy romance fairy romance tales continued today on the Valentines day of 14th February 2018 as he went to Prestige Automobile firm to purchase a deluxe car for his wife Grazioli Shantal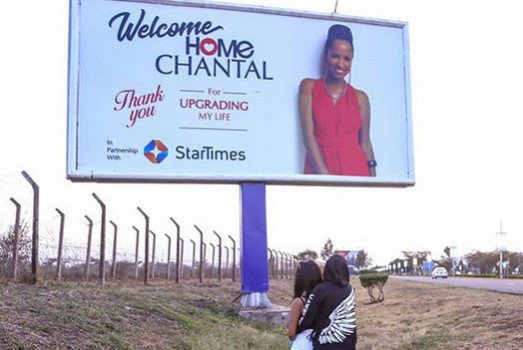 His Italian girl was perplexed few days ago after he arrived in the country only to find a big billboard decorated with her photo and a beautiful welcoming message.
He then went ahead to take her on several tours as the tour showed off relationship goals to their fans including fellow celebs.
Fans and love and marriage relationship Councillors have been left trying to guess his next romance move
4.Avril
Singer Avril who is heavily pregnant has been gifted with a luxurious BMW 3 series car costing more than 3.5M by popular music producer Jibril Blessings better known as J Blessings.
She music producer has constantly been denying that he is dating Avril even after he was asked in a TV interview.
Their relationship started in 2017 after J Blessings dumped his girl Chantelle and Avril left his South African man Muga.
In the same year, Avril had been spotted driving a car that belonged to J Blessings
5.Lilian Muli
Lilian Muli who is heavily expectant of her second kid from Tanzanian tycoon Jared Nevaton has spilled more beans from herself.
After flaunting a sexy baby bump, she has shown us what she is currently driving . Before she was driving a Range Rover Sport.
But she has switched gears and she is on 2010 Mercedes-Benz E-Class Coupe which has an estimated value of sh3,500,000
6.Vera Sidika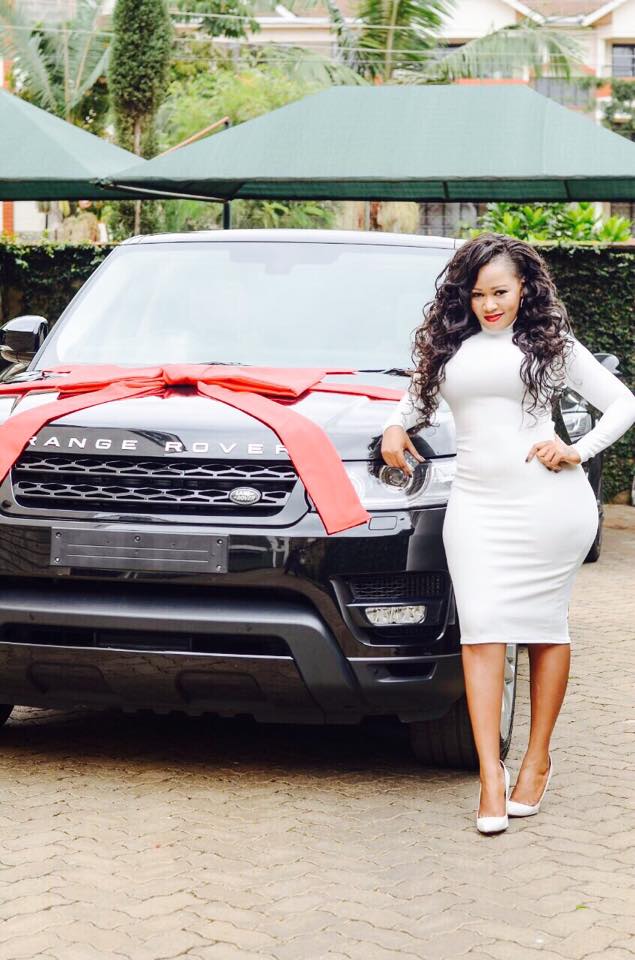 Being a socialite, she is able to change her clothes, skin tone and even cars without caring how much she is spending, From Range Rovers to BMWs, Vera is well versed with these cars
7.Huddah Monroe
She is so mean with her Range Rover Sport car, she has never had time to go out a look for another car, she seems to be well contented with it.
8.Akothee
A part from owning a fleet of Safari vans which cost 10 million each, she has got her own preference car, which she believes is the best.
She is currently the most expensive celebs in music richness.
9.TerryAnne Chebet
Former Citizen TV news anchor, also bought for herself an expensive Range Rover that is believed to have costed more than 15 million shillings
10.Kathy Kiuna
One of the Jubilee Christian Church head pastors, Rev.Kathy Kiuna promised her faithful congreation that they would get a new car before the end of December 2017.
But it seems the prophesy has gone her way first even before we enter into the holiday month.
Before the end of December, you shall be driving your own car in Jesus Name! #40DaysOfGlory

— Rev Kathy Kiuna (@RevKathyKiuna) November 14, 2017
Sh has acquired to herself a brand new Toyota V-8 which costs about 10 million Kenyans shillings on a rough estimate.
This is not her first lavish car, she will be putting to shade a high class Mercedes Benz which she has been floating with for a while.
Kathy Kiuna is married to Bishop Allan Kiuna who is the head pastor at the 'wealthy-preaching' church dubbed as JCC Nairobi.
Together, they were expecting, and still expecting to buy a private chartered plane which would cost them not less than I billion Kenyan shillings
Bishop Allan Kiuna himself drives a wealthy car, Range Rover Sport which costs about 20 million Kenyan shillings
Some of the concerned Kenyans have raised eye brows to what they see as a continued exploitation of unsuspecting faithfuls of the church who are promised 'wealth' on condition that they give a tithe.
Kathy Kiuna was once bashed online when she encouraged women from poor slams to get married to men from rich estates so that they get wealth in an easy way. Wasn't this a kind of prostitution in church?
Or probably she needed more cash from the club dubbed Daughters of Zion which is largely attended by young ladies.
What did Kathy Kiuna do/say about cars? I am seeing some serious trolling on the TL!

— #SINEI (@allkipsin) November 14, 2017
I agree Kathy kiuna can be motivated by money more tHan gospell. ..but to some extent, we mocking God trying to do jokes. Hebu nipeleke suit yangu ya men fellowship kwa dry cleaner.

— Kunta Otis Kinte (@AmJoseh) November 15, 2017
.@RMAKenya can I come for a car? Kathy Kiuna says it's cool. 😁😁

— Ciru Muriuki ツ (@CiruMuriuki) November 15, 2017
Speaking of, I am selling my car (The ones Kathy Kiuna is giving us in December) to pay for my education. If you are interested make early booking.
You'll have to make a deposit to book it!

— I HOPE THEY REMEMBER YOU (@qkatastrofeet) November 14, 2017
11.Kobi Kihara BMW  320i
She drives a BMW  320i. A while back Kobi was also gifted a Range rover evoque by her boyfriend.
12.Linda Oguttu
She drives home a Chrysler Crossfire which retails at more than 2 million Kenyan shillings.
Comments
comments