Kenyan graduate trainee programs run annually in different firms and are ideal for students who are still fresh from school and have just graduated
If you graduated in 2018, we shall list below top graduate trainee programs you should apply in 2019.
Note that some of the programs are already accepting 2019 entries.
These trainee programs are very crucial to graduates because they offer training , experience and above all built network and connection within student careers.
Check the list below
1.Tropical Heat Trainee Program
Tropical Heat Ltd are in need of fresh graduates in their new trainee program this coming 2019 year.
The applicants are advised to send in their applications ASAP.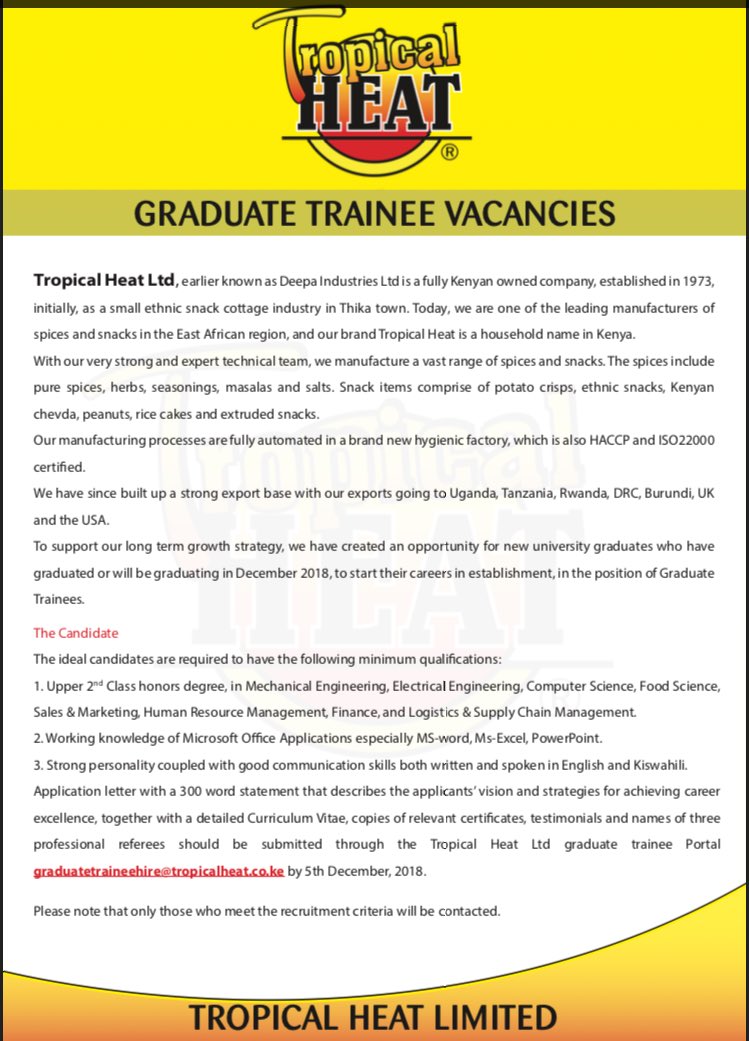 2.DTB Bank
DTB are looking to bring on board new and fresh young minds
To join DTB's Graduate Management Trainee Program, you need some requirements listed below
Requirements:
Bachelor's Degree (Second Upper) from a recognized university in a Business Related Field. First Class will be an added advantage.
Must be a fresh graduate.
Must be 25 years and below.
All applications to be sent to hr@dtbafrica.com.
DTB is an equal opportunity employer and takes a lot of pride in its human resource. Working at DTB will not only grow your career but also give you an opportunity to develop yourself as a person.
Deadline for applications is 15th December 2018.
3.GT Bank
GT Bank are looking for young graduates for their trainee program
Requirements
Recent graduate
Nerd and good in creative and critical thinking
Ambitious
Details below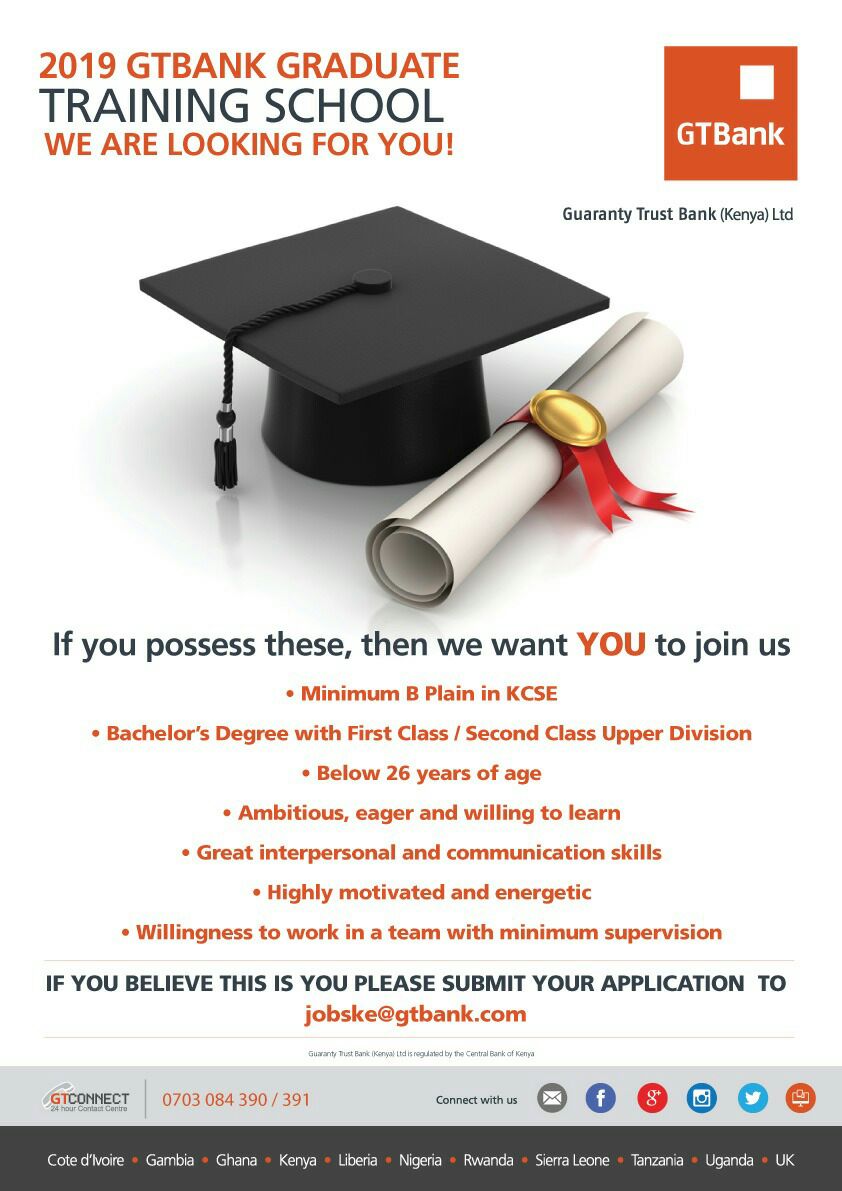 4.Kreston KM's Graduate Trainee Programme
Applications are open for Kreston KM's Graduate Trainee programme.
The graduate trainee programme is an entry point for those who desire to make and develop a career in professional services offering and advisory.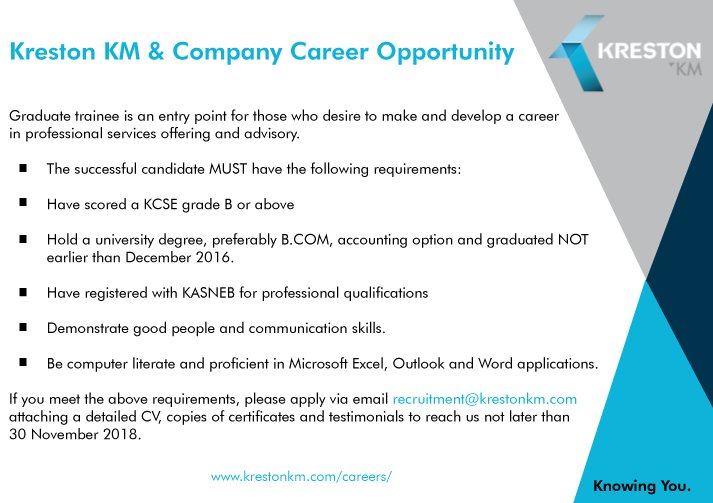 Advert attached or visit
5.Nokia Program
Mobile phone manufacturing firm Nokia are looking for new interns to work as trainees
At Nokia, employment decisions are made regardless of race, color, national or ethnic origin, religion, gender, sexual orientation, gender identity or expression, age, marital status, disability, protected veteran status or other characteristics protected by law.
Responsibilities.
Candidates will support our Commercial Management Department.
Candidate will support the Bid management and coordination with the Technical and Sales to develop Techno Commercial Offer pricing including building innovative Price models and running the internal approval process.
This a fixed term position to assist the existing team of Commercial management in their day to day task which will also be a great opportunity for the candidates to learn and position themselves for future opportunities.
Required skills:
Great attitude to learn and work hard.
flexibility to work long hours including weekends
Graduate degree preferably in Telecom/Engineering
Overview Knowledge of Telecom solutions
Good skills in Microsoft office tools particularly – Advanced skills in MS-Excel
Experience 0-7years
6.Toyota
Toyota Kenya are having a very lucrative opportunity for Kenya's young generation interested in motor industry.
They have posted scholarship opportunities for grab for those who want to advance a career in being a technician.
If you have the following skills, this is your chance to shine with your career at Total Kenya
KCSE Certificate
Aged below 26 years old
No any skills or tertiary qualification in Automotive world
Kenyan citizen
Basic computer skills
Good communication skills
Click above link link blue to apply
7.BBC Trainee offer
Here's a good opportunity with BBC Africa Trainee Scheme.
The application entries are currently ongoing.
See details below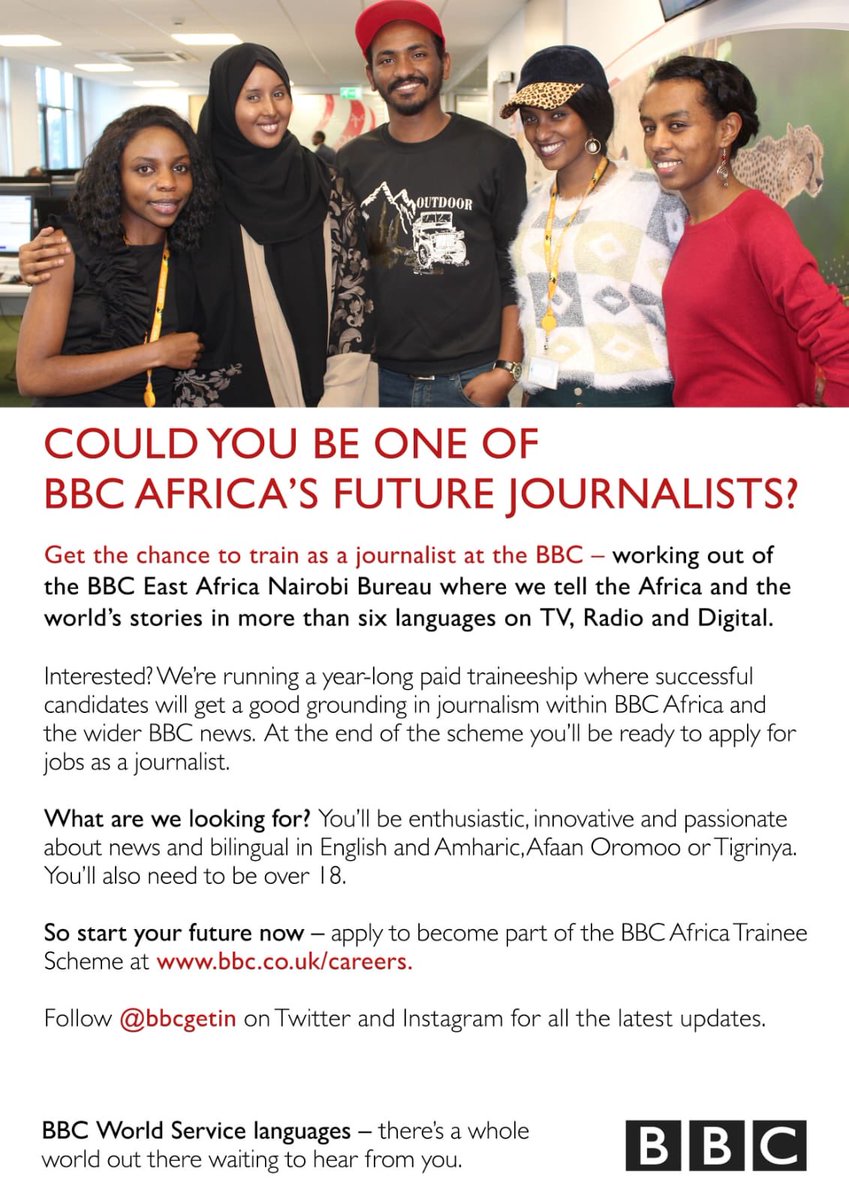 8.Standard Bank Kenya
Standard Chattered Bank are having opportunities fro recent graduates.
The localized bank is looking to fill the positions of internship where the students will be subject to internal training.
Qualifications
Creative and sharp student
Focused in mind
High responsibility and duty
Respect and disciplined
If interested apply below
9.NIC Bank
Ensure you don't miss out on applying for our annual University Internship Program 2019.
Check out NIC Website to find out the required qualifications for KCSE, University Students & Graduate students and to apply.
10.SANLAM
Financial based institution SANLAM are looking for graduate students fro their trainee program.
Apply here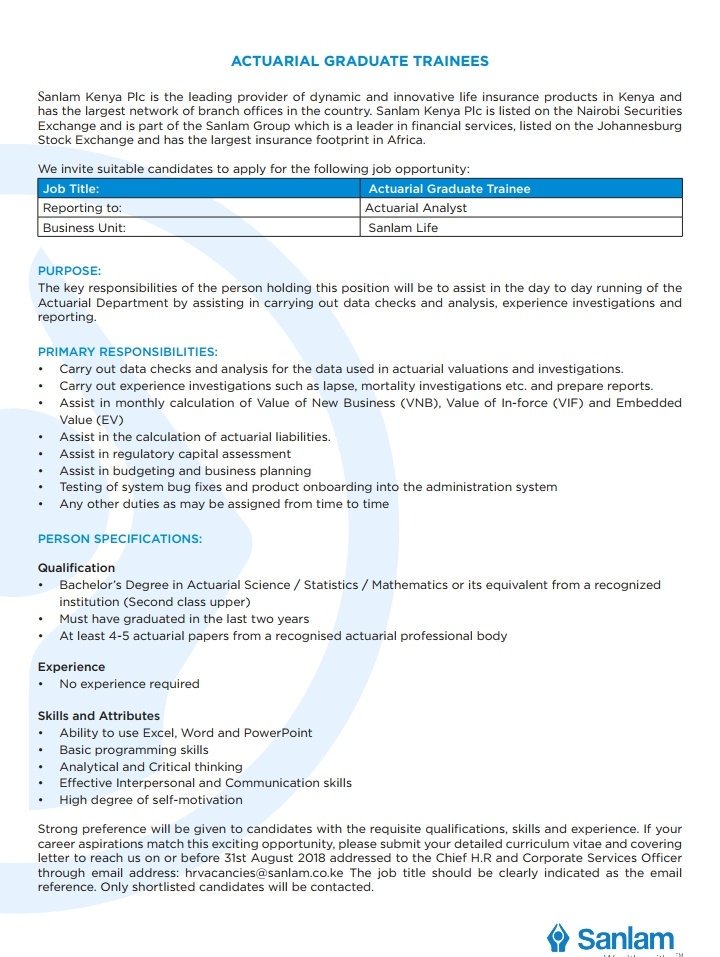 Britam
No work experience? No problem! Follow this link to apply for the Graduate Trainee Program 2019
Bata
A Kenyan corporate is looking for several graduate trainees.
Find more details here and apply.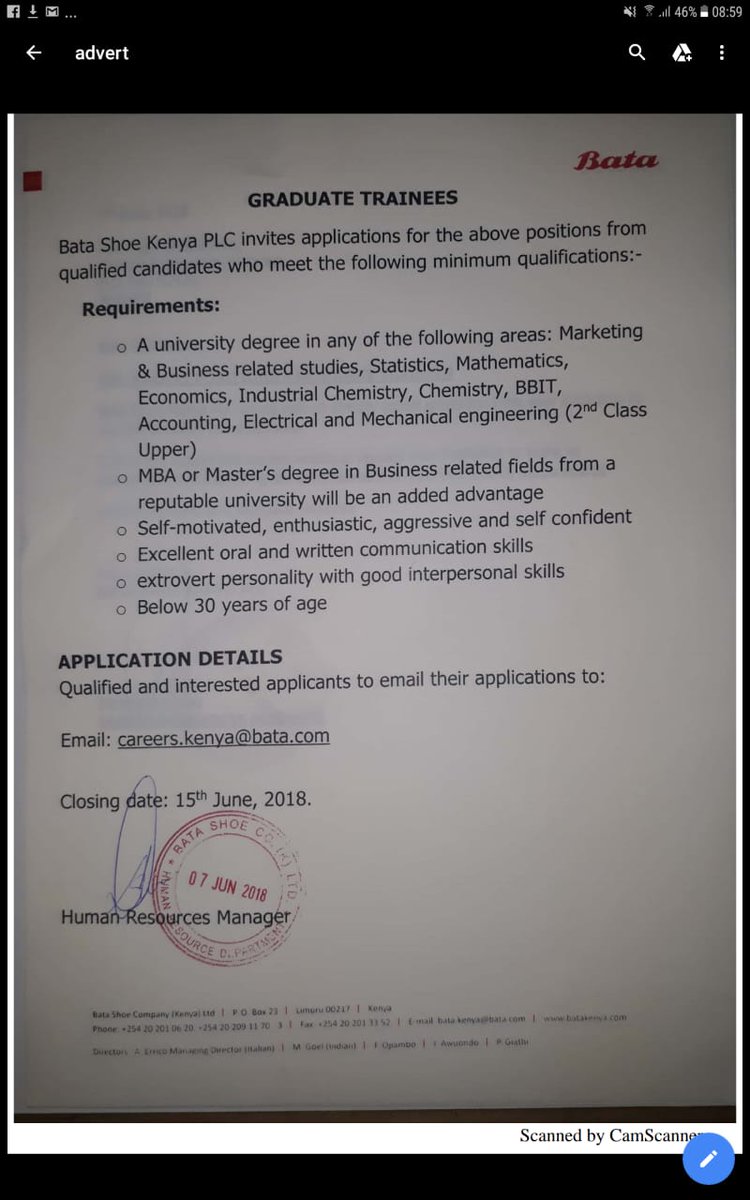 Uniliver
Uniliver is hiring trainees in their next apprenticeship program set to run as from the month of 2019
Qualities
Hardworking
Creative and thinking
Quick learner
Details
DT DOBIE
One of the largest motor dealer in Nairobi, DT Dobie is looking for young Kenyans who are willing to join their training programs and find a way into the motor world.
Under their program dubbed Craft Apprenticeship Program, learners will be equipped with skills for at least 3 years before they are released for the industry.
Qualifications
KCSE mean grade of C plain
More than a score of C Plain in Maths, Physics and English
Below 22 years old
A three year commitment to DT Dobie
Details below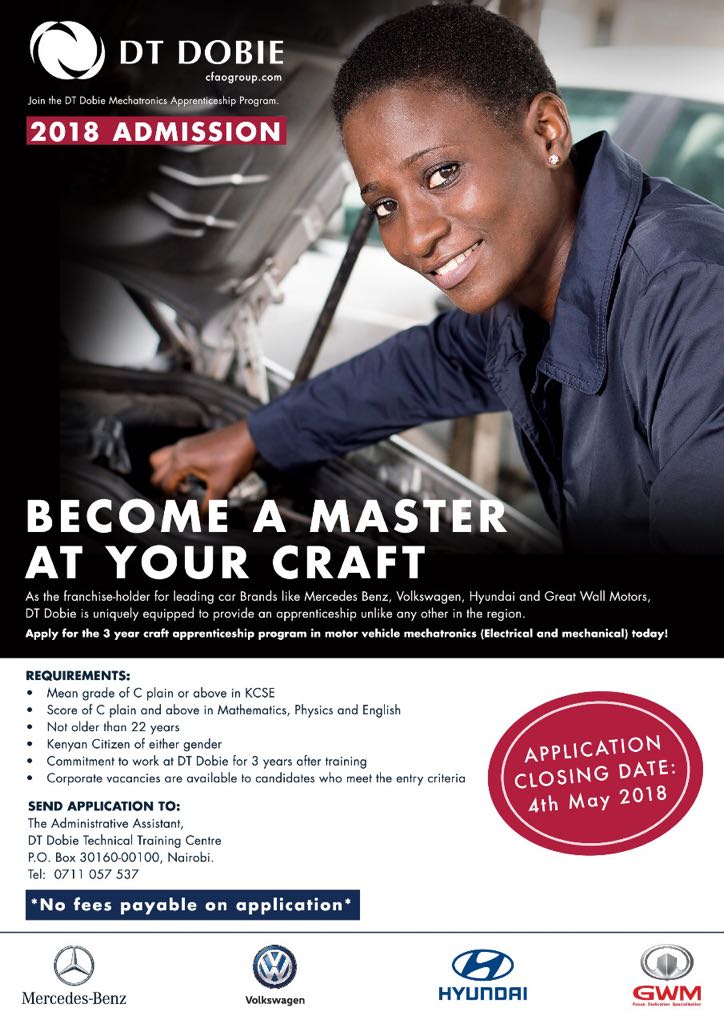 Naivas and Tuskys
Annually Naivas and Tuskys do carry put their recruitment of fresh graduates for their internship program.
Before employment they are usually trained for few months