10 Times Museveni Has Proved To Be The Coolest President In Africa
President Yoweri Museveni of Uganda has been in power for more than 30 years now. At 73 years old he is one of the longest serving presidents apart from the ousted former Zimbabwe President Robert Mugabe.
During his reign, Museveni has proven to us that he can be a cool president. We have captured some moments he shared where he just went beyond being such a powerful president.
1.Playing football
The longest serving President of Uganda, President Yoweri Museveni has not proved us again that he can be a cool president in Africa.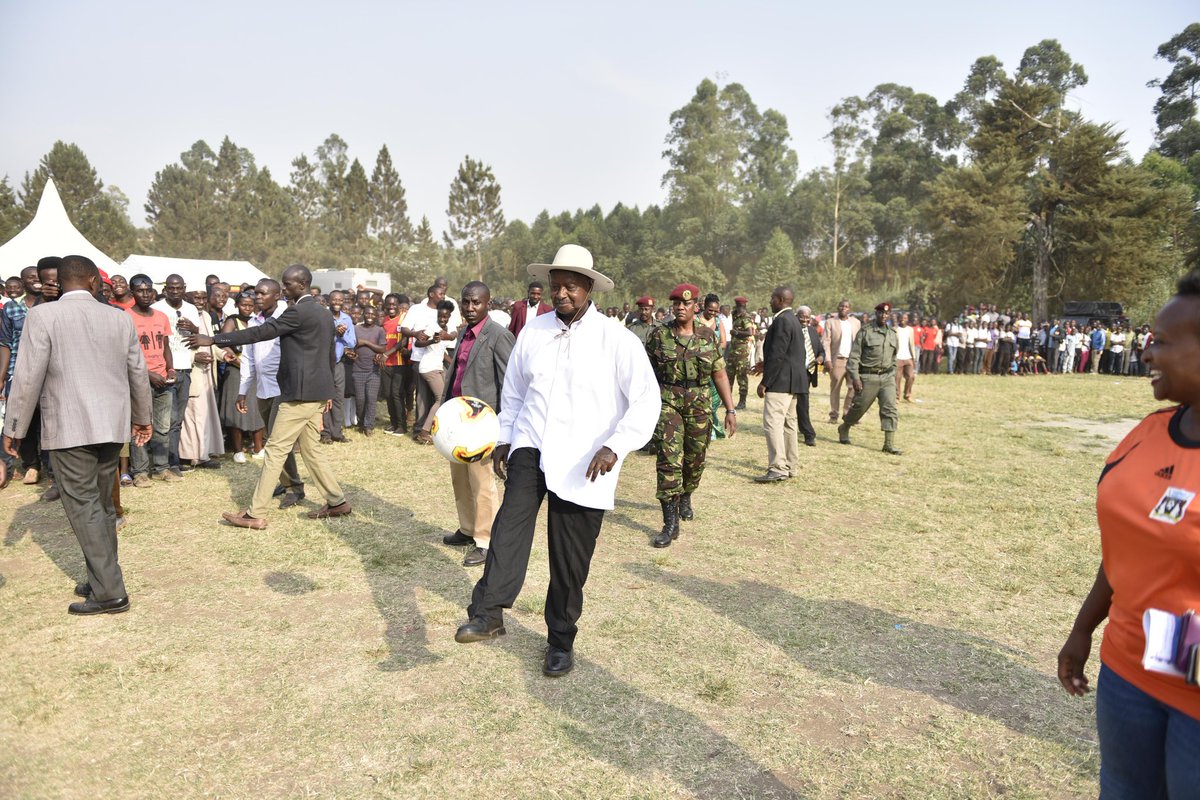 Yesterday, he shared photos of his juggling skills with a football. At 73 years old one would mistakenly think he is just 50 years old.
He was launching a football locally organized tournament in Uganda.
Similar stadia will be built in Bunyoro, Ankole and Kigezi, each to cost Shs6b. The stadia come with extras of a tennis court, hotel facility and other hospitality facilities. pic.twitter.com/BW5zSRtRwF

— Yoweri K Museveni (@KagutaMuseveni) February 10, 2018
2.Grazing his animals in a open land
If you follow President Yoweri Museveni's lifestyle, you will be forgiven if you thought he was no longer a head of state.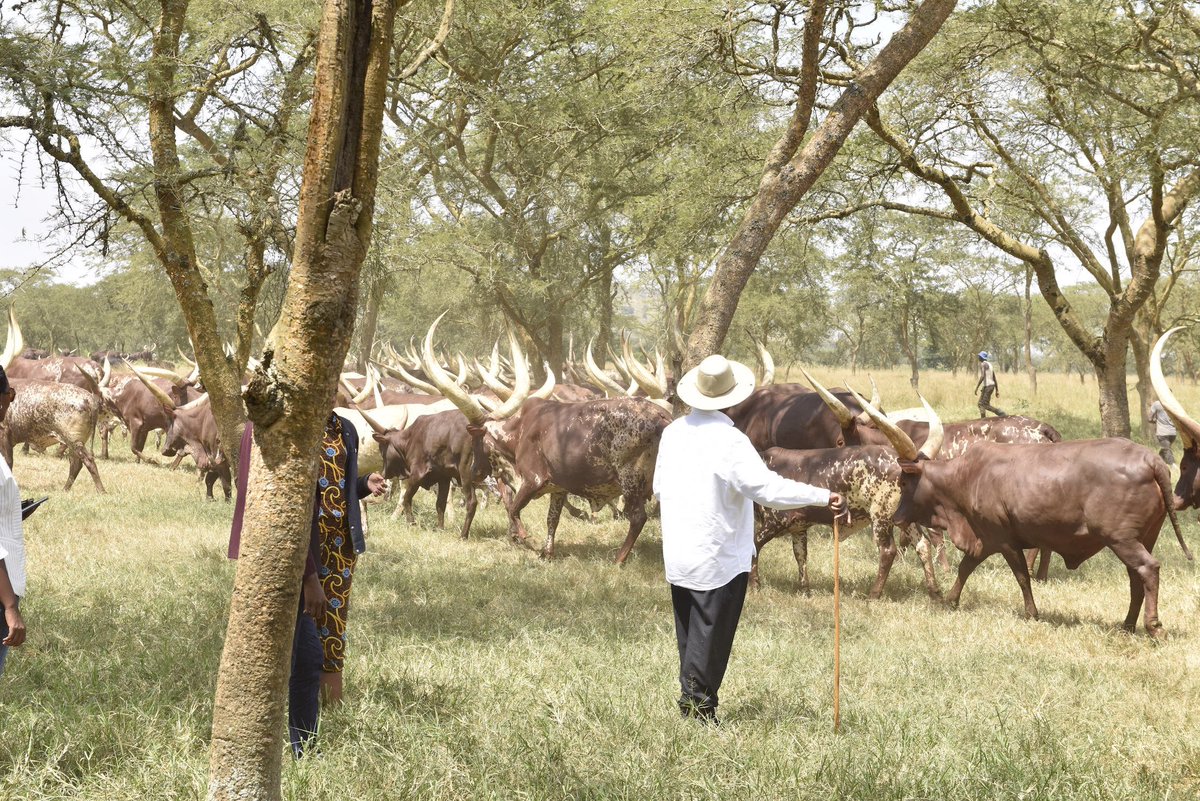 Just after warning his soldiers over prostitution, Museveni told us that he was not growing old because he does not drink alcohol, giving a healthy tip to those who like the bottle.
He has shown the office men and blue collar men a door to farming.
The chief in commander of Uganda armed forces took to twitter to appreciate the value of indigenous cows and importance of believing in our very own home breed animals rather than those we consider artificially empowered breeds.
This indigenous breed is much more resistant to diseases than the Friesians and less costly to rear. It has high quality beef compared to Fresian breed. pic.twitter.com/xjRbVAooqd

— Yoweri K Museveni (@KagutaMuseveni) December 12, 2017
On this Kisozi farm, each cow on average produces about 25 litres of milk daily and we are working to improve this yield. pic.twitter.com/qgPRtAwGkw

— Yoweri K Museveni (@KagutaMuseveni) December 12, 2017
Some people concentrate on the physical look of cows, their colour, the shape of horns etc. I believe we should first concentrate on milk yield and beauty thereafter. Not-so-beautiful cows can still produce more milk than those with good colours. pic.twitter.com/QEcSRXNHYa

— Yoweri K Museveni (@KagutaMuseveni) December 12, 2017
Spent the last two days at my farm in Kisozi, Gomba District.
I want Ugandans to know that you can keep indigenous breed of cattle and still have high milk yield and good quality animals. pic.twitter.com/CrIdTl2OoM

— Yoweri K Museveni (@KagutaMuseveni) December 12, 2017
3.Warning Prison wards of Prostitution
Uganda's long serving President Yoweri Museveni presided over more than 900 prison officers who were graduation to become his country's service men.
To the graduands, you are going out to a tempting world. Avoid sexual promiscuity (umalaya) which could cause you to lose your life. Avoid alcohol. Don't be corrupt because you might become an inmate instead of a warder. pic.twitter.com/iUuBH2TR6j

— Yoweri K Museveni (@KagutaMuseveni) January 18, 2018
While appreciating their hard work , he also reminded them of the ever growing menace of prostitution and alcoholism, telling them off threat 'Umalaya' and alcoholism would render their life useless.
Presided over the pass out of 919 prisons officers at the Luzira Prisons Training Academy today. They included 706 warders and wardresses and 213 non-commissioned officers. pic.twitter.com/bXjLgfUqcQ

— Yoweri K Museveni (@KagutaMuseveni) January 18, 2018
President Museveni also reminded the nation that, despite his Christianity backgrounds, he would reconsider the death punishment to Ugandans
On the death penalty, I have not been assenting to hanging of convicts because of my Christian background but being lenient is causing people to think they can cause harm and get away with it. I will revise my position. pic.twitter.com/PnnROtz8zk

— Yoweri K Museveni (@KagutaMuseveni) January 18, 2018
Few months ago in 2017, he also warned his soldiers of the same predicaments of prostitution and alcoholism.
4.Graced semi-Nude girls cultural show
Uganda's long serving President Kaguta Museveni spent some of his last days in the year 2017 attending and officiating several functions in Uganda.
And one that has pulled cameras directed to him, is a function of cultural celebration in Uganda.
Several groups of youths showed of their rich culture.
Culture should be cherished and preserved because it is about people's heritage, safeguarding our languages and norms but not to promote conflict. pic.twitter.com/lUl0AZBULz

— Yoweri K Museveni (@KagutaMuseveni) December 17, 2017
Even though boys were OK to go without tops , ladies idea of going topless raises eye brows especially in the presence of such a top rated leader.
President Museveni would have been forgiven if we were still in the 20th century, but 21st century has no place for such outdated cultures.
All tribes and people of Uganda need each other and it is therefore wrong for cultural institutions to promote unnecessary hatred and conflicts among Ugandans, all in the name of promoting culture. pic.twitter.com/64m0uzfOs4

— Yoweri K Museveni (@KagutaMuseveni) December 17, 2017
5.He is a 'comedian'
If you ever feel like bored, remember that there is a twitter handle that belongs to Uganda's only man Kaguta Museveni.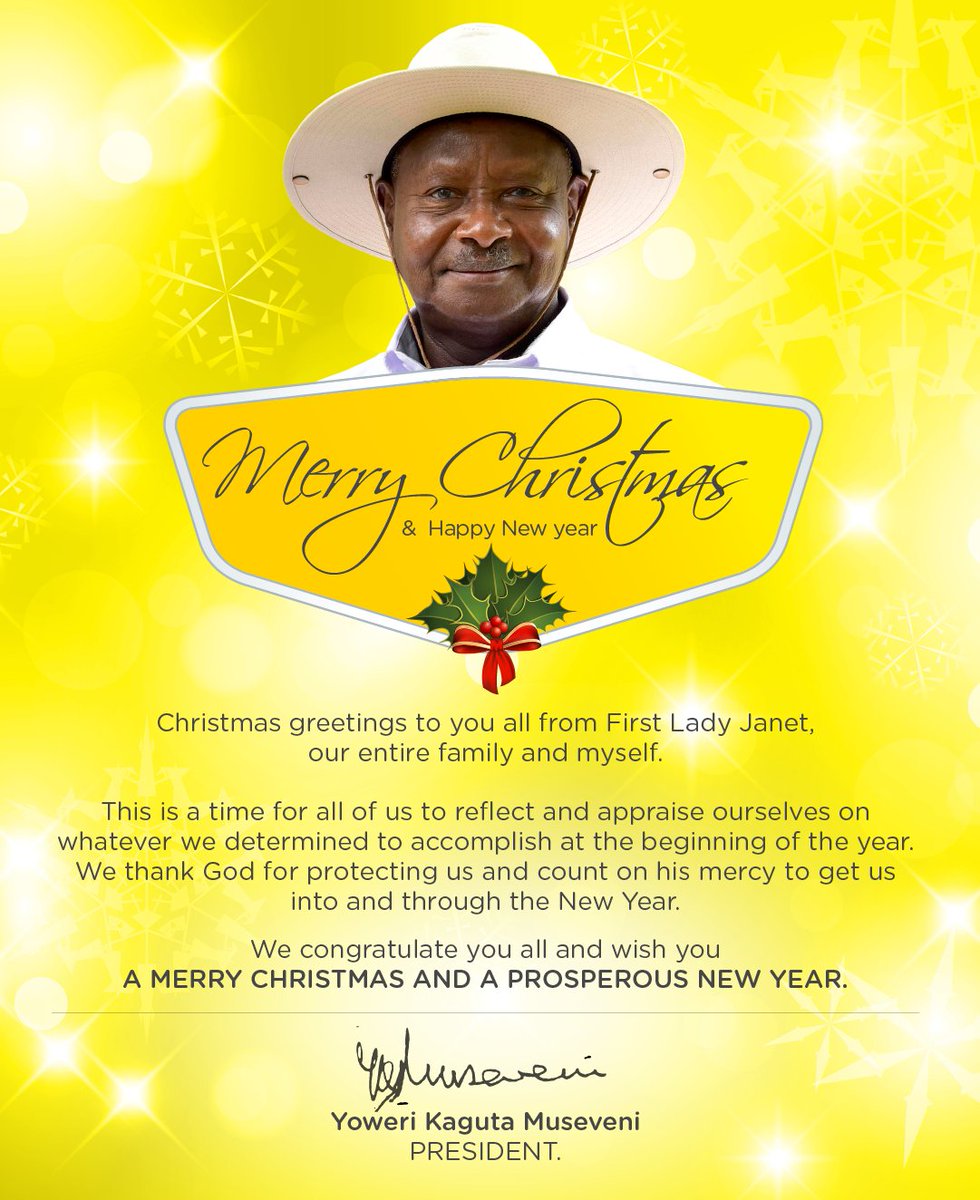 Apart from being an official account, Kaguta's account is a source of entertainment.
Many followers read his tweets not because of what he communicates, but how he does it.
He served them today with a Christmas message, but the reply from his message were hilarious.
Mugabe left when are you leaving??

— THEE TWEETER🔥🔥 (@karis_victaa) December 21, 2017
Does Ugandans enjoy their life under your rule??? I don't think so resign please

— President Y. Bob (@TabaroBob) December 21, 2017
Just know my heart is bleeding

— Ayikoru Mandy (@mandy_ayikoru) December 21, 2017
6.Cautioning his soldiers of AIDS
Uganda's long serving president, Yoweri Museveni has sent social media into frenzy after he advised his soldiers to shun away from prostitution in an open ended remark.
He made the remarks during a graduation event in which he congratulated his men besides giving them more life hazard dangers as a soldier.
Congratulations to the crews and my advice to them is that they should avoid risky lifestyles – avoid umalaya, alcohol and corruption. Their future is bright. pic.twitter.com/5X2Xh8ZLWY

— Yoweri K Museveni (@KagutaMuseveni) November 22, 2017
Museveni was once a guerrilla soldier who led to coup that ended the rule of Ugandan former president Milton Obote.
He has swarm into the international limelight in the manner he has vehemently thwarted the efforts from opposition leader Kizza Besigye who wanted to succeed him.
Now that the economic situation in Uganda is improving,  the government will be able to look into raising of salaries of soldiers, public servants, health workers and teachers and also deal with institutional housing. pic.twitter.com/hvFlDiJ35I

— Yoweri K Museveni (@KagutaMuseveni) November 22, 2017
7.Launching a road while he is seated on a chair
About 3 years ago, he shocked us when he launched and commissioned a Ugandan local road project when seated on a chair
8.Riding a bicycle
He has also cycled himself on a bike. Isn't that cool enough in Africa?
9.Driving Himself
African head of states are so proud not to drive themselves around. But Museveni has ever did so. Not on one occasion but several occasions when e feels so.
10. Claimed Land and not water on Migingo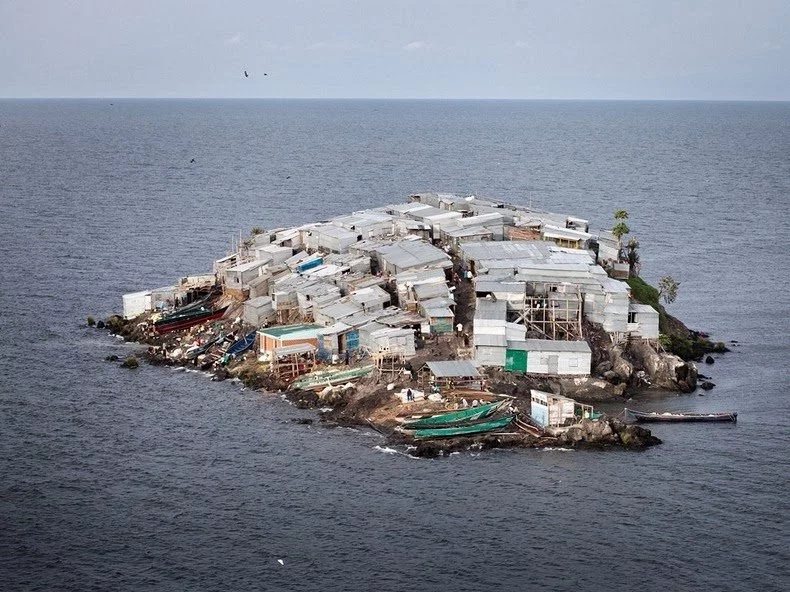 About 5 years ago, the debate over the identity and the possession of Migingo island had been a thorn between Kenya and Uganda relations.
At one point, Museveni ad announced that the water belong to Kenyans while the fish and the land belonged to Ugandans.
It was very funny and hilarious then
11.Harvesting
President Yoweri Museveni remains to be one of the cool presidents in Africa.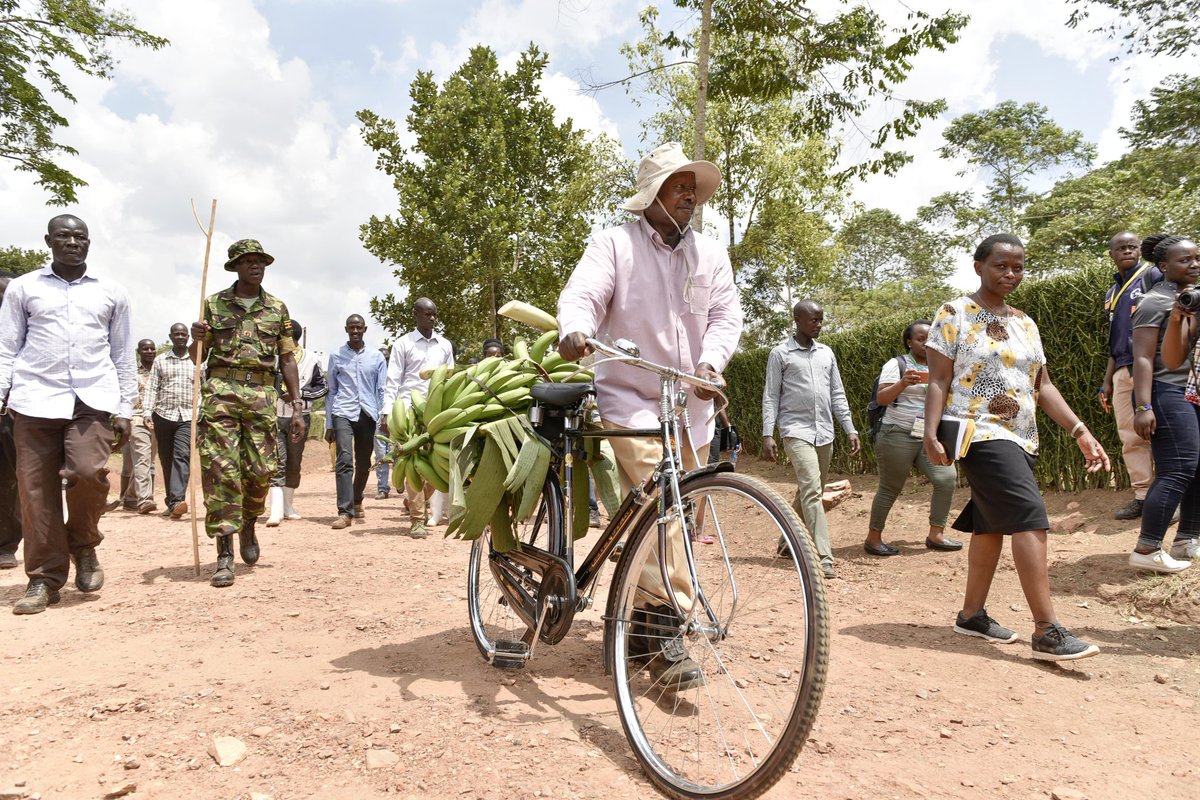 Saying the man is down to earth may be an understatement considering how he has spent so many moments on the soil than on the red carpet.
While South Africa were busy removing a corruption tainted president Jacob Zuma, President Museveni was busy harvesting from his fan in Uganda, like nothing was happening to his fellow.
Museveni has been one of the rogue presidents in Africa considering that his government has been autocratic and supported corruption cartels.
Museveni has literary send Ugandans to dogs at the expense of his poor leadership skills.
Kawumu in Luweero District was a special place in the protracted struggle against bad governance that brought the NRM to power. I was pleased to be back here today as we focus on the fight against poverty among Ugandan households. pic.twitter.com/L3wjaZ78mv

— Yoweri K Museveni (@KagutaMuseveni) February 14, 2018
In October 2016, I started a demonstration farm here in Kawumu to put in practice what I have been talking about as the four-acre model. pic.twitter.com/PW5uBYl9pX

— Yoweri K Museveni (@KagutaMuseveni) February 14, 2018
At that time, we were experiencing an extended drought and I talked to people about adapting some rudimentary methods like drip irrigation using plastic water bottles to keep the crops alive. Those who heeded my advice must be happy. They should be harvesting like me. pic.twitter.com/ssXjiVVvwJ

— Yoweri K Museveni (@KagutaMuseveni) February 14, 2018
Today, 16 months later and with consistent bottle irrigation, the farm is yielding results. We are now harvesting tomatoes, passion fruits, mushrooms, pineapples and matooke alongside fish, chicken and dairy products. pic.twitter.com/u8If26zrn6

— Yoweri K Museveni (@KagutaMuseveni) February 14, 2018