10 Viral Photos And Videos From #NASAdemos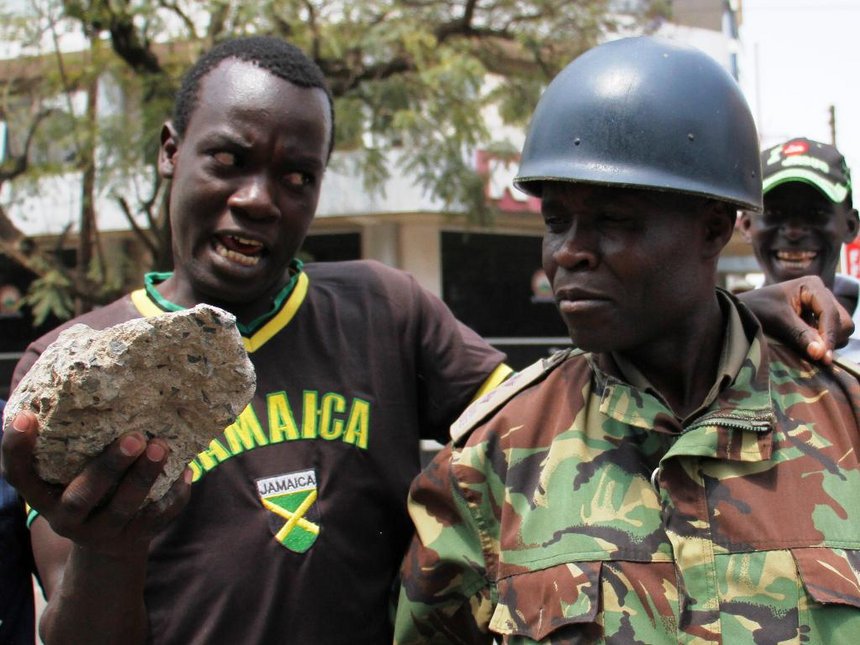 As the anti-IEBC fearsome demos continue to rock the nation, the NASA followers who invited police for running battles have also been making as look for more ribs since they keep on cracking the one we get.
Since the demos began few weeks ago, and they have promised to engage more as the election date 26th October cuts emerge, the demonstrators seem not to run out of their own gas while on road.
The demos have followed the demands by NASA to remove the IEBC officials whom they believed failed to deliver elections as was expected.
NASA leader Raila Odinga has flown out of the country, a move that rubber stamps his bid to not take part in elections.
Have a look on the below raw viral photos.
President Uhuru supports GICHIMU MURIUKI for driving his KBQ609G Prado through #NASADemos protestors #NoReformsNoElections #NASADemosWeek3 pic.twitter.com/3eRxgN5BYA

— JUBILEE PARTY® (@JubileePartyyK) October 9, 2017
The green car that hit anti IEBC protesters Registered to "Gichimu Muriuki"We need justice to be done with an immediate effect. #NASAdemos pic.twitter.com/YjlW85cWmd

— Kevin Junta (@kevinjunta29) October 9, 2017
This is the guy running over demonstrators.lets RT untill we get him#NoReformsNoElections #NASAdemos #UhurutoMombasa #ktnlifeandstyle pic.twitter.com/R6Siced607

— eugene oponyo (@ZinziMtekaji) October 9, 2017
#NASAdemos
Where Raila's brain is trapped in pic.twitter.com/RMXzRN6HQw

— Lord Kiptanui (@enock_kiptanui) October 6, 2017
In Kisumu.

The People of Kondele have purchased their own Teargas.

Just in case the Police run out of stock.

😂😂😂😂😂🔥🔥🔥🔥🔥#NASAdemos pic.twitter.com/JxdRpzWfl4

— Leon Lidigu (@LeonLidigu) October 6, 2017
#NASAdemos I do rest my case here! pic.twitter.com/bZnmIqE0N1

— Peter Ogada (@PeterOgada) October 6, 2017
This picture illustrate what Kenyans want. Sadly,IEBC are looking at different thing which pleases their eyes#IEBCReformProtests#NASAdemos pic.twitter.com/dq2tE3f4ly

— Hon Lee Makwiny (@leemakwiny) October 6, 2017
https://twitter.com/DMarigiri/status/916195034260738048
A protester carries a placard in Kisumu City during today's #NASADemos. pic.twitter.com/6BtyaLmo5w

— DailyNation Politics (@Nation_Politics) October 6, 2017
In Kisumu demonstrators carried their teargas. They don't want what happened on Monday to replicate itself today. #NASAdemos pic.twitter.com/F84KxIDrNu

— Duncan Makori (@EngnrDan) October 6, 2017
RAW: Several people injured as vehicle runs over anti -IEBC protesters #NASAdemos pic.twitter.com/IoHESVtbbg

— Daily Nation (@dailynation) October 9, 2017
Cops shoot one, injure three in NASA's Nairobi demos https://t.co/FQDJtUmNYj via @vidijapatrick #NASAdemos pic.twitter.com/RsyiQOwK9h

— The Star, Kenya (@TheStarKenya) October 9, 2017
The photo of the day #NASAdemos pic.twitter.com/MWt7rMhiUd

— Big Vic (@Vikinyo) October 6, 2017
Kesho, kesho, kesho. Kesho imefika. Folks ready for #IEBCReformProtests #NASADemos #NoReformsNoElections pic.twitter.com/ttUTFBUmsn

— A Karani Onsomu (@erwoti) October 6, 2017
JOE ADAMA: NASA's one-tribe demos and Judiciary-EACC standoff https://t.co/MMqopP3M3q #NASAdemos pic.twitter.com/i7BqMyTBcJ

— The Star, Kenya (@TheStarKenya) October 8, 2017
Comments
comments