2Jiajiri Scholarship Entries Open For Form Four Leavers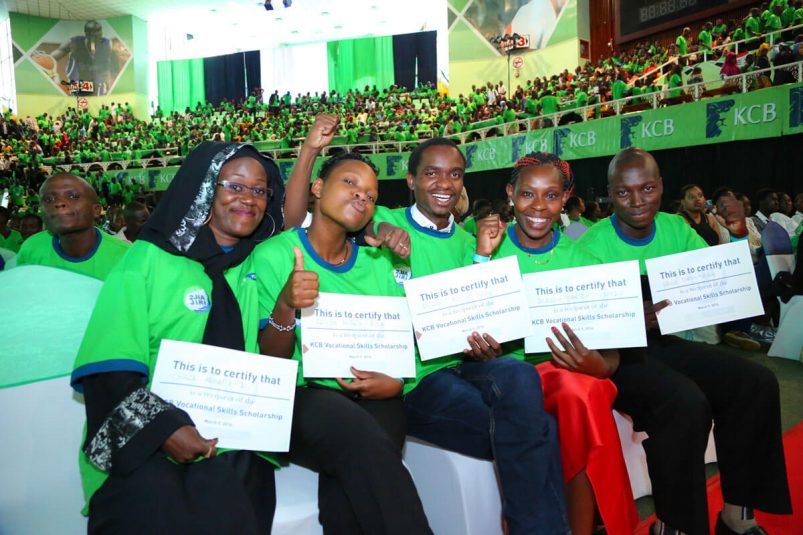 2jiajiri is a skills development and job creation program being implemented by KCB Foundation that seeks to catalyse employment and wealth creation among existing 'jua kali' entrepreneurs and the youth. The program seeks to reach 50,000 youth and informal sector entrepreneurs in the next 5 years.
Program Objective
To empower and equip unemployed and out-of-school youth to grow micro enterprises by providing them with technical skill training opportunities as well as up-skilling and certifying existing micro-entrepreneurs who wish to move their business from the informal to the formal sector.
The 2Jiajiri solution
Vocational skills training for out of school youth and existing micro business owners in the fields of Building and Construction, Hair and Beauty, Automotive Engineering, Domestic Services and Agriculture
Business Advisory Services: Business incubation / development services and mentorship for existing businesses and qualifying start ups
Access to Finance: Asset and working capital financing for certified and incubated businesses
Market Linkage: Linkages with partners and markets for business sustainability
Program Outcomes
2,200 beneficiaries have undergone vocational training and certification in the pilot group in 2016
MOUs with 18 partners on various aspects including but not limited to the following;

Toyota Kenya: Training of 2Jiajiri automotive beneficiaries into Toyota's T21 program and resource pooling in agri-business start up and provision of technical training to the youth in agriculture
Oracle: Develop applications for online marketplace solutions for 2Jiajiri beneficiaries
Digital Opportunities Trust: Soft skills training for 2Jiajiri beneficiaries. This includes life skills, work readiness, business etiquette and customer service
BIDCO: Technical support to 1000 youths annually in agribusiness contract farming in Soybeans and sunflower production
IFC: Training of trainers and access to IFC training manuals for SMEs
Egerton University: Agri-business training for all the agriculture programs of the Foundation
East Africa Portland Cement: Providing access to EAPCC Distributor Network for the Beneficiaries and Internship opportunities
Tuskys: Market access for agriculture value chains and provision of internship opportunities
Naivas: Internship opportunities
Amadiva: Set up salon franchises with 2Jiajiri beneficiaries
Azizi: Training 2Jiajiri beneficiaries in readiness for franchising with Amadiva
Important Forms:
Click on form name below to download
Comments
comments