We are happy to announce that the 2024 MEXT Scholarship for Kenyan nationals is now open! All applications must be submitted to the Embassy of Japan in Kenya no later than 4:30pm on Friday, 19th May 2023.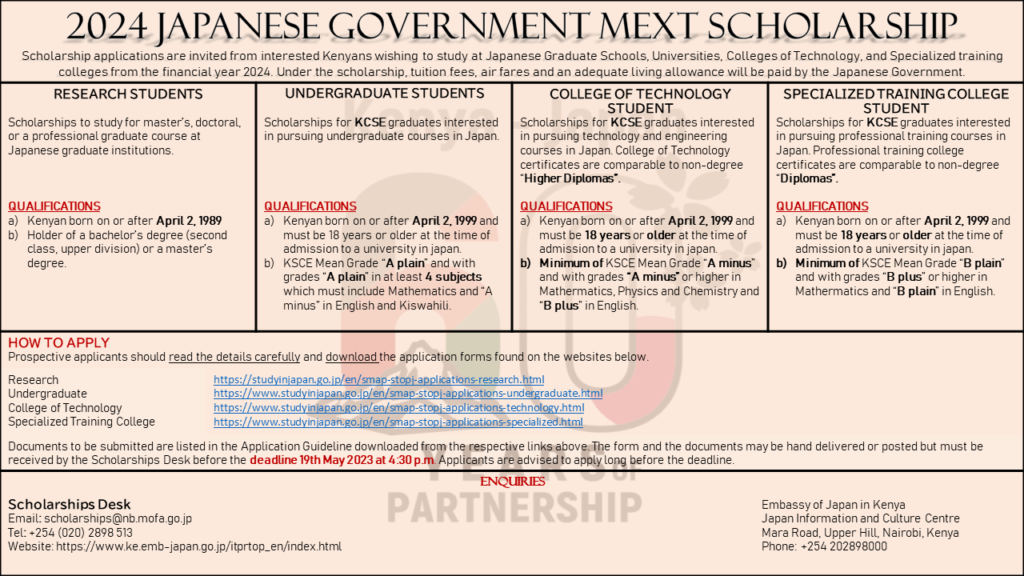 You can submit your application by dropping it at the security gate at the Embassy of Japan or send it via courier.
On the envelope, the attention should be to the Japan Information and Culture Centre then write your name and the category you are applying for.
Prospective applicants can download FREE application forms found on the websites below:
*Please be sure to thoroughly read through the Application Guidelines before submitting the necessary documents for your application. When sending hard copies, please use paper clips only, no staples.
We will also be holding a FREE seminar at the Embassy of Japan on 6th May, 2023 to provide more detailed information regarding the MEXT Scholarships as well as the application processes.
For inquiries regarding the 2024 MEXT Scholarship as well as the seminar that will take place on 6th May, kindly write to the Scholarships Desk on [email protected]