Diamond's Singer Lava Lava Left Fighting For Life After 'Proper' Fan Kiss On Stage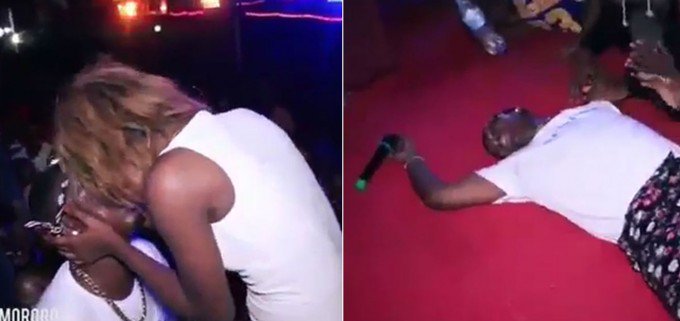 Bongo sensationalist Lava Lava, who signed a record deal with Diamond's Wasafi Records, was left fighting for his life after a female fan he invited on the  stage gave him a 'proper' kiss.
The incident which happened in Morogoro in Tanzania, saw Lava Lava and female fan get cozy, on which he fell down once the female fan had kissed him passionately.
Lava Lava who is captured on video singing, is seen first going onto his knees after the kiss then falling backwards, he then faints out of the knowledge of those who were being entertained, including the backstage crew
Lead event organizer Arbab MB noted that they did not know he had fainted, they only thought he was joking.
They rushed to administer first aid after they realized that he was not waking up, nor singing.
When he finally woke up after the rescue efforts, he said that he did not know what happened when he fell down. He thanked God for saving his life.
"Kwanza Nimshukuru Mungu maana pengine nisingeamka. Mpaka sasa sielewi nini kilinifanya nikazimia bado sielewi kama huyu dada ndiye aliyesababisha ama kitu gani… Haya sijawahi kufanyiwa," he said.
Watch the video here
Comments
comments