Friends Find A Beautiful Way To Send Off Their 18 Years Fellow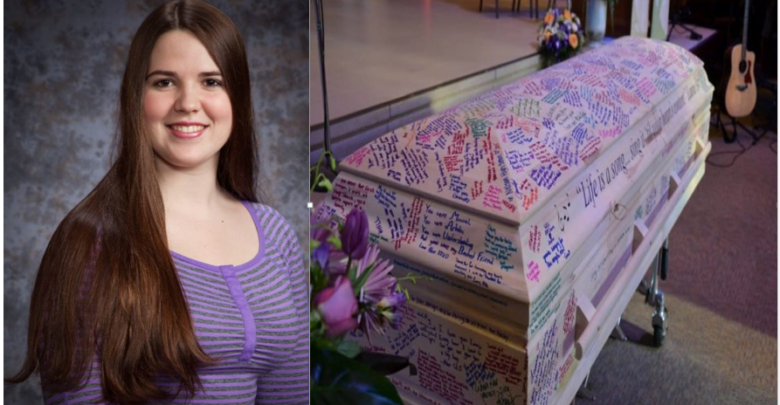 Cancer is a disease that only ends with the cells of the body, it also destroys families and the possibility that people have a long and lasting life.
Just as it happened with Laura Hillier, a girl who was diagnosed with leukemia at age 13. Although she remained in treatment and the following four years the diagnosis was favorable, apparently the disease did not have enough of her and attacked her again, until it led to death.
Laura was known at school for having a great love of music and theater. Unfortunately she has died with when she was about to receiving her  of the 12th degree, so his family, classmates and teachers made his funeral felt like a true "farewell yearbook".
Laura Hill died at age 18, awaiting a transplant that could save her from acute myeloid leukemia. At the time of her death, she was in a hospital in Canada surrounded by his loved ones.
To commemorate her life, joy and great talent, his colleagues, teachers, neighbors and hospital staff, filled her white coffin with notes scribbled in different colors where they remembered the moments that had passed by his side.
The stunning and beautiful photographs of the white case covered with messages immediately went viral, because the messages were moving.
"You are musical, You are artistic, You were understanding, You're my best friend"
"Life is a song … sing until your heart wants"
"You were brave and strong, You will always be a heroine."
Comments
comments